John Deere has a number of different loader attachments available that are all designed to take productivity up a few levels. However, not all John Deere loader models are a universal match for all tractor models.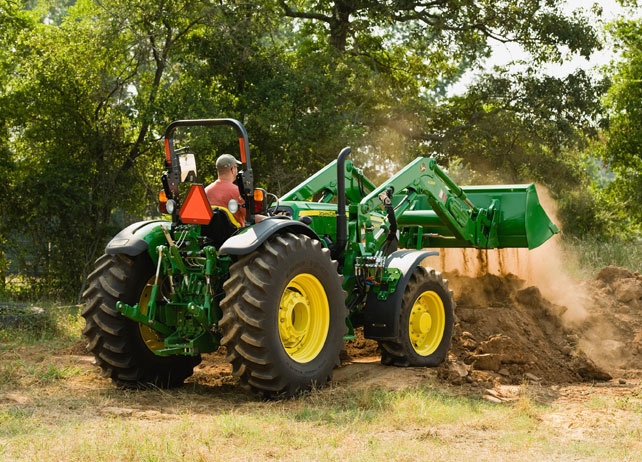 With this in mind, we've put together an outline of popular John Deere tractor families and the current loader models that attach to each.
1 Family Tractors
This tractor family is designed to help property owners become better gardeners, fence builders, lawn seeders, and much more. Here are a couple current John Deere loader options that can be added to the equipment:
2 Family Tractors
John Deere's 2 Family hosts a number of features that may not be expected from tractors of their size, including power steering and four-wheel drive. Adding the following loader models could make life around the property a bit simpler:
3 Family Tractors
The 3 Family is designed to provide operators with a machine that can get around in tight spaces without sacrificing power. Adding any of the below loader models can make tasks like working on a gravel pile to grooming an arena easier:
4 Family Tractors
Ranging from 44 to 66 horsepower, the 4 Family is dependable and powerful, making them a great addition to a farm, recreational property, or municipal fleet. Here are some loaders that can be attached to 4 Family models:
H165
D170
H180 NSL
H180 MSL
5 Family Tractors
The 5 Family is ideal for loader work, snow removal, and rotary cutting, regardless of the working conditions. Add any of these loaders to your machine to boost productivity:
512 NSL
H240 NSL
H240 MSL
H260 NSL
H260 MSL
H310 NSL
6 Family Tractors
From pulling planters and drills to moving large heavy hay bales, the 6 Family is designed with the power and comfort features needed to get the job done. Here are the loader options that owners can choose from:
H260 NSL
H260 MSL
H310 NSL
H310 MSL
620R NSL
620R MSL
640R NSL
640R MSL
H360 NSL
H360 MSL
H380
7 and 8 Family Tractors
John Deere's 7 and 8 Family Tractors are designed with ample power packed into nimble frames for long days of production. The H480 can be added to these tractors to get even more accomplished throughout the day.
Contact your local John Deere dealer for more information about John Deere loader options and their compatibility with various tractor families.
If you enjoyed this post or want to read others, feel free to connect with us on Facebook, Twitter or Google+!
You might also like: