When it comes to mowers, the John Deere Z335E hosts several features to cater to a wide array of environments. With its 20 horsepower engine and Accel Deep™ mower deck, operators can improve efficiency and productivity on the job.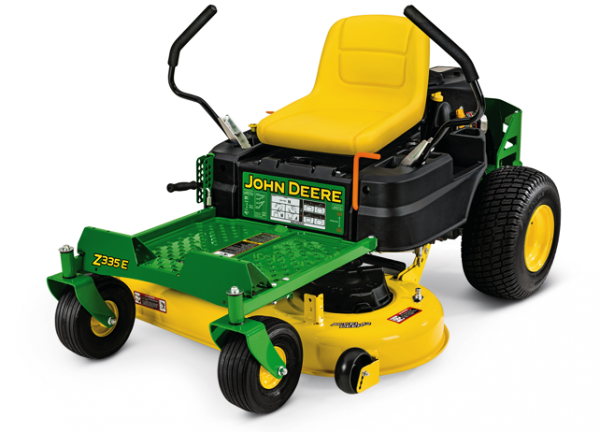 Let's take a look at some of the other highlights of the John Deere Z335E and what it can offer to customers.
V-Twin Engine Design
The 20-horsepower engine of the Z335E is designed to provide operators with the power and torque they need for tough mulching, mowing, and bagging. It has an electronic ignition for fast starts and cast-iron sleeves for a longer life. Overhead valves provide better fuel economy, and an oil filter keeps oil clean for an extended period of time.
Welded Steel Frame
The John Deere Z335E has a heavy-duty welded steel frame, meaning it's durable and designed to last. It also has large front caster wheels and large rear drive wheels, which provide a smoother ride and better slope performance.
Fuel Tank Convenience
The fuel tank of the mower holds 2.1 U.S. gallons of fuel on the left side of the machine. It has a large, 2-inch-wide opening for easy refueling. The cap is tethered to the fuel tank to ensure that it is not lost during the fueling process.
42-inch Accel Deep Mower Deck
The 42-inch Accel Deep mower deck has a stamped steel, deep, flat-top design. This ensures excellent cut quality, cleanliness, durability, and versatility.  The mower deck is also suspended from the vehicle for a level, smooth cut. With adjustable mower wheels that are positioned just above ground level, operators have to worry less about scalping.
Serviceability
There is a convenient service interval decal on the machine that provides basic maintenance information for operators. This allows users to quickly reference when service updates need to be made. The footrest area of the Z335E is hinged, and it can be easily raised to view the inside of the mower deck when necessary.
Dual Transmissions
The John Deere Z335E has dual transmissions, designed to power the mower forward and backward with maximum steering capability. Transmissions are positioned low in the vehicle for hillside stability, and the unitized transmissions are sealed, meaning they are maintenance-free.
Motion-control Levers
With these levers, operators have more comfort and control over the machine. A standard shock absorber for the motion-control levers makes maneuvering the mower quicker as well. There is an onboard tracking adjustment panel that also allows operators to make changes quickly and easily on a whim.
For more information about the Z335E or other mowing equipment, contact your local John Deere dealer.
If you enjoyed this post or want to read others, feel free to connect with us on Facebook, Twitter or Google+!
You might also like: