From selecting the correct nutrients to monitoring weather and maintaining a fleet of equipment, golf course superintendents have a lot to keep up with on a daily basis. With these challenges in mind, John Deere Golf recently partnered with OnGolf™ to develop OnLink, a cloud-based, automated-reporting golf course management software.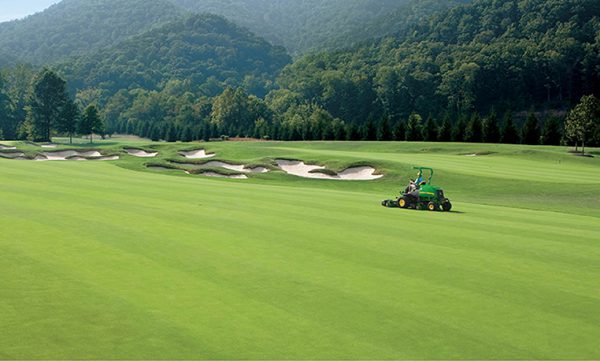 Let's take a closer look at OnLink's features and learn how it can simplify golf course management.
Detailed Weather Information
OnLink relies on its partnership with The Weather Company to provide golf course managers with temperatures, humidity, wind direction, dew point, cloud cover, precipitation, and pressure. All of this information is presented in a 14-day hourly forecast format and can be used to improve agronomy and best prepare for upcoming tournaments. Managers can set weather thresholds that will trigger alerts when exceeded.
Water Management
Water optimization is critical in maintaining green grass and reducing wasted budget. OnLink provides golf course superintendents with information relating to irrigation water used (gallons and dollar amounts), water transfer (gallons and dollar amounts), and total cost. Users can set water thresholds to alert them when they're low on budget or approaching high or low soil moisture levels.
Labor Management
OnLink's labor management capabilities eliminate the need for whiteboards. Golf course management teams can use OnLink to build work boards well in advance so the whole team is on the same page whether they're at home, in the office, or on the course. Reports can be easily generated, showing labor hours and costs so the appropriate decisions can be made.
Nutrient Application
OnLink supplies a custom Application Log for nutrient and chemical practices that can be accessed from any device. The log provides users with the fields required by state regulations and the product database is dynamically changing, making information about new products from other connected courses available in real time.
Equipment Management
Later this summer, the OnLink platform will allow superintendents to locate equipment, manage parts and components, and run equipment diagnostics. These features will make it easy for operators to get the most out of their golf course equipment.
Playing Conditions
OnLink users can create "recipes" to align with their firmness and speed goals for various times of the year. These goals are correlated with weather variables, equipment, and nutrient and soil conditions.
Walt Norley, Founder and CEO, OnGolf, says, "John Deere's equipment and fleet management expertise coupled with OnGolf's success with performance optimization software creates an innovative management solution for our customers and the industry. These cloud-based features are proven to simplify course maintenance, saving managers time and money while improving playing conditions."
If you enjoyed this post or want to read others, feel free to connect with us on Facebook, Twitter or Google+!
You might also like: