Customers who have a wide area to cover with their mower may want to consider the John Deere Z930M for all of their needs. This efficient mower comes with a Mulch On Demand™ deck, a dump-from-seat Material Collection System, and 3-way adjustable suspension seats.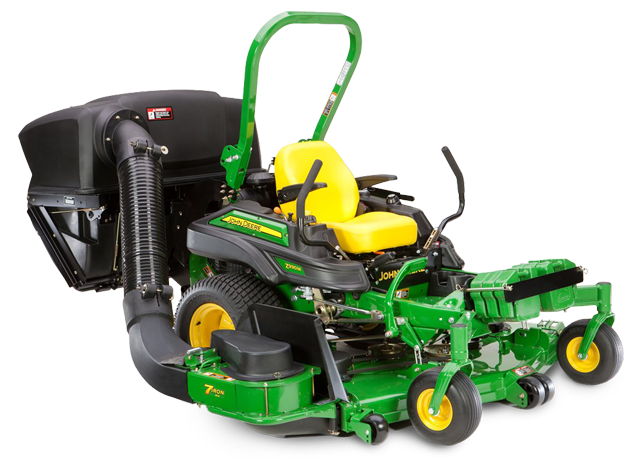 Let's take a look at the other highlights of the John Deere Z930M.
Hydrostatic Drive
The hydrostatic drive of this mower has two 13-cc unitized hydraulic pumps, which are combined with commercial-grade, heavy-duty wheel motors. The design of the drive allows for optimal cooling in high load conditions.
Michelin® X® Tweel® Turf Tires
This mower has Michelin X Tweel Turf rear tires, specifically designed for ZTrak mowers. Mowing performance is ultimately improved with these tires because they have more support across the surface for improved floatation. They also have better ground contact and provide a more consistent cut quality. Overall downtime due to damaged or flat tires is reduced as well.
Bumper-to-Bumper Warranty
The John Deere Z930M comes with a three-year/1200-hour bumper-to-bumper warranty. This means that the machine is protected against damage that may occur over the course of three years or 1,200 hours – whichever comes first – and one company handles all of the paperwork.
Multiple Seating Options
There are three seating options available for the John Deere Z930M. The deluxe comfort seat comes standard, but there is also now an isolation seat option, which reduces vibration for operators. A full suspension seat is also available, which comes with an adjustable back angle for more lumbar support.
Commercial Grade Engine
The John Deere Z930M comes with a 25.5-horsepower commercial grade engine with more torque per cubic inch. It's also designed for maximum fuel efficiency, and it has an oil filter to keep oil clean for a longer engine life. It has a V-twin big block design, a 20-amp alternator, and aluminum components to effectively dissipate heat.
Mulch On Demand Mower Deck
This mower deck has the ability to switch between side discharge and mulching operation with the flip of a lever. Furthermore, operators don't have to leave their seat to make the switch, making for easier operation on the go.
Durable Spindles
The spindles on John Deere ZTrak mowers are cold-forged and heat-treated for additional strength. They are supported by precision ball bearings, which provide better performance and reliability. The actual housing for the spindle is composed of aircraft-grade cast aluminum. The spindles can be greased from the top, and they do not require disassembly.
For more information about the Z930M or other mower options, contact your local John Deere dealer today.
If you enjoyed this post or want to read others, feel free to connect with us on Facebook, Twitter or Google+!
You might also like: