Agricultural professionals who are looking for a durable utility tractor with the same power as a row-crop tractor may want to consider the John Deere 7310R. This model is designed to provide fast acceleration, which can boost efficiency during the workday. It also comes with an integrated 3-point hitch, PTO options, and high (310) horsepower.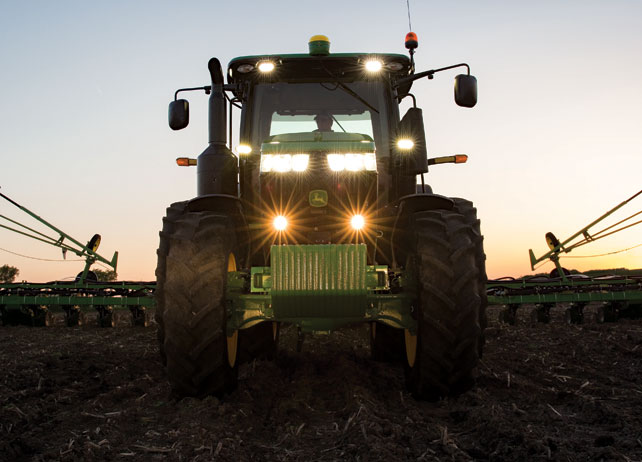 Let's take a look at the key features of the John Deere 7310R.
ActiveCommand Steering (ACS™)
The John Deere 7310R comes with ActiveCommand Steering (ACS), which reduces the amount of effort operators need to put in to maneuver the machine. This results in less fatigue over time. With ACS, users will enjoy variable ratio steering, variable effort steering, and dynamic road wheel offset. The ACS is also fail operational, meaning it will still function in the event of any failure within the machine's steering system.
Exhaust Gas Recirculation
With exhaust gas recirculation (EGR), high temperatures where nitrogen oxide compounds are formed in the engine cylinders are reduced. EGR replaces excess oxygen with just the right amount of cooled exhaust gas. Based on engine load, air temperatures, and rpm, the engine control unit opens or closes the EGR valve. This allows for the measured percentage of exhaust gas to enter the engine's intake manifold.
Hydraulic Brakes
The John Deere 7310R comes with hydraulically actuated, power wet-disc brakes. They operate in oil for cooling, and this ultimately reduces wear and tear on them over time. The brakes never require adjustment, and a brake valve is located outside of the cab for quieter operation.
e23™ Transmission
The e23 transmission of the John Deere 7310R provides smooth shifting while the tractor is in operation. It has Efficiency Manager™ as well, which improves fluid efficiency and overall productivity for the operator. The E23 has 23 forward gears and 11 reverse gears, all of which are evenly spaced apart. The transmission itself is designed to help operators maintain maximum ground speed at reduced engine RPMs to save fuel.
Optimal Lighting
This tractor has two lighting options – standard and premium. With standard, hood and cab lighting combine to provide 360 degrees of illumination in the dark. Lighting configurations are designed to match various applications as well. The bulb housings are large, which allow for the optimal total lumens. Operators who opt for premium lighting will enjoy eight front grill-mounted lights, as well as 12 cab roof-mounted lights.
If you have any questions about the John Deere 7310R, contact your local John Deere dealer.
If you enjoyed this post or want to read others, feel free to connect with us on Facebook, Twitter or Google+!
You might also like: