The John Deere S780 has been rolled out as a part of Deere's new S700 line of combines, designed to provide the most advanced grain harvesting technology to agricultural professionals. This machine features "smart" technology, improved operator comfort, and better data.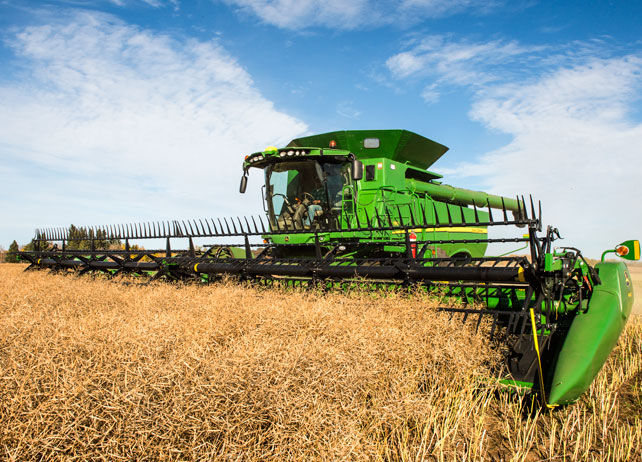 Let's take a look at some of the key highlights of the John Deere S780.
TriStream™ Rotor
The S780's TriStream Rotor has a slightly tapered design in the threshing area. This feature is designed to reduce the growling that typically comes with heavy rotor loads. The spiral vanes surrounding the rotor also guide crop material through the threshing and separating area in a pull-and-release action. This ultimately improves performance, and it allows the machine to operate on less power.
Combine Advisor™ Package
The Combine Advisor package can be used with the John Deere S780. This suite of technologies automates the combine to maintain its performance as conditions change during the workday. The Combine Advisor package also makes the John Deere S780 easier to navigate, with VisionTrak™ and the Interactive Combine Adjustment performance wizard. ActiveVision cameras provide operators with views into the tailings as well for more support.
ProDrive Transmission
With the ProDrive™ system, this combine can automatically shift between two speed ranges to adjust to alterations in terrain. PowerShift™ transmission technology ensures that the combine harvests at the desired ground speed. Operators can maintain precise control over the machine's speed and reduce downtime.
Active Concave Isolation
The Active Concave Isolation (ACI) system increases throughput when threshing small grains and rice. The concaves are suspended by hydraulic cylinders, which boost the amount of crop being threshed. Small grain producers may see up to a 10 percent increase in machine capacity. Material flow through the threshing section is also smoother, providing more consistency.
Gen4 CommandCenter™ 4600 Display
The Gen4 CommandCenter 4600 display is compatible with the John Deere S780. This display is designed to provide insight into harvest and diagnostic information while the machine is in use. It has a large 10-inch screen and improves uptime with useful shortcut keys.
Final Tier 4 Engine
This machine has a 13.5-liter Final Tier 4 engine with a 2,100 rpm is compliant with emissions standards. It can provide up to 473 horsepower for all of the operator's needs on the job.
If you have any questions about the John Deere S780, contact your local John Deere dealer.
If you enjoyed this post or want to read others, feel free to connect with us on Facebook, or Twitter!
You might also like: