John Deere X730 attachments can help you transform your machine into a more versatile, efficient part of your collection. Everything from utility carts to ballast boxes can be used with the John Deere X730 to help you be more productive during the workday.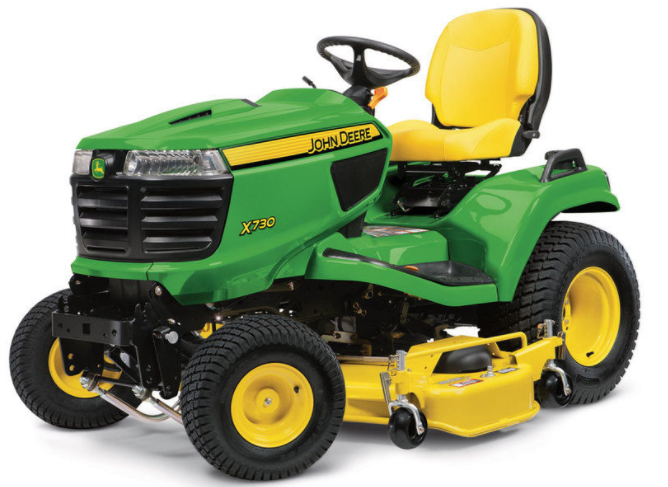 Let's take a look at some of the John Deere X730 attachments you can use on the job.
Ballast Box
A ballast box can be utilized with the John Deere X730 to provide more traction and stability while working on rugged terrain. With the attachment, power is correctly transferred to the ground during operation. Additional stability also translates into more safety for the machine user.
Utility Cart
Another attachment you may want to consider is a utility cart. There are several size options ranging from 7 cubic square feet to 21 cubic square feet to meet your specific needs. The utility cart has a sloped tailgate design to make it easy to load and unload material. It is composed of a durable polyethylene material that won't dent or rust over time. The cart's pneumatic tires are made to absorb shock and minimize rolling resistance while the attachment is in use.
Material Collection System
A material collection system can be used with the John Deere X730 to make cleanup a breeze. It has contoured handles for operator comfort and has a clamshell opening for accessibility. A vented canopy directs dust and exhaust away from the user when the system is turned on.
Battery Charger
This is one of the more useful attachments you will own, especially if you live in a cold climate. The battery charger ensures that your battery is always full of power, even when it needs to be placed in storage over a long period of time. It can help you jumpstart your X730 after a long winter in the garage, and it informs you of when the battery is finished charging. Small batteries can be charged in between two and 12 hours.
Home Maintenance Kit
The home maintenance kit comes with everything John Deere X730 owners need to keep their equipment running smoothly over an extended period of time. The kit comes with a spark plug, air filter element foam, an air filter element, fuel filter, engine oil quart and engine oil filter. These products match the maintenance items listed in the manufacturer's operator manual.
If you have any questions about the John Deere X730 or its attachments, contact your local John Deere dealer.
If you enjoyed this post or want to read others, feel free to connect with us on Facebook, Twitter or Google+!
You might also like: