Whether you're a rancher, agricultural producer, or simply spend an ample amount of time outdoors, John Deere boots can help you take on the demands of the job. There is a wide variety of John Deere Boots to choose from, and they come in several different styles to suit your taste. Let's take a look at the selection from Deere.
Women's 10" Tan WCT Waterproof Pull-On Boot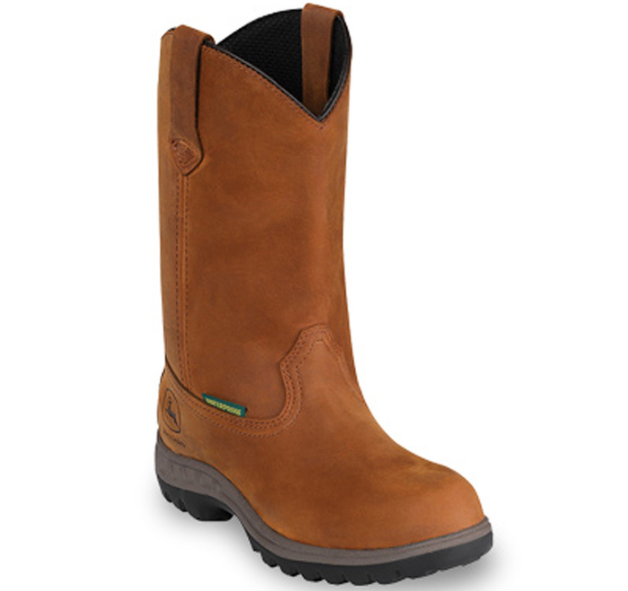 This waterproof boot is perfect if you're going to be working in mud, or need a pair of boots for all weather conditions. It also has as moisture-wicking nylon lining.
Women's 6" Lace-Up Metatarsal Steel Toe Boot
This is one of many John Deere boots with a steel toe for additional safety. It's constructed of a durable crazy horse leather, designed to stand the test of time.
Women's Steel Toe Metatarsal Pull On Boot
This boot can be easily slipped on, and it has an internal flexible metatarsal guard. For comfort, it is designed to be breathable from heel to toe.
Men's 11 Inch Western Work Wellington Boots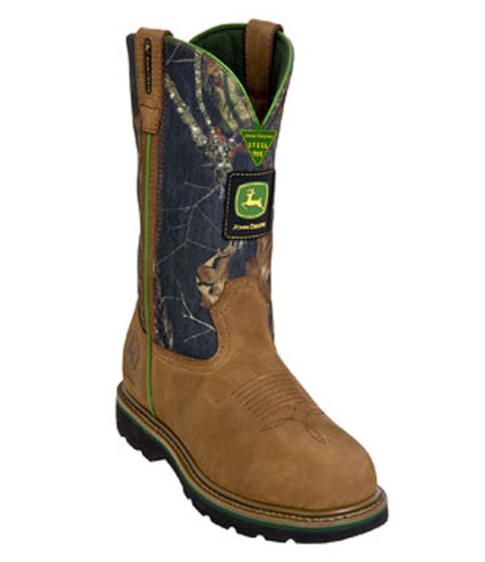 These John Deere boots have a Crazy Horse leather foot and a tempered steel shank. They are designed for durability in the elements.
Men's 6 Inch Steel-Toe Lace-Ups with Met Guard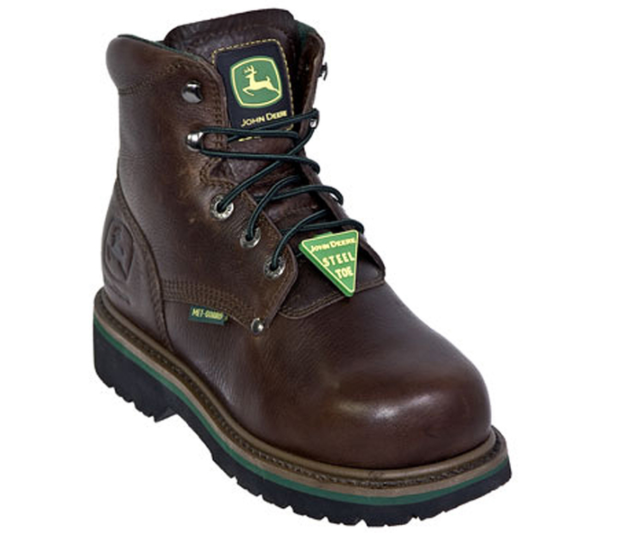 Composed of an oiled full grain leather, these boots are stylish as well as suitable for rugged terrain. They come with an oil, slip and heat resistant rubber outsole for convenience.
Men's 8" Dark Brown Internal Met Guard Lace-Up Steel-Toe Boots
These John Deere boots keep the met guard internally. They have a moisture-wicking lining and a wrapped cushion insole for comfort.
Men's Brown Pull On Work Boot
These everyday John Deere boots are easy to slip on and off, and they have an all-leather welt construction. They are ideal for all types of outdoor work.
Men's 11" Metatarsal Pull On Steel Toe Boot
The internal flexible metatarsal guard of this boot meets ASTM MT75 standards. For additional comfort, it comes with a super-knit moisture wicking lining and Airflow II orthotic.
Men's Western Tan and Olive Work Boot
This work boot has an oil, heat and slip resistant rubber heel cap. It also has a teakwood leather foot, and it is designed for a breathable, comfortable fit.
If you have any questions the equipment John Deere produces, contact your local John Deere dealer.
If you enjoyed this post or want to read others, feel free to connect with us on Facebook, Twitter or Google+!
You might also like: