When it comes to compact utility tractors, the John Deere 3025E is one of the most versatile, efficient models on the market. This tractor comes with four-wheel drive for maximum traction, a tight turning radius, and hydrostatic transmission.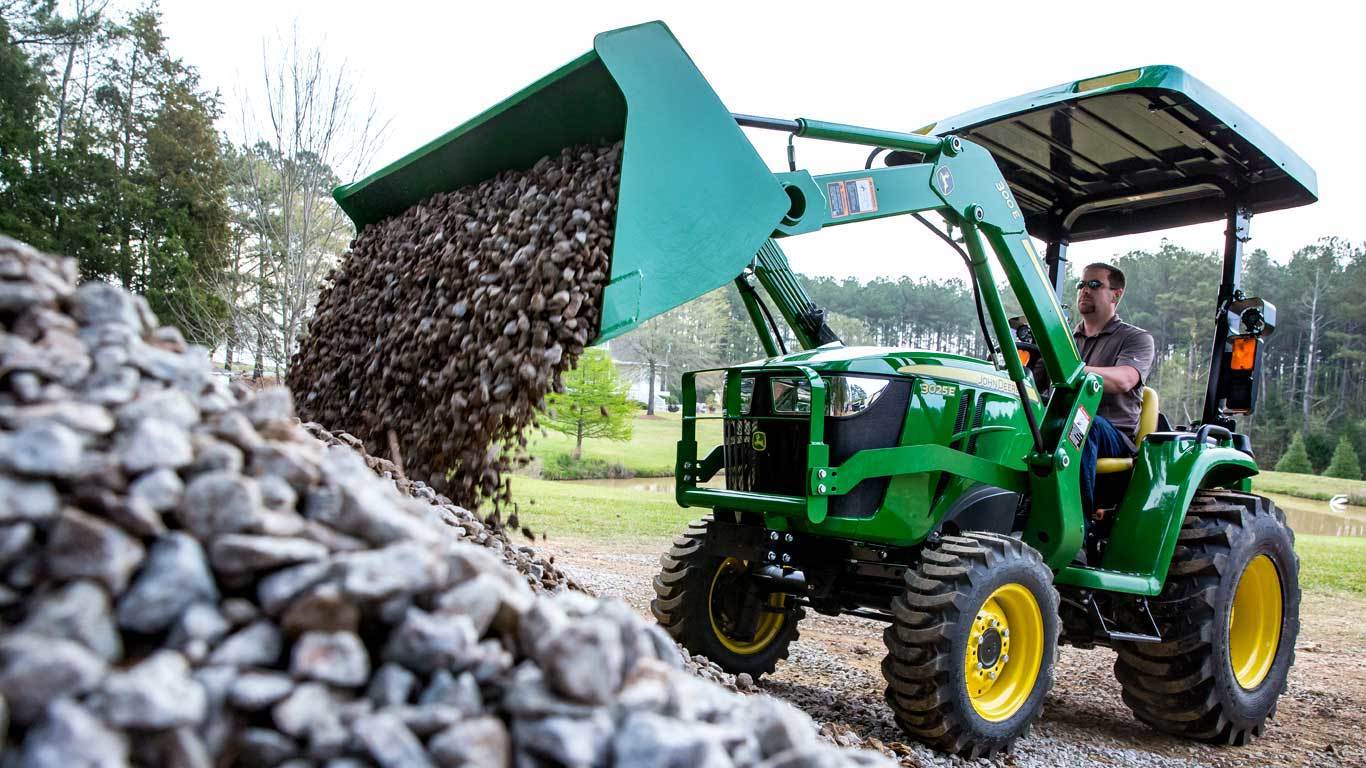 Let's take a look at some of the highlights of the John Deere 3025E and how it can help you with your daily tasks.
Hydrostatic Transmission
The hydrostatic transmission of the John Deere 3025E provides infinite ground speeds, meaning the operator can always match the speed of the tractor to the task at hand. No clutching is necessary to change directions, and the transmission oil cooler cools the transmission oil. In turn, this results in a longer lifespan for the transmission over time.
Simple and Clean Operator Station
The operator station of the John Deere 3025E has a clean layout and "uncluttered" design. All of the controls are color-coded for the operator's convenience. Brake pedals are also designed and located in a convenient location, and the seat is contoured for maximum comfort. If the operator leaves the seat while the tractor is in gear, the engine shuts down for safety purposes.
Engine
The John Deere 3025E comes with a three-cylinder engine that can provide up to 24.7 horsepower for heavy duty jobs. It also uses the latest technology to maximize fuel economy and reduce environmental impact over time. The engine's exhaust filter consists of a diesel particulate filter. This means that it captures particulate matter contained in the exhaust gas. Through a natural cleaning process, most of the particulate matter is trapped in the filter, reducing the amount of pollution exerted from the machine.
Optional iMatch™ Quick-Hitch
The iMatch Quick-Hitch can be used with the John Deere 3025E to make it quick and easy to load on attachments, such as a rotary cutter. The hitch works with all Category 1 implements that are designed to meet ASABE Category 1 Standard S278.6 attachments.
Service Points
All of the service points on the John Deere 3025E are designed to be easily reachable. The tractor also has extensive onboard self-diagnostic capabilities that are fully compatible with the Service ADVISOR system, which comes with John Deere machines. The engine oil, hydraulic oil, coolant level and water separator can all be simply accessed as necessary.
If you have any questions on John Deere 3025E, contact your local John Deere dealer.
If you enjoyed this post or want to read others, feel free to connect with us on Facebook, Twitter or Google+!
You might also like: