When you're on the hunt for the perfect gift for your little ones, why not consider a John Deere playset? There are several playsets to choose from, whether your kids want a tractor of their own or could simply use some new toys. Let's take a look at some of the playsets you can consider from John Deere.
1st Farming Fun Load Up Playset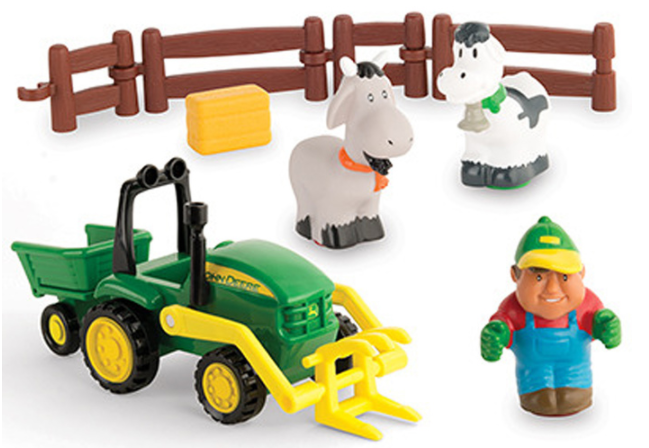 This John Deere playset comes with 10 pieces, including a John Deere tractor with loader and a hitch to pull a wagon. It also features a farmer, cow, goat and hay bale, and a six-piece easy-to-assemble fence.
1st Farming Fun Tractor Fun Playset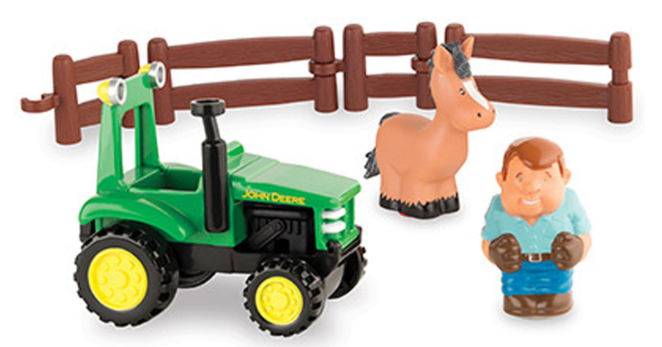 Another John Deere playset to consider is the 1st Farming Fun Tractor Playset. It comes with seven pieces, including a tractor with a functional opening hood, and makes noise for more realistic play.
John Deere Fun on the Farm Playset

This large set, which is made specifically to complement the Big Red Barn Playset, comes with a tractor, Gator, combine and front loader for realistic agriculture play. It also has several animals and fencing for hours of fun playtime.
1st Farming Fun Harvest Time Playset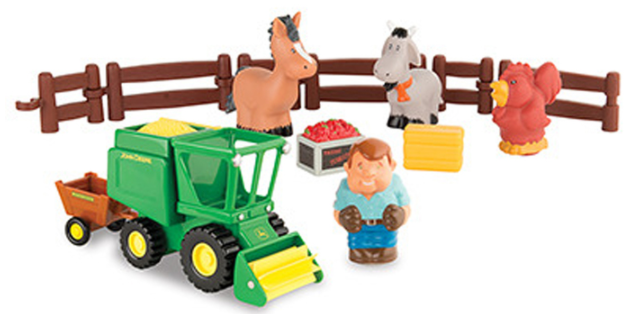 Little ones can pretend it's harvest time with this John Deere playset. It comes with 16 pieces, including a John Deere combine. The unloading auger can be moved back and forth for "real" harvesting action, and the grain pivots back and forth in the hopper. The set also includes a farmer, goat, horse, chicken, hay bale, apple crate, and eight pieces of fencing.
Johnny and Friends Buddy Barn Playset
This playset, which is suitable for kids 18 months and older, comes with the Buddy Barn and Johnny Tractor. It's also designed with a take-along handle, making it an easy-to-transport toy. The roof and rear doors of the barn open wide open for easy access to a ramp, where Johnny Tractor can travel.
John Deere Mighty Movers Bullpen Excape Playset

This vehicle-launching playset is made for little ones who want excitement. By pressing down on the silo, they can launch the vehicle through the bull's legs and send it crashing through the hay bales. If it goes off-course, the bull bucks the vehicle off the trail. The John Deere playset is compatible with all Mighty Movers vehicles.
If you have any questions about real John Deere machinery, contact your local John Deere dealer.
If you enjoyed this post or want to read others, feel free to connect with us on Facebook, or Twitter!
You might also like: