The John Deere 3046R comes with a wide array of features to help you tackle everything on your to-do list, but it doesn't stop there. In addition to its powerful Yanmar diesel engine and its PowrReverser™ transmission, there is a slew of attachments that work with the machine to help you accomplish more each day.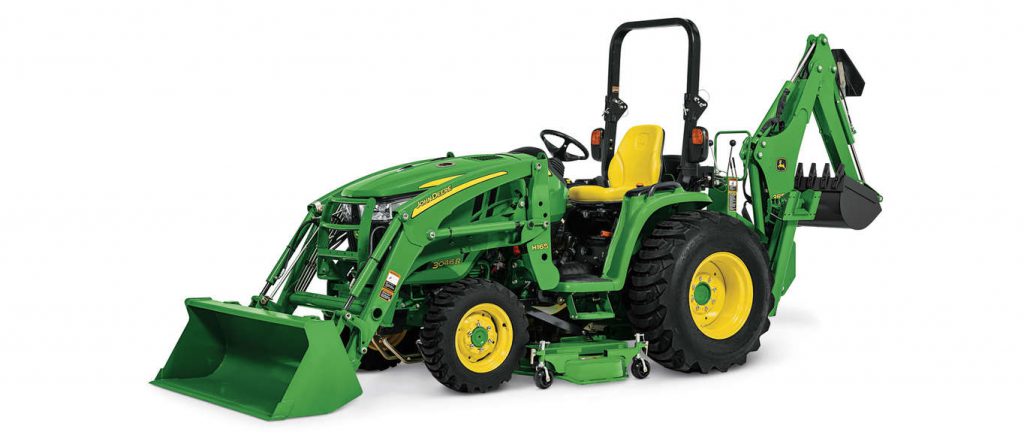 Let's take a look at some of the John Deere 3046R attachments you can invest in to make your tractor even more versatile.
Engine Coolant Heater Kit
With the engine coolant heater kit, starting your machine in the cold weather is no problem. The engine coolant heater plugs directly into a 120-volt electrical outlet to warm the engine within minutes. In turn, your machine starts easier in the winter months, giving you more time to be productive.
Styled Hood Guard
The styled hood guard can be used on the tractor without a loader. With it intact, the front of the tractor is entirely protected. Its quick-release latch allows it to be rotated forward for easy access to the battery and radiator compartment. Its bolt-on design means that it can stay in place when the loader is removed.
Optional Selective Control Valves
The John Deere 3046R comes with a dual mid-selective control valve. Two sets of right-hand couplers allow for the raising/lowering of the boom and curling/dumping of the bucket. Up to five additional SCVs can be added to the machine – a single rear electrohydraulic, dual rear SCV, diverter valve kit, and Power beyond kit.
Rear Fender Extension Kit
This is one of the John Deere 3046R attachments you'll want to invest in if you opt for a cab. The extension fenders and front turnable fenders provide even more tire coverage, meaning you don't have to worry about mud and debris from affecting you in the cab.
Deluxe Hood Guard
The deluxe hood guard can be ordered for your John Deere 3046R to protect the front of the tractor while operating the loader. With its bolt-on design, the hood guard stays in place, even when the loader is removed.
Auxiliary Rear Work Light Kit
This is an attachment operators will want if they work early morning hours or late into the evening. The light kit provides illumination to the rear of the tractor for extra productivity. The rear light is also compatible with forward-work light kits and light-brush guard kits.
If you have any questions on John Deere 3046R or any of its attachments, contact your local John Deere dealer.
If you enjoyed this post or want to read others, feel free to connect with us on Facebook, Twitter or Google+
You might also like: