The John Deere CommandQuad™ transmission for John Deere 6M tractors now helps operators boost their efficiency and reduce their fatigue while out in the field. With easy-to-use buttons and a soft lever, gear shifts are a breeze with CommandQuad.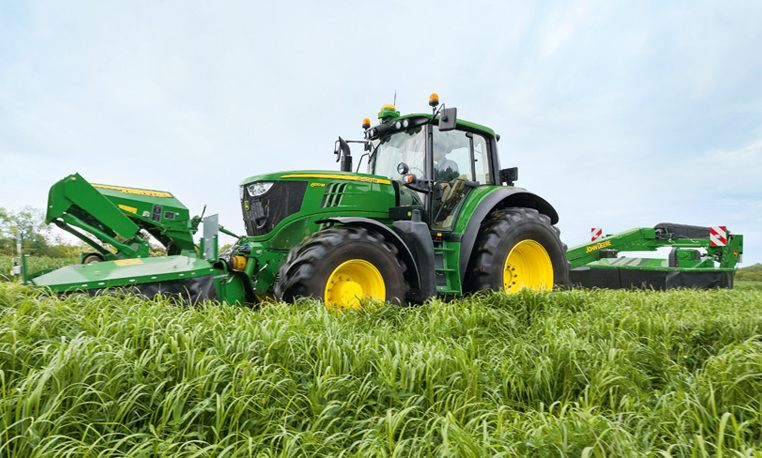 Let's take a look at some of the key benefits of John Deere CommandQuad and how it assists operators on the job.
Operators can change gears and ranges on the go with the press of a button from within the cab, no machine-clutching necessary.
AutoClutch allows operators to brake quickly and easily without having to use the clutch.
AutoMode gives operators the opportunity to change the speed of the tractor from within the cab by utilizing a thumb wheel. From here, the tractor manages the transmission accordingly.
The buttons and levers of the CommandQuad are closely located to each other, reducing operator fatigue and increasing efficiency throughout the workday.
The location of the parking brake, the throttle, and the transmission controls are consistent with other John Deere tractors for familiarity and convenience.
The standard A, B, and C ranges are ideal for heavy draft applications.
The B through E button allows for seamless gear gifts and automatic range shifts without the use of a clutch or de-clutch button. This is ideal for when bales need to be raked or tended to out in the field.
Gear shifts can be executed using a single lever, which operates similarly to a PowerShift transmission. The transmission can be upshifted by pressing forward, and downshifted by pulling back the lever.
Soft shift makes it easy to control the lever when working with windrowers out in the field. Shifting occurs quickly and seamlessly with little effort by the operator from inside of the cab.
AutoMode can easily be activated by switching the lever into the proper position. When AutoMode is turned on, the thumb wheel can be used to set the appropriate ground speed for work. The tractor is responsible for managing the transmission and the engine. Both are optimized for the most fuel efficiency when AutoMode is in use.
Clutching and braking are quicker and simpler with CommandQuad. Operators can press the brake to immediately engage the brakes and actuate the clutch.
Operators can now lightly engage the brake as they roll into their bales to actuate the clutch.
If you have any questions on any of the John Deere CommandQuad, contact your local John Deere dealer.
If you enjoyed this post or want to read others, feel free to connect with us on Facebook, or Twitter!
You might also like: