John Deere aims to produce and manage equipment that can be trusted to handle everyday tasks. From baseball to field hockey, John Deere turf equipment ensures that any game can be played safely, no matter the type or height of the grass.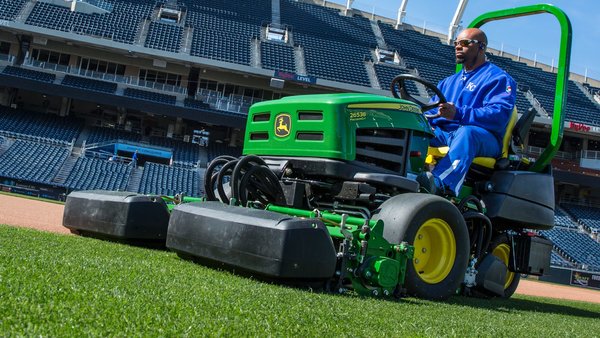 This equipment is designed to work throughout the seasons so that, no matter the game, everything will go off without a hitch. Watch the videos below to hear real-life stories of how John Deere turf equipment has helped drive teams to success.
Jamie Lee, Athletic Director and baseball coach at Cleveland High School, uses a range of John Deere turf equipment to maintain the school's baseball field all year round. This list includes, but is not limited to, a 1200A Field Rake to take care of the infield, a fairway mower, and a TX Turf Gator that allows him to move people and tools to assist in the field.
John Deere's service plan allows Cleveland High School to have Nick Westbrook, a mobile technician at Revels Turf and Equipment, come in once a month for eight months to service their reel mower and check in on other equipment. Both Nick and Jamie Lee take pride in what they do, and it is this pride, along with a mutual trust between the two, that has created a successful working relationship.
At Cleveland High School, Jamie Lee has a tremendous amount of pride in his field and wants his players to feel the same way. On top of working closely with Nick Westbrook to ensure that his John Deere turf equipment is working the way that it should, Jamie also makes sure that his players are doing their part to keep everything looking good.
At East Chapel High School, nine teams are hosted on the game field throughout the school year, including field hockey. Randy Trumbower, Athletic Director, has been using a five-gang machine since 2012 due to reliability and the fact that it can cut the grass short enough to make sure that East Chapel Hill's field hockey team can roll the ball from one side of the field to the other easily.
In order to maintain his fields, Randy Trumbower uses a 7700 PrecisionCut Reel Mower and a walk behind reel mower, as well as a 1200A Field Rake for the infields. Nick Westbrook is one of the school's mobile technicians and it is his sense of consistency and honesty that proves his dedication to East Chapel High School, the students, and his job.
We hoped you enjoyed hearing these stories of how John Deere and its turf equipment helps teams succeed every day.
If you enjoyed this post or want to read others, feel free to connect with us on Facebook, Twitter or Pinterest!
You might also like: