Frontier™ landscape equipment can be added to John Deere tractors to boost productivity and efficiency while tackling jobs that will make your property the talk of the town.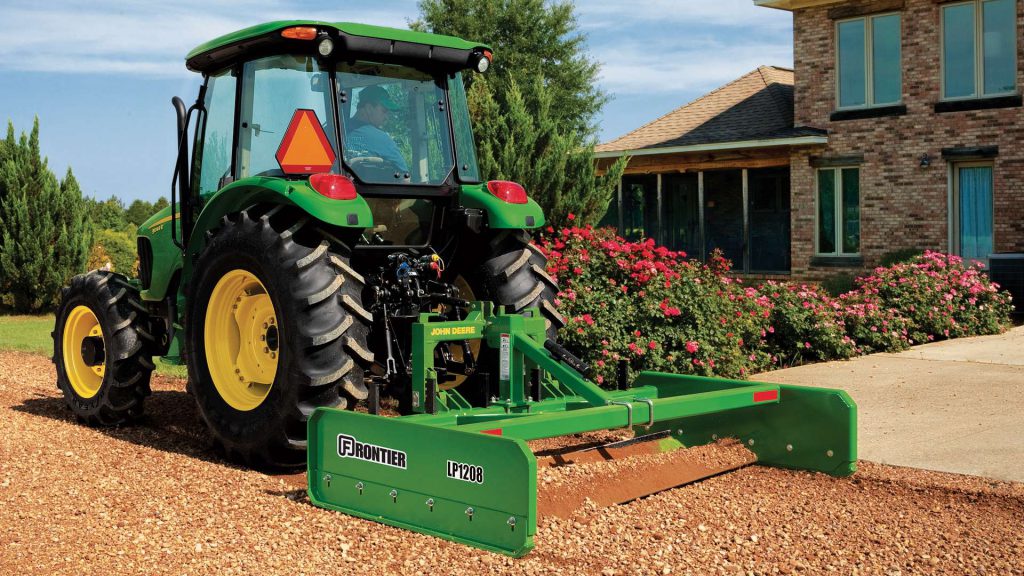 Let's take a look at some of the attachments and add-ons operators can use with their Frontier landscape equipment.
Rear Blades
Rear blades can be easily adjusted for grading and leveling, whether operators are working in a gardening area or handling general landscaping.
Box Blades
Frontier box blades can level uneven ground and make grading tasks a breeze. The tailgate can be fixed or float, and shanks are easily replaceable.
Box Blades – Hydraulic Scarifiers
Box blades with hydraulic scarifiers are specifically designed to tackle the most difficult terrain with ease. They come with a hydraulically-operated scarifier bar, and heat-treated scarifier points ensure a long work life.
3-Point Trencher
Operators can dig uniform trenches for any small drainage or utility project with the 3-Point Trencher. It comes with a chain-type digging model and can achieve a 6 in. wide x 36 in. deep (.2 m x .9 m) maximum trench. Depth control can also be easily adjusted.
Box Scrapers
Box scrapers can be used to smooth driveways, yards, and fields. They are heavy-duty, meaning they can stand the test of a wide range of terrain conditions. They also have drawbar and single SCV compatibility, and optional notched cutting edge for hard soil.
Post Hole Diggers/Augers
The post hole digger allows operators to quickly dig down deep in their terrain with the utmost efficiency.
Land Planes
Land planes allow operators to level driveways, fill potholes, or recondition gravel areas. Their durable frames allow users to smooth over even the most challenging terrain.
Core Aerators
With the core aerator, operators can reduce soil compaction, and promote air, water, and nutrient circulation.
Wood Chippers
The wood chipper for Frontier landscape equipment from Deere comes with a gravity or hydraulic feed system, and it also has a feed stop control bar with a reverser.
Soil Pulverizers
The soil pulverizer comes with a single roller with self-aligning 1 in. (2.5 cm) bearings and there is also an optional second roller with 80 lb. (36.3 kg) compression springs.
Power Rakes
The versatile power rakes make it simple to cultivate, level, grade or restore soil surfaces. They come with a carbide tooth roller and manually adjustable rollback barrier.
Landscape Rakes
The landscape rakes are perfect for cleaning up debris and brush removal, and they can also help with surface leveling for final seed preparation. They have rugged tubular steel frames and durable steel spring tines.
Power Rake Seeders
The power rake seeders allow operators to level, till and seed in just one pass. A standard roller basket makes for good seed to soil contact.
3-Point Debris Blower
The 3-point debris blower can make for quicker cleanup of sidewalks and driveways, with 141 mph maximum air velocity.
If you have any questions about the Frontier landscape equipment, you can contact your local John Deere dealer.
If you enjoyed this post or want to read others, feel free to connect with us on Facebook, Pinterest, or Twitter!
You might also like: