John Deere 6R Series Tractor updates are prepared to amaze in 2019, with the lineup of equipment gaining a range of exciting, customizable features.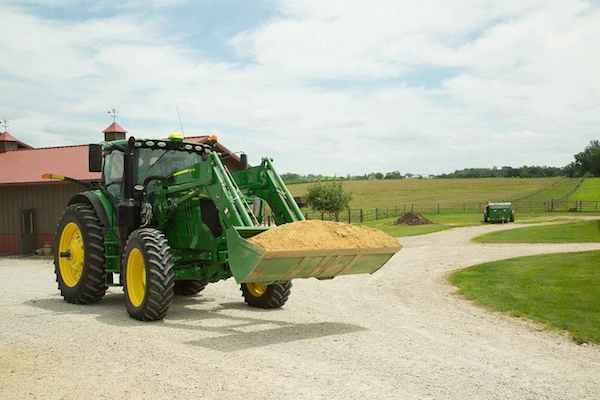 Updated machines will include:
The base equipment package will include an engine-oil service door, JD Link™ Access and RDA, and a 4200 Generation 4 CommandCenter™ Display. Customers will also have the option to add features such as the CommandPro™ Control multi-function joystick, variable ratio steering, and a 155 L/minute hydraulic pump to boost overall performance and control.
Watch the video below to learn more about these John Deere 6R Series Tractor Updates.
The new John Deere 6R Series Tractor updates are designed to provide more control and convenience for maximum productivity. With CommandPRO Control, operators are able to manage speed and direction all from one easy-to-use lever. With the push of a button, operators can move the tractor forward and can accelerate or slow down with ease. A travel speed of up to 31 mph can be achieved with a simple push of the lever, making the transition from an intersection to moving traffic a breeze. This control feature also includes a self-canceling turn signal, three rates of acceleration, and two set speeds.
A convenient access door allows operators to check engine oil without going through the hassle of opening up the hood, saving time each day while boosting efficiency. Operators will also have the option of choosing a 41 gallon per minute hydraulic pump on 6145R and 6155R tractors as a mean of improving front loader cycle times. A new standard on John Deere 6R Series tractors is the 4200 CommandCenter Display which provides AutoTrac Guidance and Section Control in addition to other great features. With variable-ratio steering, operators traveling at less than 9 mph will be able to make tight turns thanks to a reduction of steering wheel rotations by one-third.
Each of these John Deere 6R Series Tractor updates is designed to ensure each job is completed as efficiently as possible, whether on the field or traveling on the road. From an easy-to-use lever for maximum control to a conveniently placed access door, operators will surely appreciate these changes.
If you enjoyed this post or want to read others, feel free to connect with us on Facebook, Twitter or Pinterest!
You might also like: