When it comes to grain harvesting, John Deere has a wide range of combines that are designed to help you take care of the task at hand – but what about attachments? There are several add-ons and options you can deploy with your machinery to boost its efficiency and make it even more versatile out in the field.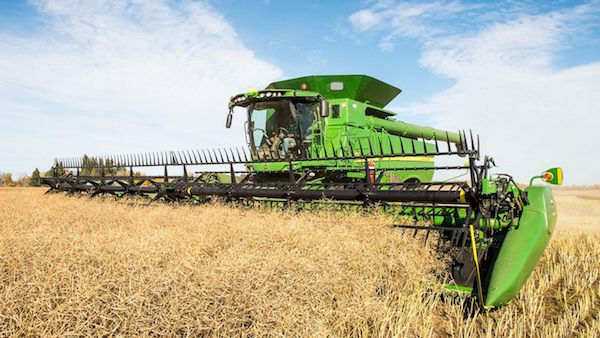 Let's take a look at some of the grain harvesting attachments you can use with your combine to enhance productivity.
Unloading Auger Boot
This auger boot adds nine inches of reach and reduces downtime. Its one-piece design extends time to blow off, and it is available as a retrofit for all high-unloading rate systems.
4WD Conversion Kits
You'll never find yourself stuck in mud, muck or other adverse harvest conditions with a 4WD Conversion Kit. It comes with two different speeds and can get you out of any rugged terrain.
ActiveYield RetroFit Kit
ActiveYield maximizes your system's accuracy with no effort or time away from harvest. It senses the weight of the grain in the grain tank as it fills and uses this weight information to calibrate the yield system continually throughout harvest. This provides operators with optimized system accuracy and reliable yield data collected all day, every day.
Grain Tank Mirror Kit
With the grain tank mirror kit, you can increase the visibility to the grain tank on any S-Series combine.
Foot Pegs
With these foot pegs, operators can increase their comfort while using the machine.
RowMax RetroFit Kit
RowMax boosts row unit life up to 50 percent with an advanced gathering chain featuring 12 more links, two additional sprocket teeth, and upgraded alloy bushings.
High-Wear Rifled Threshing Elements
High-wear rifled threshing elements are coated with Gopalite for better wear and corrosion and resistance, which makes them ideal for abrasive crops and hard-to-thresh crops.
High-Wear Separator Tines
High-wear separator tines feature Gopalite coating as well to provide a thicker wear layer, and a hardness greater than chrome. This enhances durability and corrosion resistance over time.
Separator Grate Covers
Separator Grate Covers reduce chaff load to the cleaning shoe while harvesting extremely dry, small grain.
For more information on grain harvesting attachments for your machinery, contact your local John Deere dealer or visit www.deere.com.
If you enjoyed this post or want to read others, feel free to connect with us on Facebook, Pinterest, or Twitter!
You might also like: