John Deere has several Gator utility vehicles to choose from, but how do you know which one is right for you? They come with a wide range of features to help you take on rugged terrain and the elements, meaning there are already a few things you don't have to worry about as soon as you hop in. However, there are still many underlying features to take into account before you make a final purchase.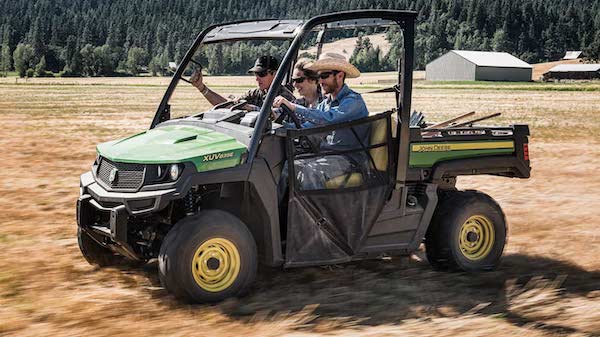 Let's take a look at some Gator utility vehicles and their features to help you make the right purchase.
XUV560E
This model has a 16-horsepower engine and operates up to 28 miles per hour. It seats two people comfortably and has a storage capacity of nine gallons. In addition, it comes with an extra-durable, one-piece cargo box and the tailgate can be opened or removed for easier cleanout.
XUV835E
If you're looking for a Gator that packs a little more punch, this machine operates up to 45 miles per hour and holds up to 16 gallons. It also has a three-person cockpit and an adjustable driver's seat with tilt steering.
XUV865E
This model has a 23-horsepower diesel engine and operates up to 32 miles per hour. It also has a fuel capacity of 11.2 gallons for longer days and more productivity. Finally, it boasts a precision-engineered drivetrain system that fully utilizes engine power, optimizing acceleration, hauling, towing, and hill-climbing capabilities.
XUV825E
For a little more power, customers may want to check out this model, which reaches speeds of up to 44 miles per hour with a 52-horsepower gasoline engine and a 7.3-gallon fuel tank. Its front and rear suspension ensure a smooth ride, regardless of the terrain.
XUV590M
This model has four-wheel independent suspension for easy steering and smooth operation. The operator station is also quiet and comfortable, making this Gator ideal for all-day use. It can reach up to 48 miles per hour and comes with a large, one-piece cargo box as well.
XUV590E
This model can reach more than 45 miles per hour on the fly and has a fuel tank with a nine-gallon capacity. It has four-wheel independent suspension, as well, for a smooth ride over even the most challenging terrain.
If you have any questions about John Deere Gator utility vehicles, you can contact your local John Deere dealer.
If you enjoyed this post or want to read others, feel free to connect with us on Facebook, Pinterest, or Twitter!
You might also like: