When you want to hit the back roads, you know you can rely on John Deere to provide you with the utility vehicle you need. To meet customer expectations, Model Year 2021 John Deere Gator Utility Vehicles now include automotive-like features for easier operation and improved operator control. They also have improved transmission controls, enhanced digital displays, and easier gear shifting for a smoother ride.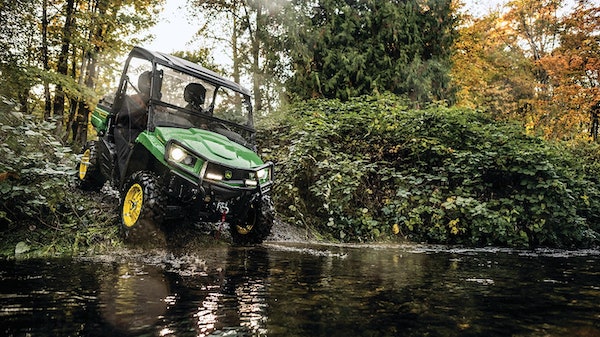 "For 2021, we took a look at our Gator line-up and made improvements to the transmission controls, digital displays, gear positions, and power steering," said Mark Davey, John Deere marketing manager. "Customers will find that our updated units are easier to shift and control, provide instant engagement of 4-wheel drive and differential lock, and provide more information on the dashboard."
Let's take a closer look at some of the highlights of the Model Year 2021 John Deere Gator Utility Vehicles to get an idea of what these machines deliver.
Automotive-like Feel
Customers who purchase one of the Model Year 2021 John Deere Gator Utility Vehicles will instantly notice a more automotive-like feel. With an integrated park position and improved shift pattern, it'll feel just like driving a car. Updated units also feature instant four-wheel drive for necessary traction and control.
Power Steering
The Model Year 2021 John Deere Gator Utility Vehicles have automotive-style power steering, specifically on the Gator XUV M and R models. This allows for smoother steering and better control, regardless of the terrain at hand.
Attachment Versatility
More than 100 attachments, including sprayers, snow blades, and winches, can be used with the Model Year 2021 John Deere Gator Utility Vehicles. This means that customers can use their equipment to accomplish a wide array of tasks every day.
Convenient Shift Stops
Shift stops have been installed behind the dashboard of these Gators for jobs requiring a quick change to reverse, making for a smoother transition.
High Payload Capacities
Similar to the John Deere Gator Utility Vehicles of prior years, the 2021 Model Year units have payloads of hundreds of pounds, meaning customers will never struggle to tow attachments, hay, or other material around the job site.
If you have any questions about the 2021 Model Year John Deere Gator Utility Vehicles, you can contact your local John Deere dealer.
If you enjoyed this post or want to read others, feel free to connect with us on Facebook, Pinterest, or Twitter!
You might also like: