You might have a wide array of John Deere equipment, but what about your collection of implements? With add-ons and attachments, you can get even more out of your John Deere equipment and take on numerous tasks around your homestead.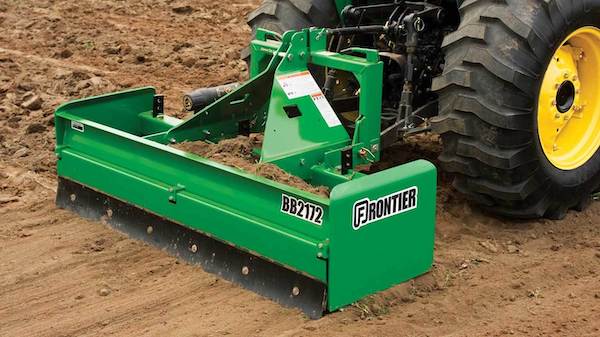 Let's take a look at some of the John Deere implements you can add to your collection of equipment to get more done during the workday.
Tractor Loader
With a tractor loader, you'll be able to add a material bucket and give yourself the ability to scoop, move and dump material at ease. You can also add a pallet fork or a debris grapple for even more productivity.
Box Blade
A box blade is one of the more versatile implements you can own. It can be used for everything from leveling land to spreading dirt exactly where you want it. In order words, it's a tool you'll use frequently alongside your John Deere equipment.
The BB20 Series of box blades are perfect for a wide array of landscaping tasks. Their cutting edges are strategically positioned for a fine finish, and they are all iMatch quick hitch compatible for a quick, efficient hookup. Adjustments can also be easily made on the BB20 Series box blades – a steel pin can be removed to quickly raise or lower the scarifier to increase or decrease ground penetration.
Rotary Cutter
A rotary cutter can help you take care of rough grass and terrain, which is especially helpful if you're working over a wide area of land.
The RC20 Series, for instance, is easy to maneuver and covers a large area in a short amount of time. It has puncture-resistant tires and a balanced blade pan that reduces vibrations. Additionally, the attached blade bar is thicker for increased durability.
Rear Blade
A rear blade is essential for digging ditches, moving gravel, grading, and smoothing. In addition, it can be used for snow removal, giving it even more purpose year-round.
The RB20 Series rear blades are iMatch compatible and have a reversible cutting edge for longer wear life. The tubular steel frames on the RB20 Series rear blades also make them perfect for grading and ultimately boost their durability and strength.
For more information on top implements for your John Deere equipment, check out this page.
If you have any questions about implements from John Deere, you can contact your local John Deere dealer.
If you enjoyed this post or want to read others, feel free to connect with us on Facebook, Pinterest, or Twitter!
You might also like: