There is a wide array of John Deere compact equipment that can not only increase uptime but can ultimately boost productivity and savings. However, not everyone is aware of the benefits of this equipment and how it can help on the job.
To spread the word about John Deere compact equipment and help others with the tasks at hand, Terry Chriestenson of Wichita, Kansas, decided to launch U-Turn Rentals. From there, the rest was history.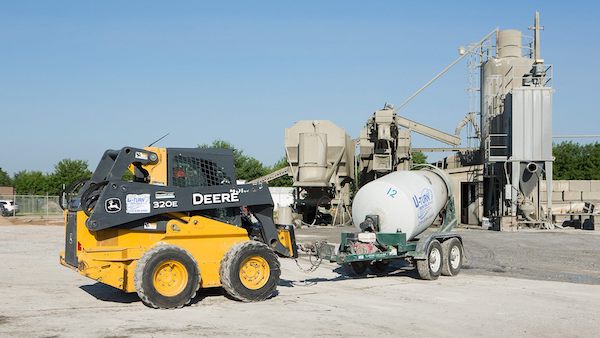 A One-Stop Shop
Chriestenson began U-Turn Rentals with one goal in mind: to transform his business into a one-stop shop for concrete and other construction contractors.
"Concrete is what I know — I've been in the concrete business most of my life," he says. "My dad began driving a mixing truck when I was two years old, which was over half a century ago. He became a plant manager, and by the time I was 10, I was washing out trucks for his drivers. They loved me because they hated that job. As soon as I got my license, I started driving mixer trucks and learning to run the plant."
His father was responsible for teaching him how to lay brick, which he did for 15 years before finally beginning his concrete business. Now, Chriestenson is dedicated to bringing a unique customer experience to his patrons in order to ensure they have everything they need to get started.
Chriestenson's business, U-Turn Rentals, rents John Deere 17G, 35G, and 50G Compact Excavators, as well as Deere skid steers and compact track loaders.
"Compact excavators are super popular because they are so maneuverable, especially when you have a small footprint on jobs, such as window wells or sewer and water lines," he says. "And the CTLs are great for working in the mud and muck, while they are friendly to turf and sidewalks. Plus we offer an array of attachments — including buckets, forks, brush cutters, post hole augers, grapples, and Harley rakes — so our customers have the tools they need."
U-Turn Rentals also has a learning center where visitors can pull up a chair and watch short videos on the machines they'll be renting so they're up to speed on how to properly use the equipment.
"We spend as much time with the customer as they need," Chriestenson said. "We try to make the experience fun. But we also want to make sure everyone — whether they are a contractor or a weekend warrior — knows what they're doing before taking the machine to their jobsite or home."
If you have any questions about compact equipment, you can contact your local John Deere dealer.
If you enjoyed this post or want to read others, feel free to connect with us on Facebook, Pinterest, or Twitter!
You might also like: