Since the announcement of the Gator TH in 1992, John Deere Gators have provided customers with the opportunity to take on a range of tasks, from gardening to off-roading. Inspired by the 1987 John Deere All Materials Transport (AMT), the first family of all-terrain utility vehicles was developed and took the company in a slightly different direction than usual.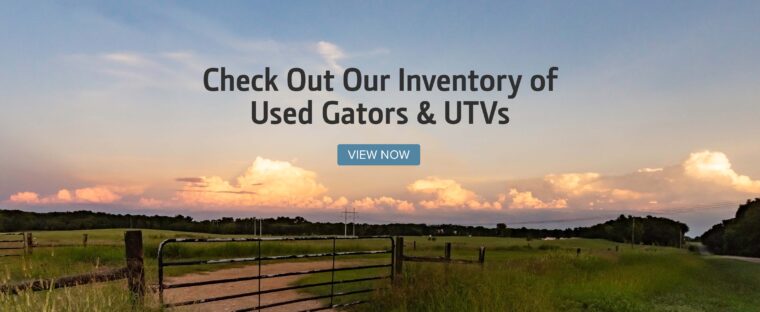 The traditional John Deere Gators, or The Work Series, provide all of the basic functions and amenities you would expect in a utility vehicle. These models are known for being easy to use, hardworking, and providing unmatched productivity.
Crossover utility vehicles, on the other hand, provide functions and features you'd normally expect to see in a car. These are known to offer great off-road performance and the ultimate work capability. Lastly, recreational utility vehicles focus on the fun you expect to get out of a gator. These John Deere Gators are known for being trail ready and have the needed equipment to conquer almost any terrain.
These three series were created with different functions in mind, but sorting through all the different features of each model can get tedious or overwhelming. We've broken down these three Gator lines to give you a better idea of what each model provides. Take a closer look at each model to find the Gator that is perfect for you.
Traditional/Work Model
The Traditional Gator Utility Vehicles, or The Work Series, was built for residential yard work, landscaping tasks, golf course upkeep, and turf maintenance. These John Deere Gators weren't originally meant for the heavy-duty lifting or hauling we see today, but to help ease tedious maintenance and upkeep tasks.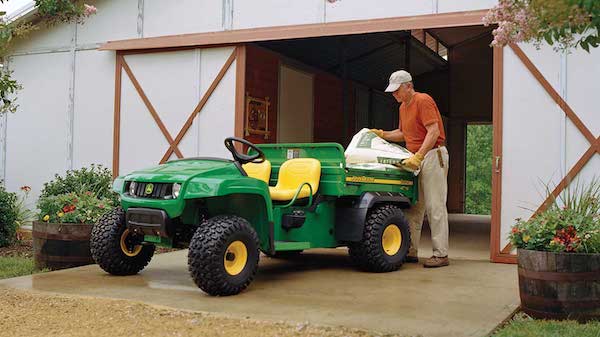 When it comes to everyday use, John Deere Gator utility vehicles have plenty to offer. Let's take a look at one example of a customer who is using his gator for all it's worth.
At Woodland Creek Dairy in Waunakee, WI, Bill Endres and his son-in-law, Joe Ziegler, are dedicated to their land and the animals on it – this means starting work even before the sun rises. In order to complete a range of task on any given day, the men, especially Bill, use different pieces of equipment, including John Deere Gators. With the help of their XUV 4×4 Gator, loading material, hauling other equipment, and moving across the land is accomplished with ease.
Today, The Work Series is work-site ready and includes models with a low center of gravity which provides added stability while remaining light on the surface being worked on. These John Deere Gators have enough strength to drive over rocks, mud, or other unfavorable conditions. All gas and diesel work series models come equipped with a continuously variable transmission (CVT) to help handle all kinds of terrain. Additionally, most of the traditional models come with a deluxe cargo box and pick up style tailgate for easy cargo storage and transportation. Finally, models in this series also include a standard gas assist shock, a brake system matched with vehicle load capacity, and 12-volt outlets.
HPX615E / HPX815E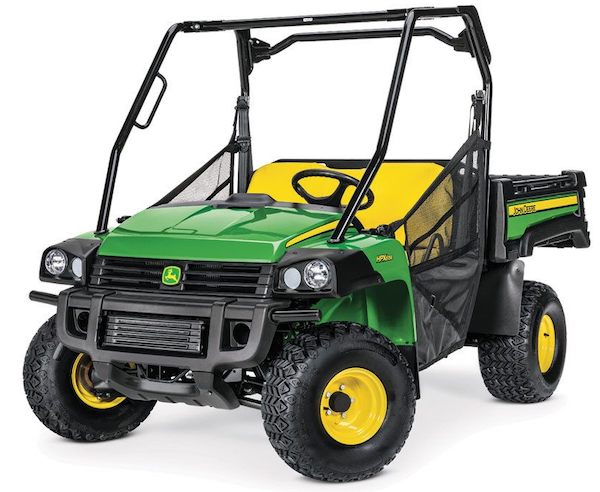 The HPX series includes the newest models out of The Work Series: the HPX615E and HPX815E. These models come with a large payload and towing capacity, heavy-duty deluxe cargo box, and enhanced 4-wheel suspension. They also include tailgate lights, a 2-in (5 cm) receiver hitch, and an easy-to-dump cargo box with standard gas-assist or optional automatic power lift. These are just a few HPX features that stand out against other models in The Work Series. The HPX models also come with the option of gas or diesel engines and reach a maximum speed of 25 mph. These John Deere Gators have a cargo capacity of 1000 lbs, a towing capacity of 1300 lbs, and a payload capacity of 1400 lbs.
Full-Size Gator TH 6×4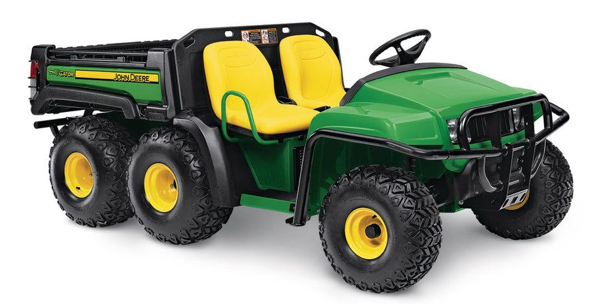 The Gator TH was the first John Deere Gator Utility Vehicle and has been modified several times since its invention. With its 6-wheel design, the Gator TH is designed to haul materials typical of a turf environment such as rakes, shovels, soil, grass clippings, hoses, and gravel. This model's 16.4 cubic foot (.46 cubic meter) capacity reinforced box includes a gas-assist shock for easier lifting and dumping, pick-up style tailgate, 20 integrated tie-down points, and removable composite side panels and tailgate for flatbed operation. The Gator TH reaches a maximum speed of 20 mph.
Gator TX 4×2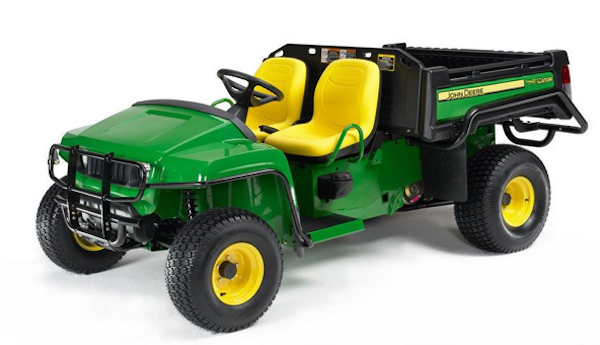 The Gator TX comes with nearly all of the same features as the TH, but showcases the conventional 4-wheel design of most utility vehicles. Like the TH, the Cargo Box includes 16.4 cubic feet of capacity, pick-up style tailgate, 20 tie-down points, a gas-assist shock for easier lifting and dumping, and the ability to convert to a flat-bed mode in minutes. Last but not least, the TX can reach a maximum speed of 20 mph.
Gator TS 4×2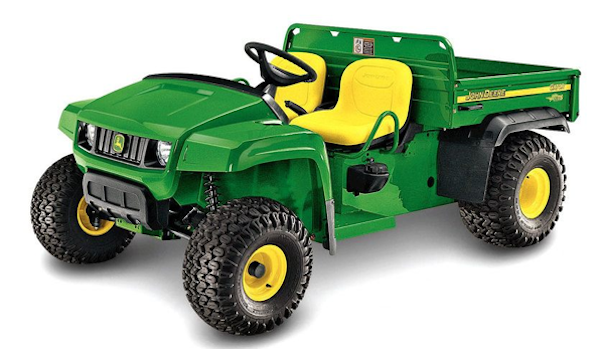 Despite being John Deere's most basic utility vehicle, the Gator TS still comes with most of the various functions and features you see in other Gators. This Gator TS model includes an independent front suspension, differential lock, a light turf footprint, and can reach a maximum speed of 20 mph.
Gator TE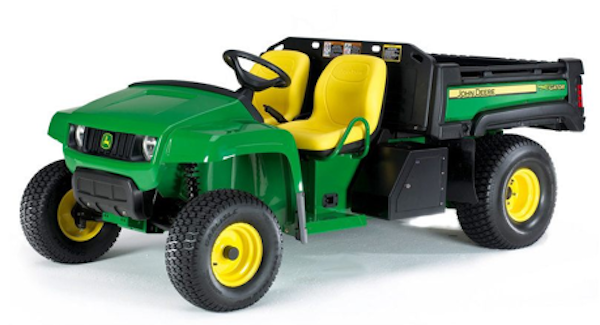 The Gator TE is John Deere's only all-electric utility vehicle. The 48-volt electrical system provides power to perform evenly all day long with only an overnight charge. This model can haul up to 500 lbs (227 kg) with the same deluxe cargo box you'll find on the TX and TH – this is all while giving you the advantage of zero emissions and zero fuel consumption. The TE is extremely quiet and comes with a UL- approved charger that automatically shuts off after reaching full charge. This model reaches a maximum speed of 15 mph.
Crossover Utility Vehicles / XUV
John Deere decided to take The Work Series to the next level when designing the Gator Crossover Utility vehicles. This line is made up of mid- and full-sized XUVs that come in E, M, or R models. Designed with multiple scenarios in mind, these John Deere Gators are perfect for working, hauling, camping, hunting, fishing, and more!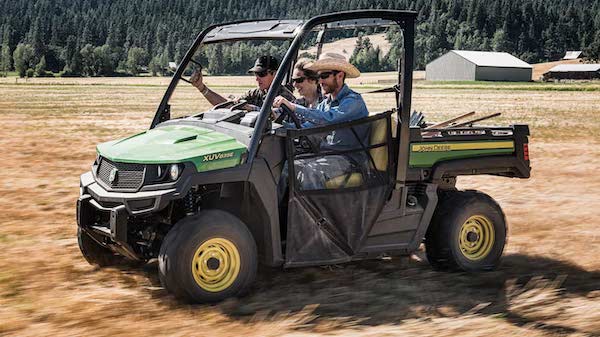 These utility vehicles may be built to work, but they also have operator comfort and safety in mind with an occupant protective structure certified cab, an automotive style dash, safety restraints and an LCD screen with LED warning lights. Gator XUVs accommodate 2,3, or 4 passengers and come with a fully independent suspension and all of the basic features and functionality you can find in The Work Series models.
The E models include the most basic functions and features of the XUVs. The M models take it up a notch with power steering, upgraded plug-and play-wiring, and many open station and cab configuration options. The R models are only available for full-sized XUVs and provide luxury features such as premium cloth seats, exclusive tan interior and our quietest cab with heat and A/C in standard equipment.
Compared to The Work Series models, XUV models vary only slightly. With this in mind, let's take a look at what does differ amongst these John Deere Gators.
Mid-Sized: XUV590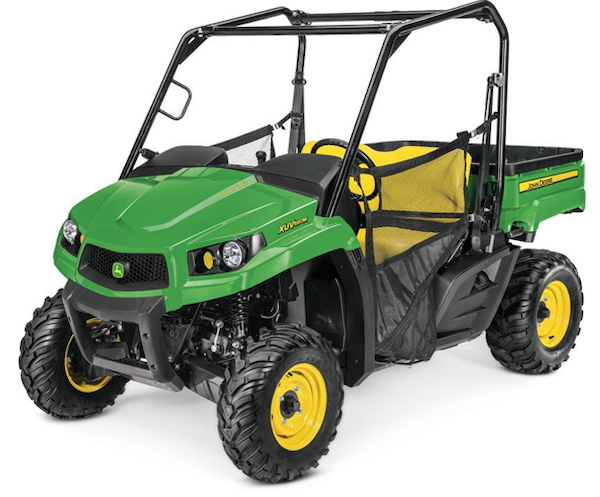 Engine:

4 cycle gas, electronic fuel injection (EFI)

Cab:

2 passengers or 4 passengers

Max Speed:

0-45 mph High Forward, 0-28 mph Low Forward, 0-22 mph Reverse
Mid-Sized: XUV560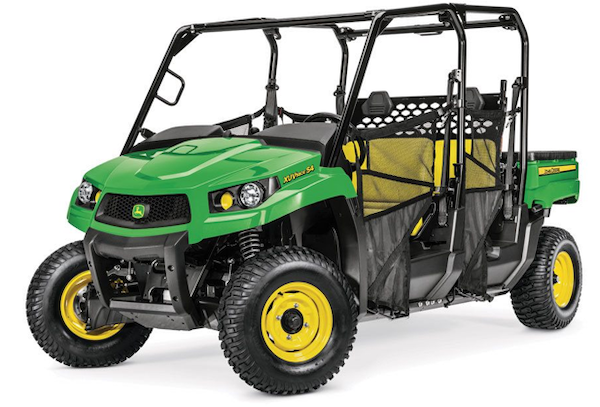 Available Models:
Engine:

4 cycle gas, dynamically tuned carb

Cab:

2-person or 4-person cab

Max Speed:

0-28 mph High Forward, 0-17 mph Low Forward, 0-20 mph Reverse
Common Full Sized XUV Features
Compared to their mid-sized counterparts, the full-sized Gator XUV's pack a little extra punch when it comes to the features. All full-sized XUVs come with an On-demand True 4D System, high ground clearance, automotive style braking, and integrated cargo management. Every 2- and 4-person full XUV offers 1,500 lbs of towing capacity and 1,400 lbs of payload capacity. Also, the new three seaters can tow up to 2,000 lbs and have a 1,500 lb payload capacity. All full-sized XUVs are equipped with a durable cargo box that can carry up to 1,000 lbs. Other notable features include Custom-engineered shocks, CVT intake, and an advanced digital dash. Discover what makes these John Deere Gators stand out.
XUV825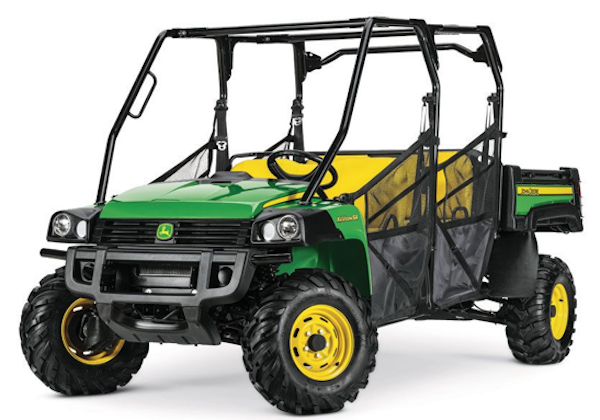 Engine:

4-cycle gas, Electronic Fuel Injection (EFI)

Cab:

2-person or 4-person cab

Max Speed:

0-44 High Forward, 0-17 Low Forward, 0-20 mph Reverse
XUV855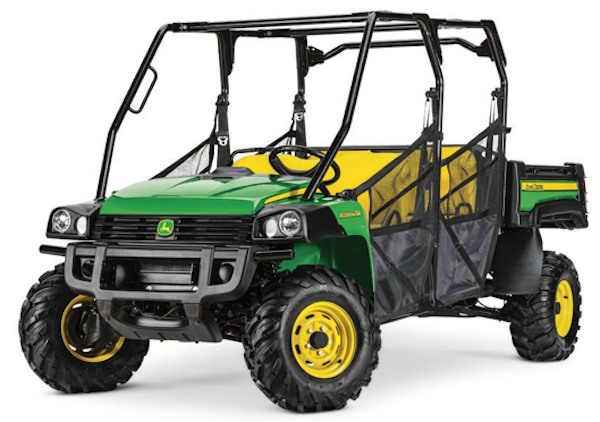 Available Models:
Engine:

4-cycle diesel – 854cc's that generate 23 HP

Cab:

2-person or 4-person cab

Max Speed:

0-32 High Forward, 0-15 Low Forward, 0-17 mph Reverse
The XUV835 and XUV865 are John Deere's new three across models, meaning more people can join in on the fun! These models are equipped with powder coat electrostatic paint, high-strength steel A-Arms, and Integrated winch mount 2-in. (61 cm) front and rear receivers with integrated ridged steel tow hooks.
XUV835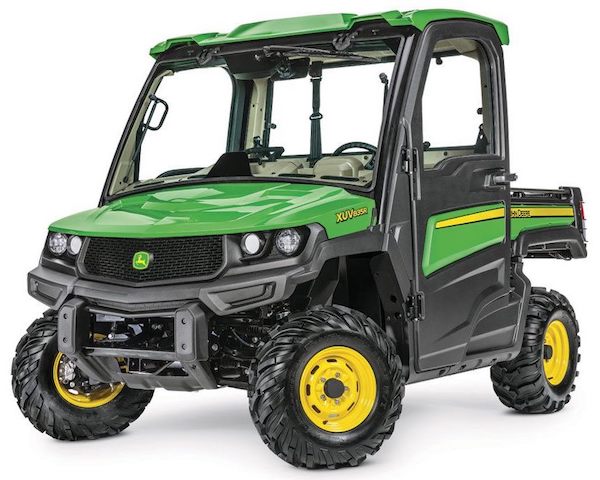 Engine:

4-cycle gas, Electronic Fuel Injection (EFI), 54 HP (40 kW)

Cab:

Three Across

Max Speed:

0-45+ High Forward, 0-29 Low Forward, 0-33 mph Reverse
XUV865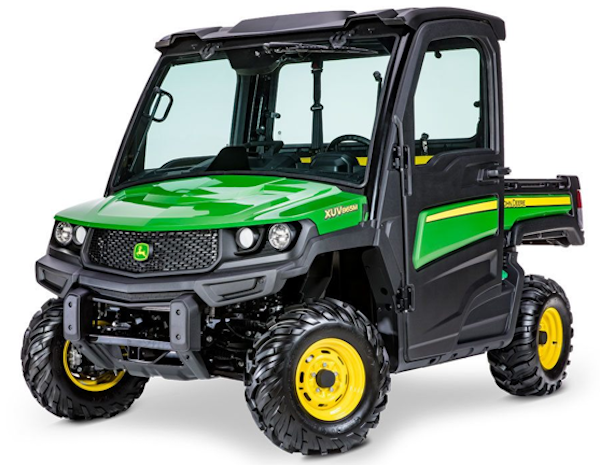 Available Models:
Engine:

4-cycle diesel – 854cc's that generate 23 HP

Cab:

Three Across

Max Speed:

0-32 High Forward, 0-15 Low Forward, 0-18 mph Reverse
High-Performance Utility Vehicles
The John Deere Gator High-Performance Utility Vehicles were truly created with recreation in mind. Gator RSX models were designed for racing over rough terrain, trail riding, and barreling through wooded areas. They have the gear to back them up with front and rear end suspension along with superior tire traction and a tight turning radius. Gator RSX models emphasize the fun of utility vehicles with higher speeds and performance capabilities.
The RSX takes the Gator family to the next level with Instant throttle response, full-locking true 4WD system, electronic ignition, and the top speed of all John Deere Gators; the RSX model can also tow up to 1,200 lbs. The well-designed cockpit includes extra legroom and standard 21 in. (53.3 cm) deluxe high-back bucket seating with water drain hole and large headrests. The series was built with safety in mind, showcasing features such as full-length underbody skid protection, a fully sealed CVT drive case and high engine, and a roll-over protective structure. The ROPS (Roll-Over Protective Structure) includes automotive 3-pt seatbelts, multiple handholds, and SAE, ISO & OSHA ROPS certification.
RSX860E / RSX860M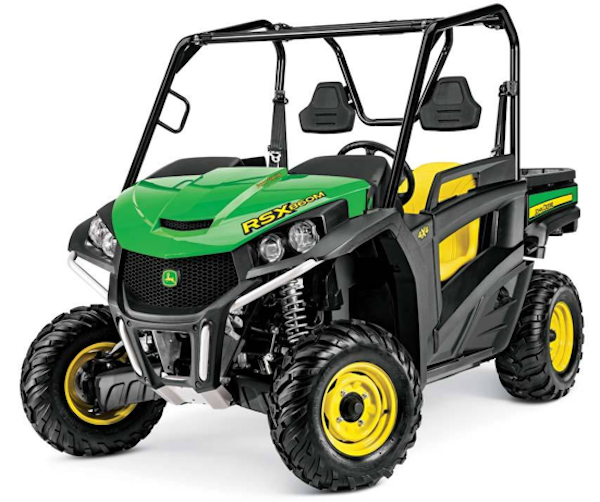 Available Models:
Engine:

4-cycle gas, Electronic Fuel Injection (EFI) – Closed Loop System

Cab:

2 person cab

Max Speed:

High range 0-60 (0-97), Low range 0-30 (0-48.3)
Popular Gator Attachments
John Deere Gator attachments add additional functions, comfort, and safety to your utility vehicle.
For the Work Series, the following attachments improve the operator experience and provide additional functionality:
Rearview mirror

Horn/light kits

Blades/Sprayers

Cargo box power lift kit
For the XUVs and RSXs, the following attachments add comfort, increase functionality, and enforce safety:
High-back bucket seats

Utility carts

Deluxe cab

Underseat storage

Seatbelt comfort strap

Windshields

Cargo box wall extensions

Front hood rack

Tire options

Front brush guard

Rear bumper

Winch
For a complete list of all John Deere Gator attachments broken down by function, check out this page.
All John Deere Gators are built with a specific task in mind, and it is up to you to decide which features you need the most. The work series, XUVs, and RSX all cover the basics of hauling, towing, and carting, but John Deere also has models specifically for military and turf. No matter what your plans are, John Deere Gators are designed to offer all of the functions, features, and attachments you'll need.
If you have any questions about any of these John Deere Gator models, you can contact your local John Deere dealer.
If you enjoyed this post or want to read others, feel free to connect with us on Facebook, Twitter or Pinterest!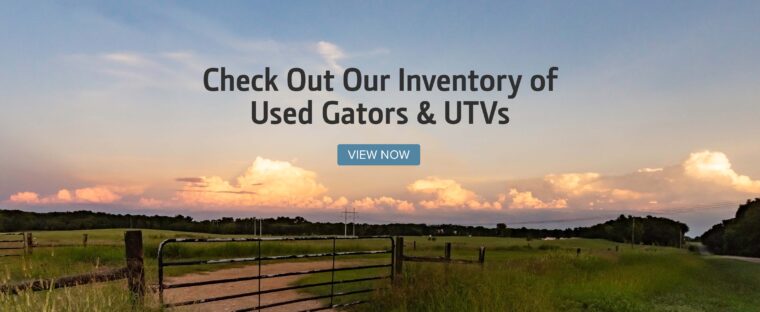 You might also like: