When looking back on John Deere history, it is clear that this company has consistently represented its vision of providing the best for its customers. To this day, every decision that is made at Deere links back to four core values: Integrity, Quality, Commitment, and Innovation.
While all of these values are equally important to the success of this company, innovation is a central factor in what has made John Deere stand out throughout the past century. By regularly introducing the latest technology into its manufacturing processes and products, this company has proven its willingness to adapt to change in order to help its customers across industries, especially agriculture.
How did John Deere change American agriculture?
From the very beginning, John Deere has always proven itself to be a pioneer when it comes to making farmers' lives easier. It all started in 1837 when the man himself recognized the need for a highly polished plow that could stand up to the heavy, sticky prairie soil most were facing. This led to the first steel plow which was fashioned from a broken saw blade. The success of this invention put the company on the path to seemingly constant development, from the incorporation of Deere & Company in 1868 to the registration of the first trademark in 1876.
One of the most noteworthy moments in John Deere history, especially in regards to innovation, was the acquisition of the Waterloo Gas Engine Company in 1912. This decision would result in the development of the first successful, gasoline powered tractor which would pave the way for future equipment. An ongoing commitment towards innovation has carried on throughout the history of this company with the employment of exciting ag technology. In fact, John Deere was ranked among the most innovative companies, being named number one in terms of "social innovation" in 2018.
Let's take a closer look at the types of John Deere ag technology that has continued to amaze and stand the test of time.
Precision Agricultural Technology
We are now in an era of constant evolution when it comes to how we handle everyday tasks – this includes farming. As new technology is consistently introduced into the world of agriculture, many might wonder, "How does precision farming benefit farmers?". Generally speaking, this technology is designed to help increase efficiency and productivity while reducing farmer fatigue. At John Deere, this is accomplished through the use of touch-screen displays and a satellite receiver which help operators collect valuable information quickly and easily.
John Deere precision ag technology enables farmers to be as productive and efficient as possible all year round. This means farmers can enjoy assistance across a variety of tasks, including field prep, planting, application, and harvesting. Capabilities include:
Satellite guidance to reduce overlap
Ability to make on-the-go adjustments
Send instructions to the machine, either wirelessly or via USB
Improve grain quality and reduce loss
Document important information such as yield data and field conditions
When it comes to making the most out of every task, a little help from John Deere precision ag technology goes a long way. Watch the video below to learn how one family is embracing this next step in order to make the most use out of the data they collect in the field on a regular basis.
As previously stated, this precision ag technology enables more efficiency and productivity across seasonal tasks. This is possible due to the implementation of several solutions:
Field preparation
Surface Water Pro Plus
iTec Pro
iGrade
Implement Detection
Pivot Pro
Auto Trac
Documentation
Planting / Seeding
Section Control
iTec Pro
SeedStar Mobile
Active Implement Guidance
Rate Controllers
Implement Detection
Pivot Pro
Auto Trac
Machine Sync
Crop Care
Section Control
Rate Controllers
Implement Detection
AgLogic
Mobile Weather
Pivot Pro
Auto Trac
Field Connect
Machine Sync
Harvesting
AutoTrac RowSense
Harvest Doc
HarvestLab Sensor
Constituent Sensing
Machine Sync
Harvest ID, Cotton
Harvest Mobile
Active Fill Control
Software for Effortless Field Management
In order to keep track of the critical information they collect in the field, customers can use the John Deere Operations Center. This acts as a central point for all data, including average yield, seeding variety and rates, and more. Not only can information be transferred from the machine to the operations center, but managers can also send information to those in the field easily in order to make improvements quickly. This can be accomplished through the communication of seasonal performance data, equipment location analytics, and the ability to adjust combine settings from your phone.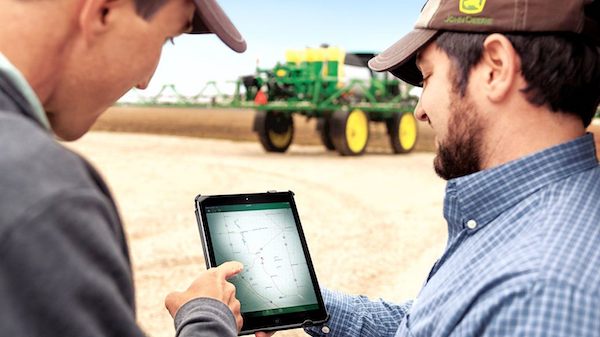 Operators can access this critical data from both inside the machine and while away from the field with a variety of onboard hardware and mobile apps.
To learn more about the John Deere Operations Center and its capabilities, watch this video.
Training Technology
John Deere innovation does not end with precision ag technology. Customers can brush up on the latest information about ag equipment operation with the use of simulators. One option is the Display and CommandARM Simulator, a cloud-based application which replicates the display software, equipment controller software, and connected sensors from applicable John Deere machines.
What is the future of agriculture?
As technology steadily evolves across industries, it is critical that agriculture is able to keep up. John Deere is continuing to play an active role in this evolution. This includes the development of new equipment, management technology, and training options. Watch the video below to learn more about John Deere's vision for the future of agriculture.
Innovation continues to play a critical role in the success of John Deere as customers look for new ways to improve efficiency. By looking back through John Deere history, it goes without saying that currently precision ag technology and operations software are just the beginning for this industry.
If you have any questions about ag technology, you can contact your local John Deere dealer.
If you enjoyed this post or want to read others, feel free to connect with us on Facebook, Pinterest, or Twitter!
You might also like: