When you need a tough piece of equipment for a demanding worksite, you know you can count on John Deere to come through. The company has rolled out its new Production Class L-Series wheel loaders for customers who want more power and comfort on the job. The 744L, 824L, and 844L are all equipped with roomier cabs, electrohydraulic (EH) controls, and an improved HVAC system.
"Our customers work day in and day out on some of the toughest quarries and job sites, making reliability and productivity critical for their operation. With the new L-Series wheel loaders, we listened to customer feedback and used that information to continue to improve our wheel loader offerings," said John Chesterman, product marketing manager of the production class four-wheel drive loaders at John Deere Construction & Forestry. "These machines are more comfortable, reliable and fuel-efficient, all without impacting productivity. We understand that our customers need equipment they can trust to complete the job, and these new machines offer just that."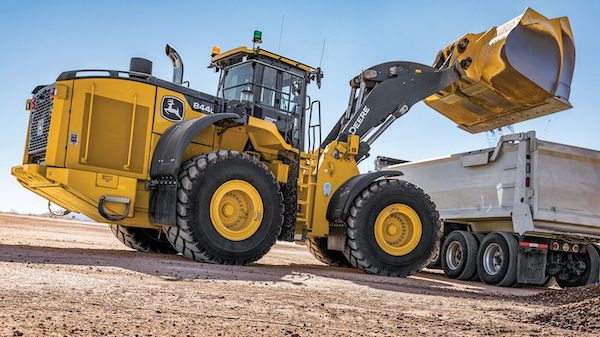 Let's take a look at the features of these wheel loaders, as well as what you can expect when you invest in one for your particular job.
Cab Improvements
The cabs of all three of these machines are now roomier, with three more inches of legroom and storage space behind and next to the seat. This is an upgrade from K-Series machines, previously offered by Deere. The new seat also has heating and ventilation, as well as seat pan and tilt adjustment. Customers will enjoy premium radio, a backup camera, automatic temperature control, and power-adjusted exterior mirrors.
EH Controls
Soft stop features allow the boom or bucket to gradually stop when either the kick out position is reached, or the operator releases the control. Cylinder snubbing gradually slows cylinders nearing the end of stroke, eliminating the harsh behavior of end of stroke.
Engines
The 744L, 824L and 844L offer 315 horsepower, 343 horsepower and 417 horsepower, respectively. Each of these John Deere L-Series wheel loaders are made to be fuel-efficient, with the 824L specifically being equipped with a 9.0-liter engine. The 844L has a 13.5-liter engine, which is also designed to reduce fuel consumption.
Coupler Option
The factory coupler option is available on the 744L and 824L models, which can maximize the versatility of the machines. In addition, the 744L and 844L have Log Handler and Pipe Handler configurations for even more productivity on the job.
If you have any questions about the new John Deere L-Series machines, you can contact your local John Deere dealer.
If you enjoyed this post or want to read others, feel free to connect with us on Facebook, Pinterest, or Twitter!
You might also like: