John Deere has expanded its L-Series Wheel Loader lineup to meet customer expectations and provide more productivity on the job. The new 444L, 644L, 644L Hybrid, and 724L wheel loaders incorporate several new features, including a redesigned Z-Bar loader linkage and electrohydraulic (EH) controls.
"The new L-Series Wheel Loader line is a culmination of customer feedback, industry-leading innovation, and versatile machines that are made to perform in a variety of applications," said Grant Van Tine, product marketing manager, wheel loaders. "Our customers expect machines that work as hard as they do. Having machines that are designed to improve productivity, provide all-day comfort and perform reliably day in and day out, makes all the difference."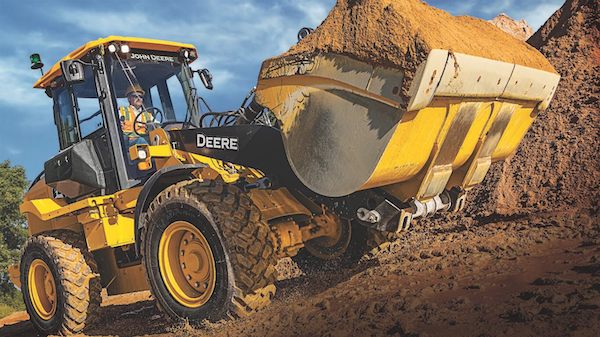 Let's take a look at some of the features of the 444L, 644L, 644L Hybrid, and 724L and how they can potentially help you during the workday.
Engines
The 444L, 644L, and 724L all have EPA Tier 4/EU Stage V PowerTech™ engines, which are designed to meet environmental standards while providing an ample amount of power. The 644L Hybrid has a purpose-built four-speed hybrid-electric transmission to go along with its EPA Tier 4/EU Stage V PowerTech™ engine for fuel-efficiency.
Cab Comfort
The cabs of the new models are designed with more functional storage, durable seats, and an improved HVAC system. Customers can choose from premium or standard to suit their specific needs. Both options come with more room between the pedals and the seat than previous models.
Horsepower
Horsepower on these new four models has increased from the K-Series, with the 644L, 644L Hybrid, and 724L boasting 249 horsepower, 231 horsepower, and 268 horsepower, respectively
Z-Bar Linkage
The newly redesigned Z-Bar linkage on all of the models provides improved visibility for the operator to the front attachment and near-parallel lift. The 724L hinge pin height on the standard Z-Bar was also enhanced by three inches, compared to the K-Series machine, to increase clearance when dumping into hoppers or trucks.
EH Functionality
With EH functionality in these new models, customers can now select how abrupt the bucket or boom stops and can adjust hydraulic flow percentage using their monitor for specific attachments. EH precision mode allows for fine metering when placing pipe or heavy objects, as well.
If you have any questions about the 444L, 644L, 644L Hybrid or 724L, you can contact your local John Deere dealer.
If you enjoyed this post or want to read others, feel free to connect with us on Facebook, Pinterest, or Twitter!
You might also like: