When you need to improve your baling capacity, you can rest assured knowing that John Deere has the baler-wrapper machines you require to get the job done. For its 2020 lineup, the company recently rolled out the C451R and C461R Combination Round Balers, both of which are designed to help boost the efficiency of cutting, baling, and wrapping all types of forage. Ultimately, these benefits result in higher quality feed.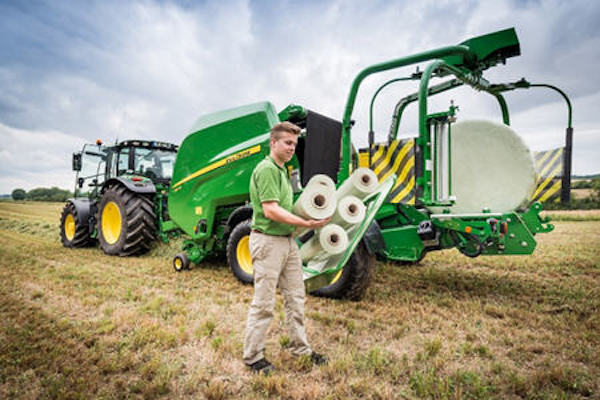 "This is the first combination baler-wrapper that Deere has offered in North America that excels in meeting the baling capacity, speed, performance and versatility needs of customers who harvest a wide variety of forage crops," said Nick Weinrich, tactical marketing manager for John Deere hay tools.
Let's take a look at some of the features of the C451R and C461R Combination Round Balers and how they can help you out in the field.
Variable-Chamber Balers
These balers feature the John Deere V-Series Variable-Chamber Baler with 7-foot wide pickup and MaxiCut™ precutter with up to 25 knives to size the length of cut. Two levers on the side of the balers give customers the option to engage one of two knife banks, or both.
Feeding System
The high capacity feeding system of the C451R and C461R has a large diameter, fully integrated converging auger. This makes for a smooth, consistent flow of all types and condition of forages into the MaxD bale chamber. Producers seeking more uniform bale size and density for better storage and handling will appreciate this feature.
Film Wrapping System
The new film wrapping system of these balers means that instead of the bales being immediately released to the ground, they are transferred to the adjoining wrapping area on the transport table. Here, they are completely film wrapped, sealing out oxygen and locking in nutrients.
Varying Bale Sizes
The C451R Combination Baler produces easy-to-handle 4×5-foot bales, while the C461R model produces 4×6-foot bales, meaning producers have options depending on their needs.
Lightweight Collapsing Tailgate
With a lightweight collapsing tailgate and moving side panels, bales from the C451R and C461R can be released from the bale chamber to the transfer table for quick and easy wrapping. This means that producers have more time to spend harvesting out in the field.
For more information on these baler-wrapper machines, watch the video below!
If you have any questions about the C451R and C461R, you can contact your local John Deere dealer.
If you enjoyed this post or want to read others, feel free to connect with us on Facebook, Pinterest, or Twitter!
You might also like: