To cater to the demands of customers seeking more improved features and updates for their equipment, John Deere has rolled out the new E-II Articulated Dump Trucks. These pieces of equipment were specifically created with ease of use in mind and offer improved fuel consumption, reducing fuel burn by up to 7%.
"All of our ADTs are proudly designed and built by John Deere in Dubuque and Davenport, Iowa," said Cory Ouellette, product marketing manager, ADTs, John Deere Construction & Forestry. "The new E-II trucks combine the most popular features of the E-Series line with customer-driven performance and operation enhancements, resulting in a machine that is easier and more cost-effective to operate. With the three standard drive modes, new body design, operator station enhancements, and improved fuel burn, the E-II Series trucks provide customers with a reliable and durable, yet easy-to-operate, solution that positively impacts their operation and their bottom line."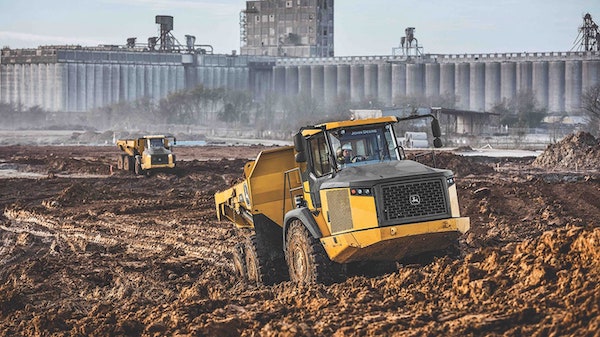 Let's take a look at some of the highlights of the John Deere 410E-II and 460E-II Articulated Dump Trucks and how they can potentially help you on the job.
Ground-Level Checkpoints
On the new John Deere E-II Articulated Dump Trucks, standard maintenance checkpoints are all accessible at ground-level. This enhances safety and makes it easy for operators to keep their machines running smoothly for longer.
Integrated Tire Pressure Monitoring System
All of the models in the lineup of John Deere E-II Articulated Dump Trucks have an integrated tire pressure monitoring system that also keeps an eye on temperature. The goal is to maximize tire life and fuel efficiency by alerting users to when the pressure drops below a safe level.
PowerTech™ Engines
These dump trucks feature John Deere PowerTech engines which use external cooled exhaust gas recirculation and make it easy for operators to maintain exhaust and in-line diesel exhaust fluid filters.
Quiet Cabs
The John Deere E-II Articulated Dump Trucks have quiet, pressurized cabs that feature a new easy-to-read monitor and rear-camera display. There is also an automatic temperature control system for the utmost comfort.
Optional Onboard Weighing System
The 460E-II models, in particular, have an optional onboard weighing system that is factory-calibrated. This means that it comes within 2% accuracy when the payload exceeds 50%, giving customers insight into what they are working with out in the field.
Want to learn how one John Deere customer benefits from employing these articulated dump trucks? Watch the video below!
If you have any questions about the new John Deere E-II Articulated Dump Trucks, you can contact your local John Deere dealer.
If you enjoyed this post or want to read others, feel free to connect with us on Facebook, Pinterest, or Twitter!
You might also like: