When you're on the hunt for a self-leveling loader for your small tractor, you can rest assured that John Deere has you covered. The company has recently rolled out its Mechanical Self-Leveling Loader (MSL), which is compatible with John Deere 1E, 1R, 2R, and 3E compact utility tractors.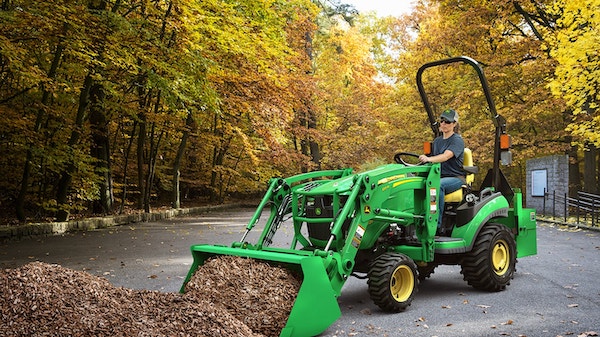 "Our new MSL makes it easier for our customers to move materials by automatically keeping the bucket or pallet forks level," said Ray Gherardini, product marketing manager, John Deere. "With the new Mechanical Self-Leveling loaders, customers can confidently operate the loader through a full range of motion while keeping the load level, and save time by moving more with every load."
The majority of compact tractors use a loader, which is how John Deere recognized the growing need for this type of technology. With this system in place, operators can maintain a level bucket or pallet position from the bottom of a lift to the top. The end result is a reduction in the potential for materials to fall back toward the tractor.
Exploring the Benefits of the Mechanical Self-Leveling Loader
The Mechanical Self-Leveling Loader ultimately improves stability for operators, giving them one less thing to worry about on the job. With this technology, the loader joystick can be easily pushed forward to lower and back to lift. Throughout this range of motion, the load automatically stays level, meaning there is no need for left-to-right adjustments with the loader joysticks.
Along with simple functionality, this piece of equipment can potentially increase lift capacity by up to 40%, when compared to non-self-leveling loaders. In the end, this improves efficiency for operators on the job. The Mechanical Self-Leveling Loader from Deere is also available with a third function kit to customers. With this option – which is available for the 120R, 220R, and 300E – operators can use additional attachments with the loader.
Finally, it's important to note that while using this type of loader, customers can ultimately reduce the amount of material lost during operation. The loader implement also maintains its position wherever the loader is lifted to, making transportation a breeze.
If you have any questions about the Mechanical Self-Leveling Loader, you can contact your local John Deere dealer.
If you enjoyed this post or want to read others, feel free to connect with us on Facebook, Pinterest, or Twitter!
You might also like: