To meet the changing demands of its customers, John Deere has developed a new Performance Tiering Strategy to provide a range of equipment at different levels of capability. To start, Deere is beginning with its wheel loader lineup. The company will move away from the traditional series letter designations and will instead focus on three tiers of machinery – G, P, and X.
"Every job site is unique, and customers want machine solutions that can be personalized to meet their diverse needs, including performance, price, and comfort," said Jason Daly, global director, production systems, technology, and marketing, John Deere. "By offering three tiers, customers can move up or down the spectrum to find the right mix of features, performance, and innovation for their business and application."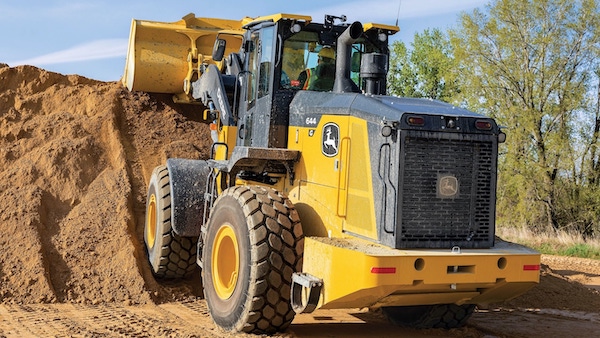 Let's take a look at some of the benefits of John Deere Performance Tiering and how it can help you better understand what the company has to offer.
G-Tier Equipment
These are the economical models of the bunch from John Deere. They are practical, reliable, and have all of the ruggedness that the company is known for. These machines are ideal for customers who want a dependable piece of equipment for everyday light- to medium-duty tasks. G-Tier equipment is perfect for tasks such as stockpiling, intermittent truck and hopper loading, and short load and carry.
P-Tier Equipment
P-Tier equipment is known for its exceptional performance. Customers can produce ideal results at high levels, day in and day out, using equipment in this tier. Performance, efficiency, and comfort are all enhanced in these pieces of machinery, which are designed for heavy-duty jobs. P-Tier machines are ideal for all-day stockpiling and truck/hopper loading, long load and carry, dairies and feedlots, and waste and scrap handling.
X-Tier Equipment
X-Tier equipment features John Deere's most innovative technologies. These machines enable operators to achieve the highest possible levels of productivity with efficiency and comfort. When peak performance is a must, John Deere recommends opting for machines in this tier for advanced results. X-Tier machines are perfect for almost all applications, and they feature the latest technology to provide operators with maximum productivity on every job.
To learn more about John Deere Performance Tiering, watch the video below!
If you have any questions about the new John Deere Performance Tiering or available equipment, you can contact your local John Deere dealer.
If you enjoyed this post or want to read others, feel free to connect with us on Facebook, Pinterest, Twitter, or Instagram!
You might also like: