John Deere has rolled out its new six-wheel 768L-II Bogie Skidder to accommodate customers working in rough, wet conditions on a regular basis. With its features, this machine is capable of boosting productivity, performance, and comfort for operators, regardless of the terrain. Best of all, it packs an ample amount of horsepower, giving customers what they need to get the job done without any hang-ups along the way.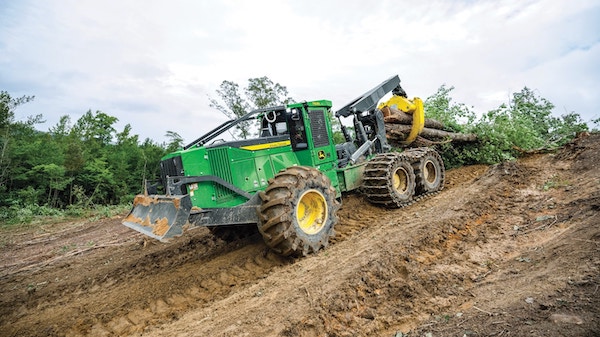 Let's take a look at some of the features of the John Deere 768L-II Bogie Skidder and how it can begin helping you with your specific tasks.
Powerful Engine
This piece of machinery has a 281-horsepower engine, meaning it packs a punch out in the field, giving loggers and foresters everything they need to tackle the most extreme conditions. The machine features a PowerTech PSS 9.0L engine and a continuously variable transmission (CVT), as well, for a smooth ride. This transmission automatically senses the load and delivers more torque as needed to help operators maintain their speed out in the field.
Stability and Traction
This bogie skidder has a six-wheel configuration and delivers an ample amount of traction, stability, and flotation to help operators tackle even wet conditions on the job. Regardless of whether customers need to handle hefty loads over long distances, the John Deere 768L-II Bogie Skidder can get the job done.
Grapple Options
The grapple options for this machine range from 17.5 to 22.3 square feet to ensure enhanced delivery with fewer skids. Grapple squeeze also provides constant pressure, meaning operators are less likely to lose a log along the way.
Visibility and Agility
Visibility and agility were top priorities when crafting the John Deere 768L-II Bogie Skidder. The equipment's arch design provides an expansive rearward view to the grapple and jobsite behind the machine. A long wheelbase and improved boom-arch envelope increase dexterity and maneuverability while working in the woods. With a tight turning radius, operators can also benefit from more agility at the landing.
To learn more about the John Deere 768-II Bogie Skidder, watch the video below!
If you have any questions about updates to the John Deere 768-II Bogie Skidder, you can contact your local John Deere dealer.
If you enjoyed this post or want to read others, feel free to connect with us on Facebook, Pinterest, Twitter, or Instagram!
You might also like: