Zenor Electric is on track to celebrate its 20th anniversary this year and with help from John Deere equipment, the future of the company continues to look bright. Dusty Moore, who owns Zenor Electric, initially began his career studying electronics in college. It didn't take him long to realize that he wasn't on the right path, so he quickly diverted to a five-year apprenticeship program in the electrical trade. "Probably the biggest thing I like about the trades is going to different locations all the time and not being stuck in the same setting," Moore said. "And I get to use my brain and hands at the same time."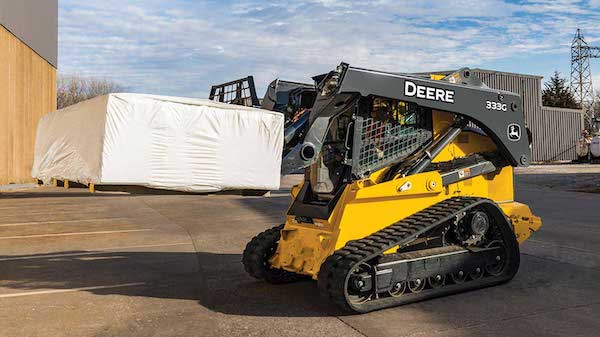 Following his training, Moore bought out an existing business in Hutchinson, Kansas, to begin Zenor Electric. He currently employs more than 30 electricians and runs between six to eight crews. About 40% of the jobs are on commercial, school, retail, and manufacturing sites. Nearly 10% are residential, and the rest are heavy industrial. "If it takes electricity, we do it," says Moore.
Bringing In John Deere
Moore says that he bought his first John Deere compact track loader, a 331G, approximately six years ago. He eventually upgraded to the 333G model and also runs two Deere 35G Compact Excavators.
"The 333G can do so many tasks, from backfilling to unloading trucks with forks," said Moore. "The lifting capacity is incredible for wire spools and pallets of light fixtures. We also have a trencher that is unbelievably fast for digging trenches for conduit. We use it for anything and everything. The possibilities are endless."
He added that the power of his Deere machinery compared to their size is phenomenal. Moore also notes that the equipment is easy to haul around, compared to larger machines.
Finding a Reputable Deere Dealer
Whenever Moore needs his machinery serviced, he knows he can turn to PrairieLand Partners, his local Deere dealer. Conveniently, the dealer is also located right down the road from his business. Moore calls their work top-notch and says that he likes that they're only a phone call away.
"To me, there's no equipment to consider other than John Deere," said Moore. "For reliability, power, smooth control, ease of access, and all the attachments, they can't be matched."
If you have any questions about any John Deere machinery, you can contact your local John Deere dealer.
If you enjoyed this post or want to read others, feel free to connect with us on Facebook, Pinterest, Twitter, or Instagram!
You might also like: