To make tractor operation a more seamless experience, John Deere developed its CommandARM™ controls, which allow operators to manage hydraulic, hitch, and transmission settings as they work. Similar functions were originally featured on the 8000 Series Tractors, which debuted in 1995. It was from here that Deere decided to implement these elements in future tractor models, evolving into what is now known today as CommandARM.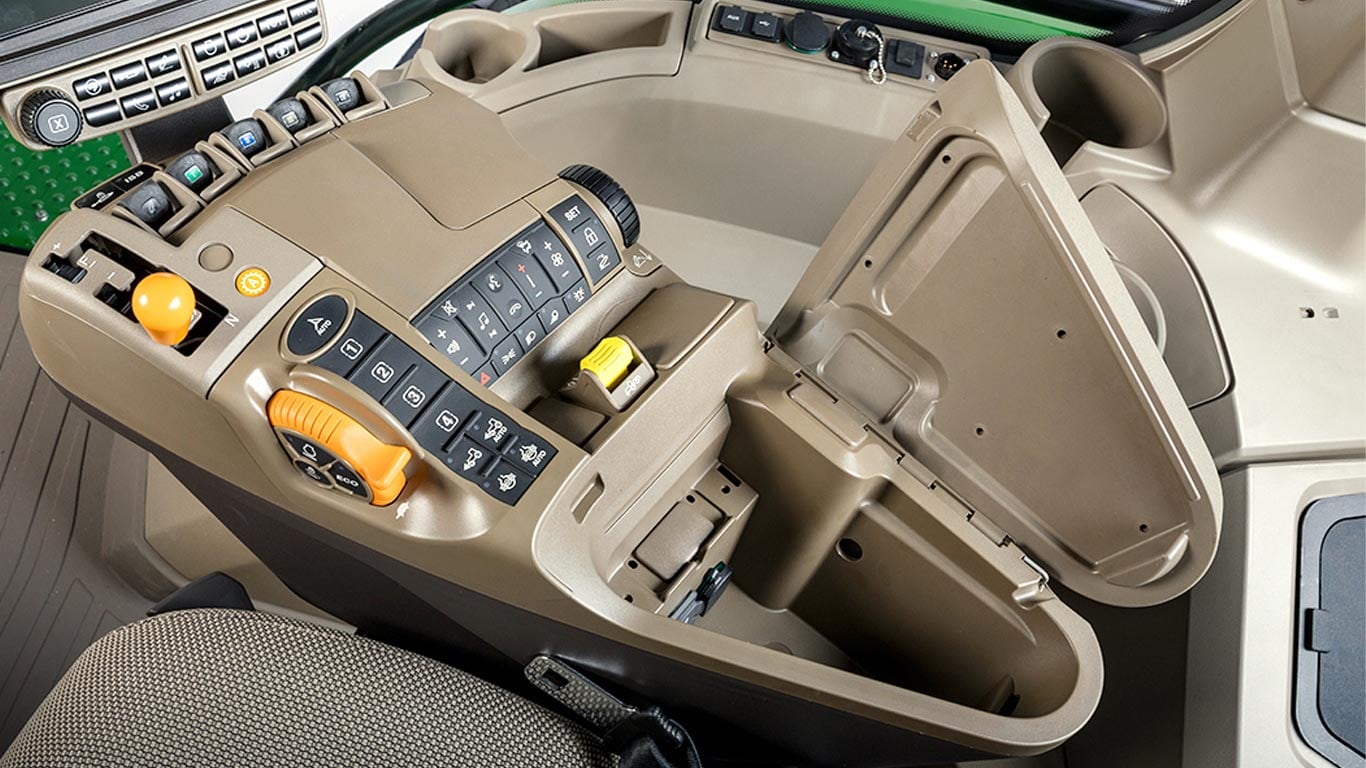 What is John Deere CommandARM?
John Deere CommandARM operates the hitch, hydraulic, and transmission settings of tractors, such as the 8R and 8RT Series Tractors. The goal of this offering is to provide an intuitive operating interface for daily work, all at the fingertips of the machine user. Selective control valves (SCVs), AutoTrac™ automatic steering, iTEC™ machine control, air conditioning, lights, radio, four-wheel drive, and hitch depth control can all be managed with CommandARM. Depending on the tractor model, CommandARM may also be integrated with the central information system of the machine. This makes it easier for operators to monitor multiple functions at once and make adjustments as needed.
CommandARM Control Features & Specs
There are a number of features and specs that make CommandARM a must-have for any Deere tractor owner who has the option. In addition to being able to control the hydraulic, hitch, and transmission settings, operators can also access the ITEC programmable functions, HVAC cab controls, and MFWD controls. There is also individual access to primary tractor controls, such as engine throttle and AutoTrac.
The Generation 4 CommandCenter display is mounted on the CommandARM for even more convenience. It has tablet-like swipe functionality for ease of use and helps operators monitor their machines for the utmost efficiency out in the field. Tractor owners also have the option to add the Gen 4 Extended Monitor for double the screen area. This allows users to monitor more functions at once to make adjustments on the fly.
CommandARM controls are specifically designed to reduce operator fatigue with their intuitive design. The transmission is fully operational right from the CommandARM, meaning that users don't have to leave the comfort of their cab to make changes as they work. And to ensure maximum convenience, the CommandARM has customizable buttons, meaning they can be configured to manage an array of machine settings before machine operators start their workday.
Thanks to this offering's customizable settings and ease of use, it's now simpler than ever to train others on machines equipped with this feature. The CommandARM itself and its multifunctionality mean it's all operators need to get a grasp of what their Deere machine can handle. Not only does this reduce operator fatigue, but it makes it easier to prepare others to use the machine at hand.
In recent models of Deere tractors, the CommandARM has been redesigned for improved ergonomics. Controls for major functions, such as AutoTrac resume and throttle, have also been made more intuitive.
Finally, this piece of technology enables operators to easily control the functions of their lights and program them accordingly, right from the inside of the cab. The pre-programmed lighting functions can be turned on or off at the push of a button, making it easier than ever to manage field operations in low-light conditions.
CommandARM continues to revolutionize the way that Deere customers achieve their goals during every workday. Additionally, it is boosting efficiency and productivity across the board for operators who put it to use. To learn more about CommandARM and the Deere machines that feature it, contact your local John Deere dealer or visit www.JohnDeere.com.
If you enjoyed this post or want to read others, feel free to connect with us on Facebook, Pinterest, Twitter, or Instagram!
You might also like: