When you're on the hunt for a tractor that can provide an ample amount of power without compromising speed and control, you know you can turn to John Deere. The Electric Variable Transmission (EVT) featured on John Deere's 8 and 9 Series Tractors for model year 2023 is specifically designed to fulfill this customer need. As agricultural producers look ahead to the future of farming, they can move forward with confidence knowing that the EVT can help them boost efficiency and productivity throughout the year.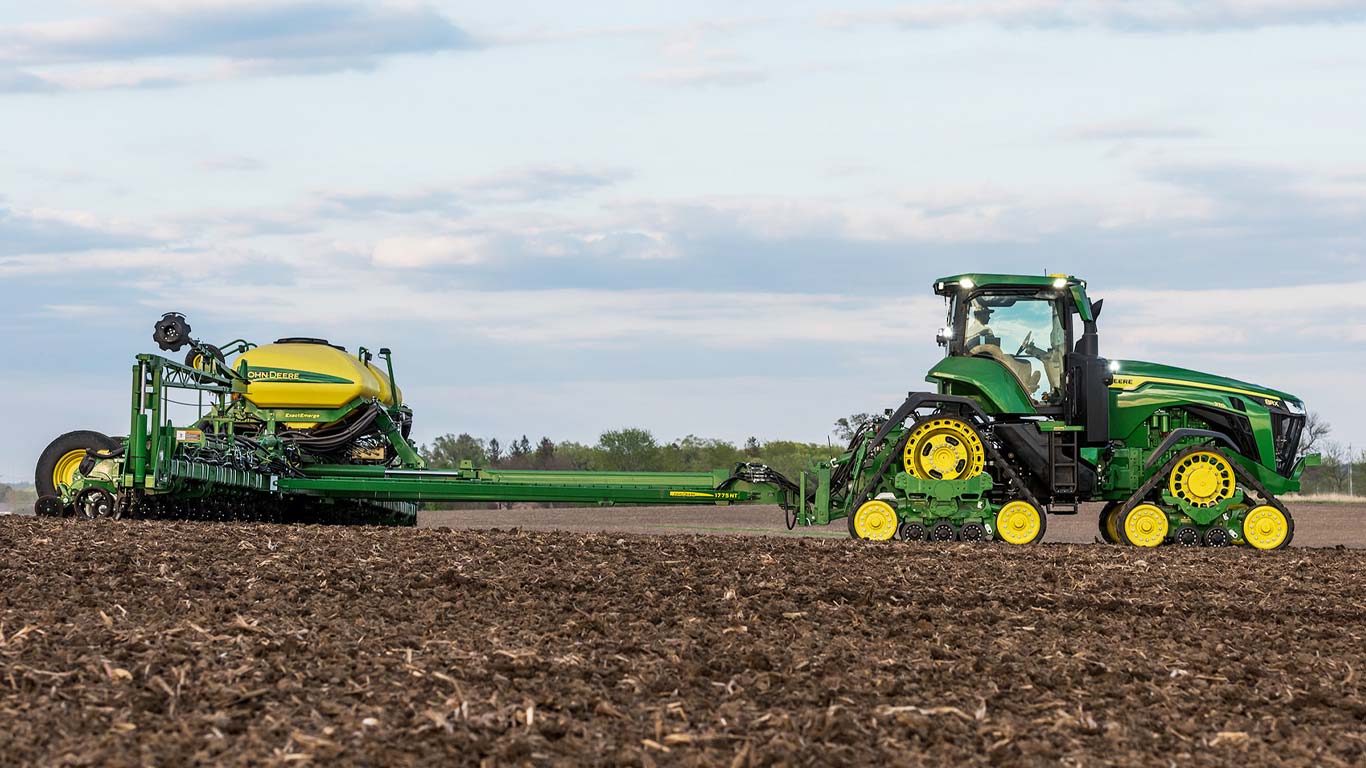 What is Electronic Variable Transmission?
"An EVT has electric motors in place of the hydrostatic motors that improve transmission performance, reliability, and increased efficiency," explains Ryan Jardon, marketing manager for John Deere. "The EVT brings everything customers appreciate from an Infinitely Variable Transmission (IVT), into higher horsepower 8 Series Tractors. Inherently, the electrical components of an EVT are extremely reliable, offer tremendous longevity, and provide better overall tractor control, along with a system built for easy serviceability and diagnostics. In addition, customers will notice an EVT operates more quietly than an IVT."
In a typical application, an EVT is situated within the drive train of a vehicle. The primary function of the EVT is to work as a power split transmission. It also provides inherent overload protection while dampening vibrations for a smoother ride. A drive train that utilizes EVT is considered a hybrid drive train. When the battery is removed, the EVT can operate as a "simple" continuously variable transmission.
Benefits of John Deere Stepless Electric Variable Transmission (EVT)
The EVT has already been proven to help agricultural producers in other regions of the world. In Europe, equipment featuring powered axles already utilizes the EVT to push tractors from behind while out in the field.
"EVT technology offboards electricity from the tractor to provide added power to the implement and can reduce wheel slip, improve up-hill performance, and enables the tractor to pull wide implements without the need for extra ballast or a larger tractor," Jardon continued.
The new EVT from Deere will be available on the 410-horsepower 8 Series Tractors, which includes the 8R, 8RT and 8RX models. With this transmission, operators have electric power generation up to 100kW. Users can also now power fan drives or the implement's axles with the EVT.
The model year 2023 John Deere 9R 640 and 9RX 640 Tractors now have a redesigned JD14X diesel engine, which produces 640-rated horsepower. Model year 2022 390- to 590-horsepower 9 Series Tractors also leverage this engine, which has a 500-hour oil change interval. Additionally, it features a hydraulic fan drive and a high-pressure common rail fuel delivery system. Internal testing has shown that the JD14X engine featured in the 9R 640 and 9RX 640 Tractors uses 7% less fuel than prior models.
"These new engines were built for outstanding performance, greater reliability and we have made them easier to access and service," Jardon said.
To learn more about John Deere's EVT option, watch the video below!
If you enjoyed this post or want to read others, feel free to connect with us on Facebook, Pinterest, Twitter, or Instagram!
You might also like: