John Deere is no stranger to offering equipment and technology designed to efficiently control weeds while also saving customers money. With See & Spray™ Ultimate, in particular, you can reduce herbicide use while also improving cost efficiency to support your bottom line. By utilizing more advanced tank mixes, you'll also be able to shrink your spray volume while getting more done in the average workday.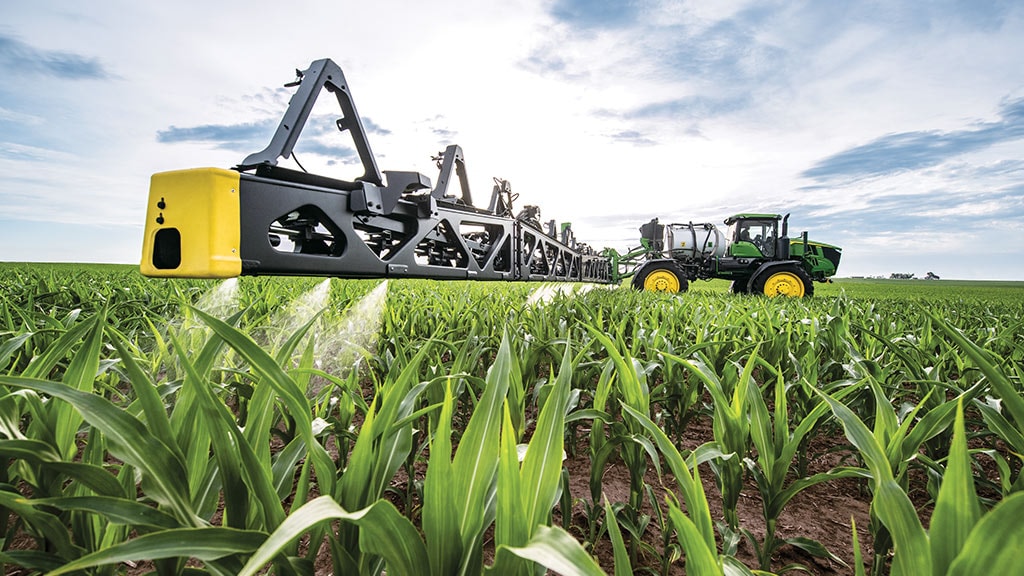 John Deere See & Spray Ultimate: How Does It Work?
See & Spray Ultimate uses technology that was designed by Blue River Technology, a John Deere subsidiary. Cameras and processors are mounted onto the carbon fiber truss-style boom. In combination with machine learning, the system is designed to easily detect weeds from crops. One camera is mounted every one meter across the boom, which is equal to 36 cameras on a 120-foot boom. This allows the system to scan upwards of 2,100 square feet at once.
"While operating at up to 12 mph, See & Spray Ultimate's targeted spray technology can help farmers reduce their non-residual herbicide use by more than two-thirds and maintain a hit rate comparable to traditional spraying," said Franklin Peitz, marketing manager for John Deere. "For farmers, this decreased herbicide use can significantly lower herbicide costs, reduce tendering stops, and helps them cover more acres per day."
The system also features BoomTrac™ Ultimate, which allows operators to easily control the boom height to improve the accuracy of the target spray.
How Does This Offering Differ from See & Spray Select?
See & Spray Ultimate and See & Spray Select sound like they could be one and the same, but they actually have some key differences. See & Spray Ultimate is designed to detect weeds among soybean, cotton, and corn plants, while See & Spray Select is for use in fallow ground only. See & Spray Ultimate also utilizes cameras and processors to enhance accuracy, while See & Spray Select leverages color-detecting technology to identify and target soil. Last but not least, See & Spray Select has a single tank, while See & Spray Ultimate features a dual tank with different split-size options.
Benefits of John Deere See & Spray Ultimate
Overall, See & Spray Ultimate can help you improve yields while reducing crop stress. By eliminating chance weeds, you can ensure that your crops have the opportunity to reap the benefits of nutrients and moisture. In turn, this allows their roots to thrive, giving you the best possible end product. With AutoTrac™ technologies, the sprayer also stays in between rows. This means less chance of crop damage while making passes out in the field.
With the dual tank configuration, you can apply targeted spray and traditional broadcast simultaneously. For example, you can spray weeds while broadcasting fungicide, combining two passes in one to save time. In the end, you'll be able to improve your productivity during each workday.
There are two tank options available: 1,200 and 1,000 gallons. The 1,200-gallon tank is split into a 450-gallon tank for targeted spraying and a 750-gallon tank for broadcast spraying. The 1,000-gallon tank is split into a 350-gallon tank for targeted spraying and a 650-gallon tank for broadcast spraying.
By using Targeted Spraying, you'll also be able to ensure you're only applying what you need – when and where you need it. This means more effective use of your herbicide all season long, making it easier than ever before to control weeds. Further, BoomTrac Ultimate keeps the tip of the boom within 10 inches of the target boom height 95% of the time to enhance accuracy, giving you peace of mind as you work.
Finally, See & Spray Ultimate works with Generation 4 Displays to provide real-time insight into how much ground is being covered via maps. You'll be able to compare weed maps to yield maps to make more informed decisions about your program as a whole. Furthermore, you can reduce overlap and maximize inputs throughout the workday.
To learn more about John Deere See & Spray Ultimate, watch the video below!
If you enjoyed this post or want to read others, feel free to connect with us on Facebook, Pinterest, Twitter, or Instagram!
You might also like: