When it comes to crop harvesting, John Deere has a wide array of equipment to help you get the job done, but did you know there are several different methods you can leverage? Everything from hand tools to modern machinery can be used to harvest crops, but the option you choose will be dependent on factors, such as the size of your fields. That being said, it's still worth taking the time to familiarize yourself with the features of modern-day agricultural equipment. Some may be exactly what you need to increase productivity and efficiency during harvest.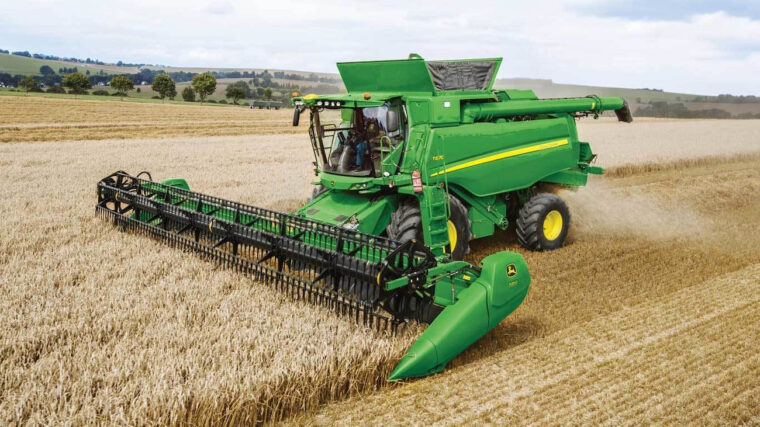 What Are the Different Methods for Harvesting Crops?
There are many different ways to harvest crops, and not all of them involve large pieces of equipment. Let's take a look at some of the options available to you.
Harvesting Crops by Hand
Hand harvesting is exactly what it sounds like: harvesting your produce by hand without the use of tools. In some cases, hand harvesting may be necessary when handling delicate crops, such as saffron or vanilla beans.
Harvesting Crops with Hand Tools
Harvesting with hand tools is another option you may want to consider. It is often done with produce, such as tree fruit, which may require sheers to remove the items from trees. After the produce is harvested, it is then placed into a container before being transferred out of the field.
Harvesting Crops with Machinery
Harvesting with machinery may be an ideal option for you if you are managing a large-scale operation. Some farmers who turn to machinery utilize a harvesting rig, for instance. These pieces of equipment can help with the packing process and save valuable time. Mowers and combines are other popular machines that farmers use out in the field.
What Are the Benefits of Harvesting Crops with Machinery?
Although the upfront cost of investing in harvesting equipment might not seem budget-friendly, the productivity and efficiency that producers get back in return typically make up for it over time. Here are some of the key benefits of using machinery for crop harvesting.
Improved Product Quality
When using a piece of harvesting equipment, the quality of the product often remains intact, meaning there is less loss by the end of the harvest.
Low Operating Cost
Although the upfront investment in harvest equipment may be costly for some, overall operating costs fall over time as producers rely less on manual labor.
Enhanced Worker Safety
Modern-day agricultural machinery is made with safety in mind, meaning that producers have less to worry about when it comes to day-to-day operations.
Decreased Manual Labor
Because of the large amount of productivity that comes with using harvesting machinery, there is less need for manual labor. This can ultimately help agricultural producers improve their bottom line.
Increased Efficiency
Today's harvesting machinery, such as what is produced by John Deere, is created with efficiency in mind. Using these pieces of equipment allows producers to get more done in less time.
Most Common Types of Harvesting Machinery
There are several types of harvesting machines available to agricultural producers, and John Deere has many to meet customers' specific needs.
Harvesting Combines
Harvesting combines, such as those in the S-Series lineup from Deere, are designed to handle everything from high moisture corn to tough-threshing small grains. Whether wheat, canola, barley, or corn needs to be harvested, Deere has what agricultural producers need.
Pull-Type and Self-Propelled Forage Harvesters
Pull-type and self-propelled forage harvesters are designed to collect forage plants to create silage. Fixed knives help chop up the plants, saving operators time and effort out in the field.
Harvesting Platforms
Harvesting platforms can be extremely useful in areas, such as orchards, where workers need to reach a particular height. Many platforms also come with conveyor belts or suction tubes to transport the product to a bin.
Corn Pickers
Corn pickers are designed to strip corn stalks to ensure that only the cobs are harvested, saving producers valuable time. These machines usually have gathering chains that pull stalks into the machine, which are then guided into a rotating mechanism. This grabs the stalk, spins it downward, and pops the ear of corn off of the stock. The corn ears are then placed into a husking bed, where rollers pull the husks from the cobs.
Harvest Crops with Machinery from MachineFinder
Transform your harvesting productivity with MachineFinder and explore the series of harvesting machinery near you. Contact your local John Deere dealer to get started.
If you enjoyed this post or want to read others, feel free to connect with us on Facebook, Pinterest, Twitter, or Instagram!
You might also like: