When you need a mid-size excavator to take on a wide range of tasks on your job site, you know you can turn to John Deere for the machinery you need. The John Deere 75G Mid-Size Excavator is one example of a powerful machine with several features that make it as versatile as it is maneuverable. With an independent swing boom and reduced tail swing configurations, this excavator delivers with its mid-size capabilities.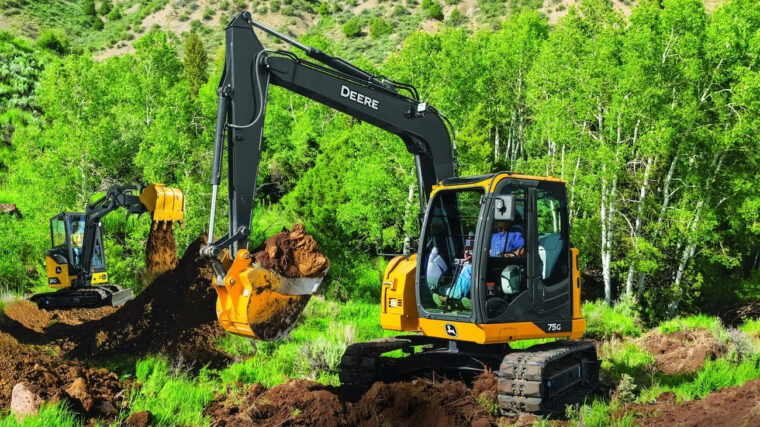 What is the John Deere 75G Mid-Size Excavator?
The John Deere 75G Mid-Size Excavator is an excavator designed to provide ample power in a mid-sized machine. Construction industry professionals who work in tight spaces, for example, will find this excavator extremely helpful. With a maximum digging depth of about 15 feet, it can boost productivity while working on everything from construction to landscaping tasks. With box-section track frames, a thick-plate single-sheet mainframe, and wear-resistant hoses, the 75G is also designed to stand the test of time. Its idlers, rollers, and strutted links are all situated within the sealed and lubricated undercarriage. Customers can opt for heavy-duty rubber track pads if they want more durability, even while working on hard services, such as concrete or asphalt.
What Can the John Deere 75G Do?
Those who are looking for a mid-size excavator with multiple operator capabilities will not feel limited when using the John Deere 75G. This excavator features reduced tail swing configurations, as well as two different power modes to adapt to changing job demands. The cab itself was designed with maximum visibility in mind, and it features an extremely efficient HVAC system.
With a Final Tier 4 engine, operators can also worry less about the impact the machine is having on the environment while they work. It also delivers 56.9 horsepower while efficiently using fuel throughout the day. All of the excavator's filters, lube banks, and checkpoints are also grouped together for convenience while servicing the machine. Maintenance is never time-consuming while working with the John Deere 75G Excavator.
What Are the Important Features of the John Deere 75G?
As a mid-size excavator, John Deere knows that it's important for this type of machine to pack an ample amount of power in addition to delivering several features. The 75G Excavator has everything from oil-impregnated bushings to welded bulkheads to ensure that it can stand the test of time. It also has an efficient engine, ergonomically designed controls, and the ability to work on even the tightest job sites, thanks to its small size. Serviceability and routine maintenance have also been simplified on this mid-size excavator.
Super-Smooth Control
The John Deere 75G Excavator has ergonomically designed short-throw pilot levers, which were included to reduce operator fatigue while boosting control. The control pattern selector valve also allows operators to switch between styles seamlessly. With these customizable features, it's easy to adapt to the excavator and train others on how to use it when needed.
Enhanced Digging Performance and Precision
Operators using the 75G Excavator will have the opportunity to use two different digging styles to suit their job needs — Power and Economy. In Power mode, users will be able to reap the benefits of balancing speed and fuel economy for typical daily operations. In Economy mode, operators can reduce the top speed of the machine to save fuel. Short-throw controls and enhanced metering provide the precision Deere customers have come to expect from the company's machines.
Easy Maneuverability in Tight Spaces
The overall length of the John Deere 75G is 20 feet 11 inches, while its height is 8 feet 10 inches. The excavator was designed with maneuverability in mind, featuring a reduced tail swing configuration for more flexibility. The independent swing boom also allows users to work efficiently around structures, as well as traffic. With reinforced D-channel side frames, operators can worry less about potential impacts that could damage the cab or excavator's inner components. This machine also features a tungsten-carbide coating for wear resistance, which also protects the bucket-to-arm joint of the excavator.
All-Around Visibility
The cab of the 75G Excavator was designed with all-around visibility in mind. This not only enhances safety but allows operators to work with precision around the job site. With several mirrors, it's simple to keep an eye on all obstacles surrounding the excavator at any given time. An efficient HVAC system is also a part of the cab, as well as an adjustable suspension seat for maximum comfort. Low-effort joysticks and a large amount of legroom round out the fully stocked cab.
Balanced Engine Performance and Hydraulic Flow
The John Deere 75G has an open center, load-sensing hydraulic system that functions with three variable-displacement axial-piston pumps. Pilot levers are used to manage hydraulic flow, and a shutoff lever is included. The 500- and 5,000-hour engine and hydraulic oil service intervals reduce the amount of downtime operators need to spend on maintenance.
Standard Lockable Control-Pattern Selector Valve
This excavator comes with a standard lockable control-pattern selector valve for operator convenience. Now, it's easy to switch between modes as needed during the workday to adjust to changing terrain.
What Are the Key Specs of the John Deere 75G?
The John Deere 75G has several key specs that customers will want to consider as they look to invest in this mid-size excavator. Everything from its all-around visibility to its engine power can make everyday tasks on the job site easier to complete.
56.9 hp Net Power
The engine output of the 75G Excavator maxes out at 56.9 horsepower. With four cylinders, this Yanmar Tier 4 engine operates at a rated speed of 2,000 rpm. A viscous fan helps adjust the speed as needed to maintain effective cooling and reduce noise. The machine also has a fuel tank that can hold up to 35.7 gallons, meaning operators can spend less time fueling up and focus on productivity.
15ft., 1in. Max Digging Depth
The John Deere 75G boasts a maximum digging depth of just over 15 feet. This means that, despite its mid-size design and maneuverability, it can still take on big jobs on construction sites.
17,952 lb. Operating Weight
The John Deere 75G only has an operating weight of 17,952 pounds. This contributes to its maneuverability and ability to work in tight spaces, unlike other mid-size models on the market.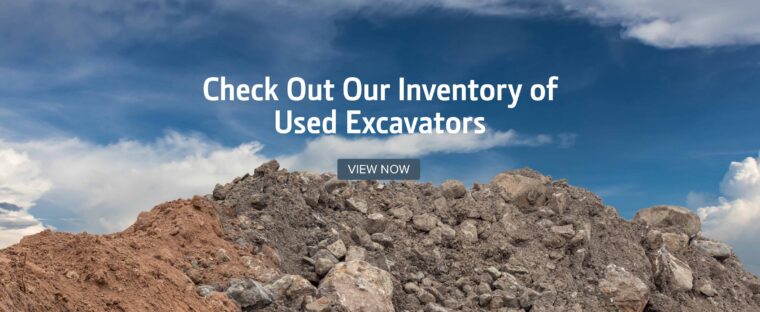 Commonly-Asked Questions About the John Deere 75G
Because the 75G Excavator comes with numerous features, it's not uncommon for customers to have questions about what the machine has to offer. Knowing how these features can enhance productivity during the workday can give operators a clearer picture of the excavator's capabilities.
How Much Does a John Deere 75G Excavator Weigh?
In total, the 75G Excavator has an operating weight of 17,952 pounds.
How Much Can a John Deere 75G Excavator Lift?
The lift capacity of the 75G depends on the load point height, as well as the boom size, arm length, bucket, shoes, and blade, but large objects can be easily moved when working with this excavator on a job site.
Explore Your Options for the John Deere 75G on MachineFinder
If you are looking for a mid-size excavator that can be easily maneuvered in tight spaces and still deliver ample power, the John Deere 75G Excavator is for you. This machine is designed to help you move large and small objects alike with ease, and its hydraulics system and Final Tier 4 engine make it possible. With ergonomically designed pilot levers and a comfortable cab, operator fatigue is never a concern. The 75G also has all-around visibility for precision, as well as safety.
If you have any questions about the John Deere 75G Excavator or any of the mid-size excavators Deere currently has to offer, you can contact your local John Deere dealer.
If you enjoyed this post or want to read others, feel free to connect with us on Facebook, Pinterest, Twitter, or Instagram!
You might also like: