John Deere square balers are built to bail hay and other crops while withstanding tough conditions and rigorous use. But just like any other piece of machinery, balers need regular maintenance to run smoothly and efficiently. Proper maintenance not only extends the life of your John Deere square baler but also minimizes breakdowns and downtime to improve your overall productivity. Let's discuss a handful of tips that can keep your baler operating at its best.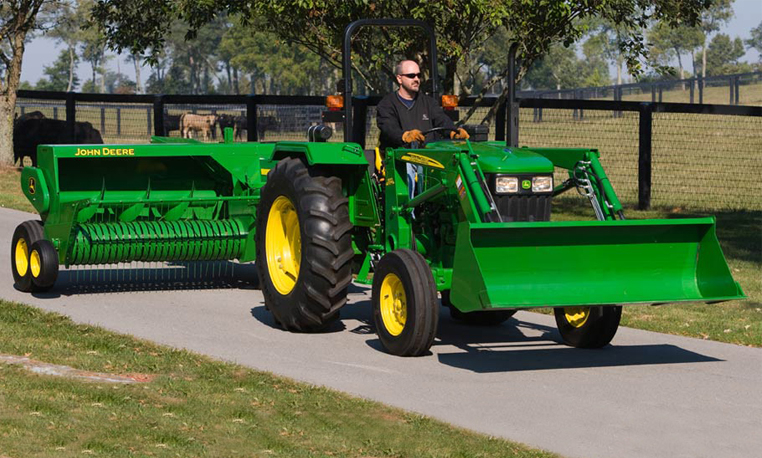 What is the John Deere Square Baler Lineup?
John Deere offers several types of square balers to meet the needs of all types of agricultural operations, whether you're working at a single farm or a large-scale agricultural enterprise.
The large square baler lineup includes the L331, L341, and L341R High-Density models, all of which boast an impressive minimum of 115 horsepower and are equipped with cutting-edge technologies such as Moisture Sensor and BalerAssist™. The small square baler series is intended for smaller farming operations and comprises the 328, 338, and 348 models, each with a PTO minimum speed of 35 horsepower.
Whether you're tasked with feeding a small herd before sunset or harvesting hundreds of acres of crop, the John Deere balers are known for their durability, precision, and performance. But to keep your baler in peak condition, it's important to conduct regular inspections and maintenance.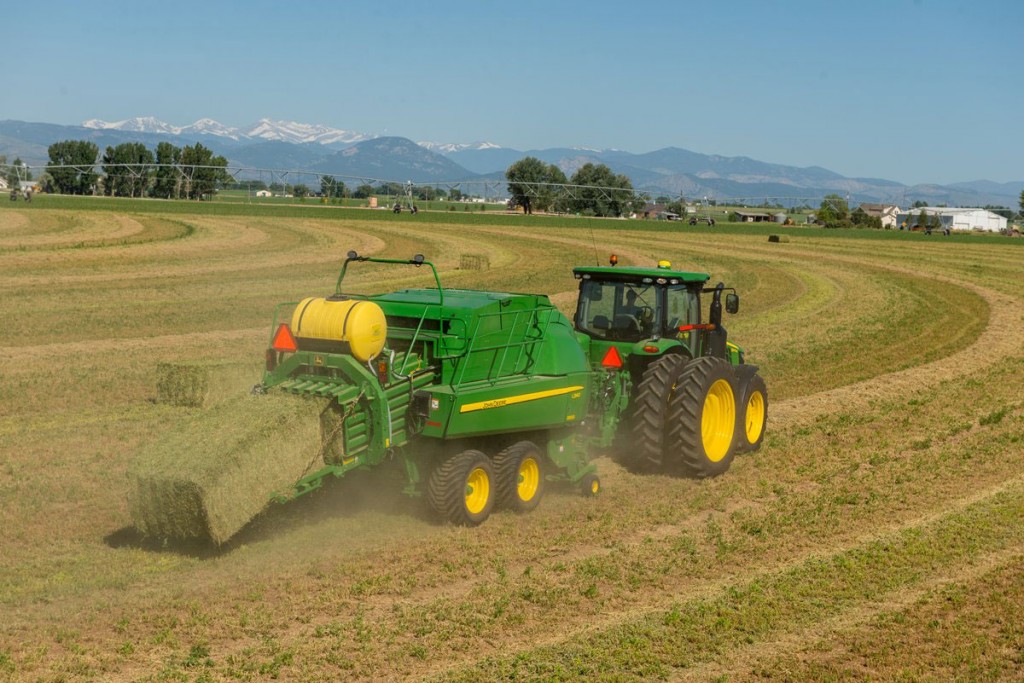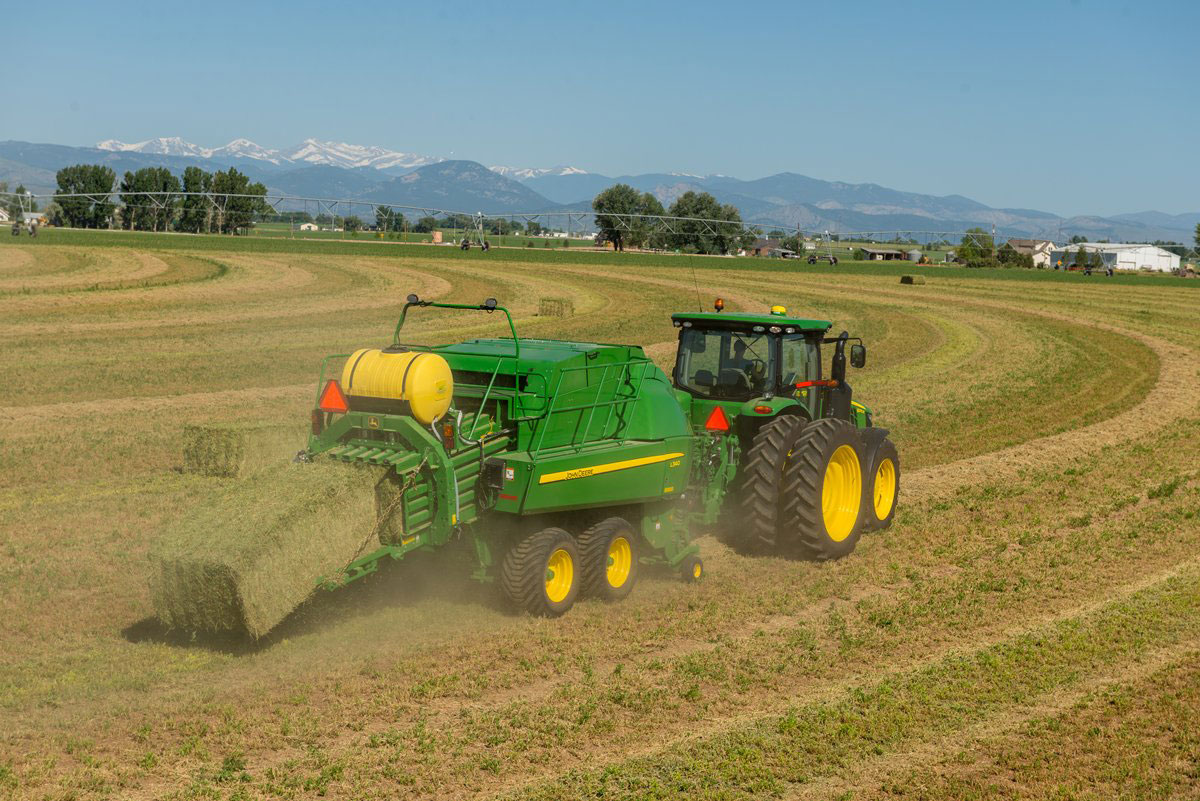 Why Should You Maintain Your John Deere Square Baler?
A well-maintained John Deere square baler can quickly and consistently produce high-quality bales without hiccups. The following are just a few of the benefits that come from routine square baler maintenance:
Efficiency
Balers operate at their best when all parts function correctly. When one part malfunctions, it can have a domino effect on efficiency. For instance, a loose belt could wreak havoc by tangling with other parts, causing stoppages, and speeding up wear. Consistent maintenance boosts reliability, uptime, and performance, which all add up to getting the job done more efficiently.
Longevity
A regular maintenance routine serves as an early warning system, spotting issues before they harm your baler's machinery. Small problems can quickly escalate, accelerating wear and tear and shortening your machine's lifespan. Allocating time and resources to regular maintenance is an investment in prolonging your machine's lifespan for years to come.
Cost-Effectiveness
Proactive maintenance is more than just a smart move – it's a financial win. It spreads out the costs of maintenance over a longer period of time and prevents more costly, avoidable expenses. By ensuring that your baler is operating as it should be, you can also reduce fuel costs and yield more bales in less time.
8 Tips for Maintaining Your John Deere Square Baler
Regular square baler maintenance is more than tightening bolts; it's an investment in your machine's efficiency, longevity, and cost-effectiveness. Follow these eight maintenance tips to ensure your baler keeps performing at its best:
1. Maintain and Check Baler Oil
The baler's oil and air filters should be changed regularly, depending on the environment and the baler's level of use. Low oil levels, old oil, incorrect oil, and the presence of contaminants can lead to poor lubrication and compromise the baler's performance. Using the right oil and adhering to the suggested oil change intervals will ensure proper operation and prevent more costly repairs.
2. Observe Proper Cleaning
Cleaning your baler after each use is one of the simplest and most cost-effective ways to protect it. A clean baler is less likely to become contaminated, catch fire, or malfunction. Be sure to clear debris, dust, and crop leftovers, paying special attention to the pickup area and chamber. If you work at a large operation, consider creating a cleaning checklist for your team to follow.
3. Maintain Belts and Chains
Loose or damaged belts and chains can disrupt the baling process and affect bale formation. Check for cracks, tears, proper tension, and alignment. If the belts or chains show any signs of damage, promptly adjust or replace them. By properly maintaining the belts and chains on your baler, you can help to ensure that it operates efficiently.
4. Check Hydraulics and Hoses
Regularly inspect the baler's hydraulic systems, electric cables, and hoses for leaks, cracks, and signs of wear. Hydraulic issues can lead to malfunctions such as knotter system errors and chamber unresponsiveness, which can affect the baler's performance and operator safety. When inspecting the hydraulics and hoses, be sure to check that the auto-lube system is working properly and that the tubes haven't been cut or damaged. Also, regularly change the hydraulic system filters, then run the machine to purge air from the system before use.
5. Make an Inspection Checklist
Daily, weekly, and monthly maintenance is essential for keeping your baler in good condition and preventing serious breakdowns. To stay on top of maintenance needs, create a checklist that specifies the frequency and steps involved in each maintenance task. Your checklist should include tasks related to all key components, such as needles, twine holders, tension springs, and safety shields.
6. Check Chamber Pressure
The correct chamber pressure is vital for bale density and baler performance. Too low and bales are loose; too high and they crumble. Beyond affecting output, improper chamber pressure strains components like belts, chains, and rollers. Regular baler chamber pressure checks and adjustments are essential to safeguard your baler and the bales it produces.
7. Check Knotter System
A malfunctioning knotter system can cause twine jams, misaligned knots, or jammed mechanisms. These problems can disrupt the baling process and require manual intervention, which may not always be possible at the moment while in the field. Proactive maintenance of the knotter system, such as regular inspection, cleaning, lubrication, and knife sharpening, can help prevent these problems and save you from needing a replacement.
8. Observe Proper Storage and Off-Season Maintenance
Properly storing your baler at the end of the season helps prevent deterioration and ensures the baler is ready for use when the next season arrives. Before putting the baler in storage, perform recommended off-season maintenance, clean all baler parts thoroughly, and apply a protective coating. Then, store in a dry, sheltered area to prevent moisture damage.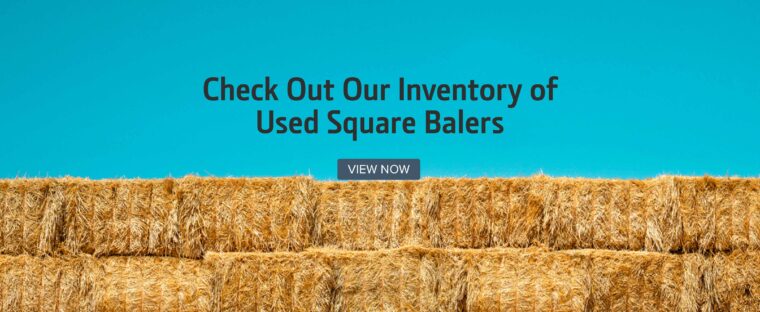 Where To Find the John Deere Square Baler?
Both John Deere square and round balers are available through authorized dealerships and distributors. These dealers can provide you with the latest information on the available models, features, and pricing options. Additionally, they offer support for maintenance, repairs, and finding genuine replacement parts.
To find your nearest dealer, check out the John Deere locator. For self-repair tips, check the John Deere portal.
If you enjoyed this post or want to read others, feel free to connect with us on Facebook, Pinterest, Twitter, or Instagram!
You might also like: