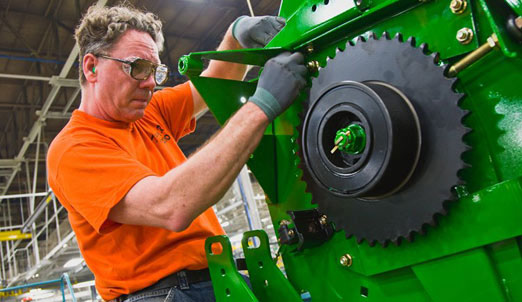 With great power comes great responsibility, and people who have used John Deere equipment realize that the machines they operate can pose a danger if the proper safety etiquette is not practiced by operators.
The company has installed every safeguard possible to prevent an injury to anyone using the equipment, but there are several steps that people can take prior to starting up their machines.
John Deere outlined several steps that operators should take in preparing their machines for work. Users should make increasing the visibility of the equipment a priority, as this can prevent an accident.
Owners should have proper lights on all of their equipment, they should install Slow-Moving Vehicle signs and they should replace faded reflectors on their John Deere machines.
Individuals should think about whether other drivers can see them coming, and when you transport equipment it is important to remain visible, especially during inclement weather and night travelling.
If an owner has any questions as to whether their equipment is visible, they should stop by a John Deere dealer in order to have the proper safety check performed and any necessary parts installed.
It is better to be safe than sorry and owners should realize even the most reliable equipment can change over time. Wear and tear on a machine can lead to rusting or fading of signs and reflectors, and it is vital that operators keep these updated and new.
Material safety data sheets are available from the company, allowing an owner to perform a quick check on their machine and to see exactly what the equipment is supposed to look and operate like.
Aside from proper maintenance of the equipment, owners should be smart with their clothing choice and etiquette when using John Deere machines. Like all vehicles, no mind-altering or inhibiting substances should be taken prior to using models from the company.
The equipment is powerful and maneuverable, but owners should not drive their vehicles like they are in a race, again like any other type of vehicle. Common sense can go a long way in maintaining safety and it is important to remember that being reckless is not advised by anyone.
Earmuffs and earplugs may be worn to protect against loud noises for equipment, looks clothing should be avoided due to its potential to get caught in machinery and eye protection should be utilized to prevent an injury.
You might also like: