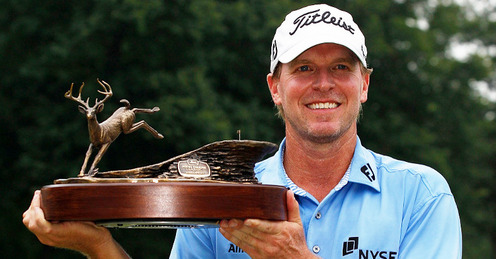 As the John Deere Classic nears and golfers from around the world continue to tear-up the links on the PGA Tour, Steve Stricker is looking to build momentum going into his favorite event on the circuit.
The golfer is heading into the Memorial Tournament, an event he won last year but something that still pales in comparison to the success that he has had at the annual John Deere Classic.
Although the John Deere Classic is held just a week prior to a major tournament event, The British Open, Stricker looks forward to the agricultural company-sponsored outing held each year in East Moline, Illinois.
In an interview with the Milwaukee Journal-Sentinel, Stricker outlined how much he enjoyed heading to East Moline to compete in the John Deere Classic, and how he is looking to win the event for a fourth straight time this year.
Although he wishes that he could retain the momentum from the event and win the vaunted British Open, Stricker has nothing but great memories from his time taking swings at TPC John Deere.
"Winning takes a lot out of you, or it takes a lot out of me. You put everything into it. You've got your emotions riding in every which way, so it drains you mentally and physically. You're tired and then you're making the trip over there, and only a couple days' rest," he said of the flights over to the U.K. for the Open after securing wins at the John Deere Classic.
"But I wouldn't trade it for anything. Those have been some great times there at John Deere," noted the three-time winner. He even took a tour of the company's facilities in Moline, rode around on farm equipment and thoroughly enjoyed himself at least year's event.
John Deere not only uses the tournament as a way to provide its fans with first-class golf action, it also generates a significant amount of money for its Birdies for Charity organization. A percentage of each birdie at the event will go to this charitable arm of the agricultural company.
The company recently announced a new smartphone application for the tournament, as fans can follow the event and find ticket and parking information if they plan on going.
You might also like: