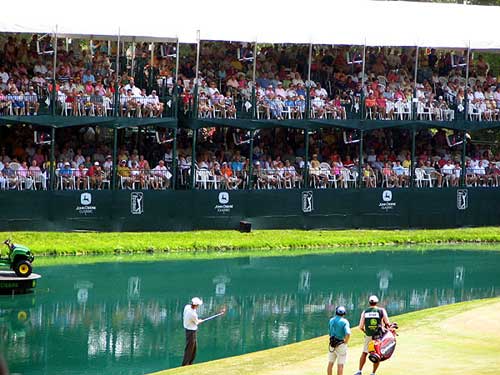 The John Deere Classic is a tournament that brings many golfers to Illinois prior to the British Open major championship. One month prior to the event, professionals on the PGA tour come to the TPC at Deere Run for a media day.
The Des Moines Register reported that this year, three-time defending champion Steve Stricker was the focus of the annual media day, as he is looking for his fourth consecutive victory at the event when it takes place from July 12-15.
Prior to Stricker speaking to the media, he was introduced with a video that featured highlights of the top moments from his last three victories at the classic, including one lengthy 25-foot putt that sealed his victory at last year's event.
As he was ushered to the green and cheered on by fans and media members, Stricker decided to try the putt again. Much to the pleasure of everyone involved, including the much-loved golfer, Steve stepped up and drilled the lengthy putt, sinking it in dramatic fashion against a backdrop of admiring spectators and flashing cameras.
"First putt I've made in a couple of months," Stricker said casually after hitting the shot, playing to the crowd once again with his easy-going approach.
Nothing may have been more fitting than Stricker duplicating his success at the course, as the three-time winner watched his ball traverse the fringe and slide across the green and into the hole.
Stricker was all smiles when addressing the media following the putt, according to the news outlet, as he noted that his excitement for the event has only been matched by the expectations of a fourth victory from both fans and golf experts alike.
"I've had some special moments here, and I look forward to trying," Stricker said. "It's going to be difficult as ever. Just trying to win a golf tournament is hard, let alone four times in a row. But I'm excited about the challenge, excited about the opportunity to try and do it. It should be a lot of fun."
Stricker has struggled with his putting as of late, but hopefully the show that he put on for the media and spectators will be an indication of things to come. Only three other golfers have won the same event four straight times, and he looks to enter this select group of professionals in July.
Photo Courtesy Of: http://www.ecologysolutionsinc.com
You might also like: