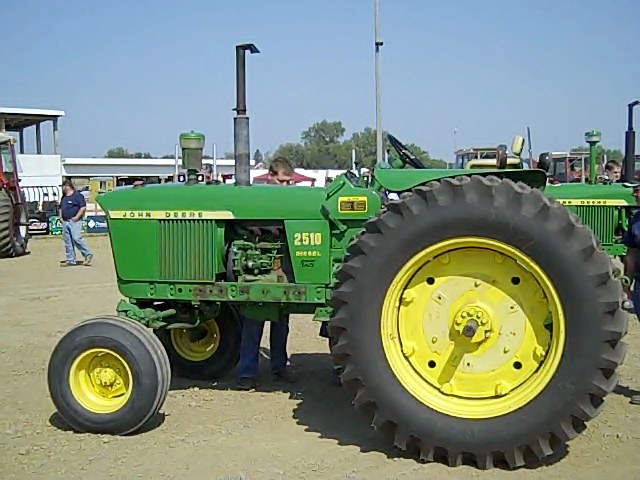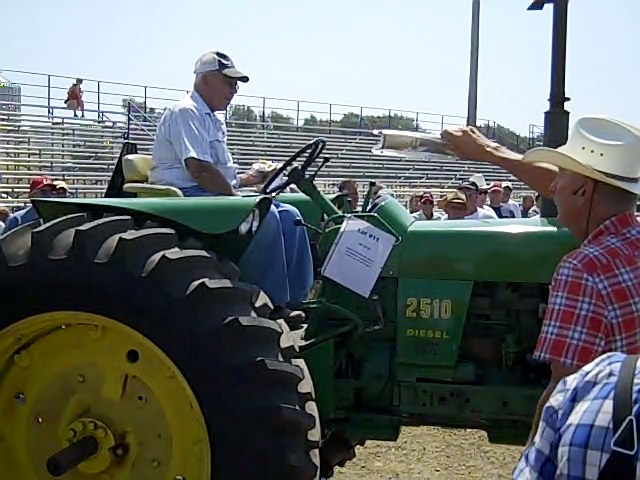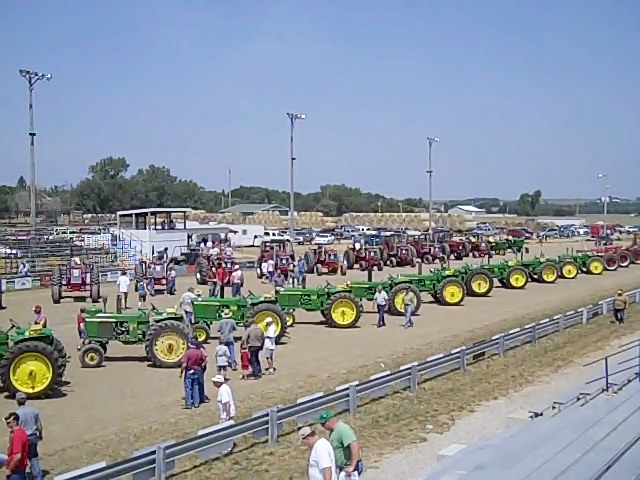 The track Albert helped build.
What a fitting place it was last Saturday (July 14, 2012) for 82-year old Albert Groeneweg's auction of his personal collection of tractors & used farm equipment for sale on the outskirts of Rock Valley, IA, in the northwest corner of the Hawkeye state.
Albert is quite a guy. He was an active tractor puller for a full 50 years, from 1957-2007. He started off pulling International tractors but finished his pulling career pulling John Deere 4255 and 4055's. Albert loved tractor pulling. So much that years back he donated the dirt so Rock Valley could put up its own tractor pulling track, complete with signigicant bleachers on each side of the track. It's a beautiful facility that draws big crowds to Rock Valley 3-4 times each year.
The pulling track is where Albert sold his 37 tractors Saturday.
One of the "hottest" sellers of the day was Albert's 1966 JD 2510 diesel, power shift tractor that had been overhauled. It sold for $14,500 making it the highest auction sale price I've seen on a John Deere 2510 that wasn't a rare "high crop" model.
"I bought the tractor in Idabel, OK seven or eight years ago," said Albert. "I spent $6,300 on it." Phone calls before the auction came from as far away as Virginia and Illinois on Albert's 1966 JD 2510 diesel, power shift.
In addition to 50 years of tractor pulling, Albert is also a well known buyer/seller of good used equipment the past 40 years. He also still actively farms in northwest Iowa.
"Back in the 1970's I'd go to Alpha, MN to the Oliver dealer and buy a plow, use it then I'd sell it, that's how I got started" said Albert of his forray into buying & selling used equipment. He graduated into much larger, more expensive used equipment over the years.
I met Albert at a farm auction in northwest Iowa back in April that we were shooting for our "Machinery Show" on RFD-TV. I'm glad I was able to make it down to Albert's auction Saturday and see him sit atop each of his 37 tractors and start 'em up one last time.
Hats off to you Albert, for a great auction Saturday and for a lifetime of wonderful tractor memories.
You might also like: