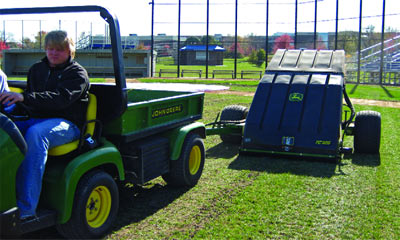 The partnership of America's pastime and the iconic agricultural equipment company in the U.S. seems natural, as using John Deere equipment to fix up a baseball diamond is an efficient way to get a field ready for a game.
While people may not think about John Deere equipment and baseball being linked together, much of what a tractor can do is something that the average American could have trouble grasping. These field machines tend to operate behind the scenes, as crews at stadiums and arenas around the country rely on models from the agricultural manufacturer.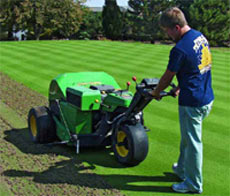 Many times people see the grounds crew at a stadium riding on a green and yellow tractor, but they often fail to realize how important this John Deere equipment is to the operation.
Baseball fields are kept in immaculate shape in order to provide players with the ability to cleanly field a ground ballor to safely slide into second base. Exquisite patterns are cut into the grass for professional teams, but even local playing fields around America rely on the best machinery to ensure that the facility is up to par.
John Deere tractors can be used to help a grounds crew move a large quantity of dirt at a baseball field, and attachments can allow these individuals to do their job in as quick and efficient a manner as possible.
Grass at these fields can be cut using the company's wide variety of mowers, and staff will benefit from the efficiency and accuracy of the cutting functions available on these machines.
Since many of the professional teams in Major League Baseball have significant exposure, keeping the field in pristine condition helps to add to the allure of the game. Aesthetically pleasing patterns are cut into the outfield grass, while uniformly brown infields give the impression that these crews are using a paintbrush to shape their diamond.
MLB groundskeepers do not mind putting in the time to make the field as visually enticing as possible, and they often take pride in the team that plays on their diamond, as opposed to creating a rivalry between themselves and the crew for other organizations.
"We like each other," said Bob Christofferson, the head groundskeeper for the Seattle Mariners. "We compete with our teams, not with each other."
Image Courtesy of : http://www.turfmagazine.com/print-3380.aspx
You might also like: