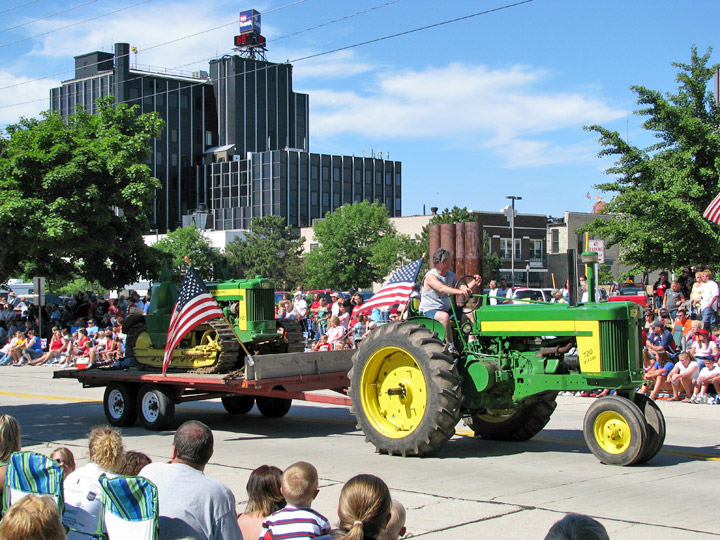 The coming of summer often brings about thoughts of swimming, outdoor grilling and town-wide parades and celebrations across the U.S. Different regions of the country celebrate in their own distinct manner, but a general theme will often appear.
Summer celebrations are often full of patriotism, especially the closer to July 4th that these events come. Parades usually feature a number of themed floats, ranging from local children's sports teams and organizations to older groups of veterans showing their American pride.
A number of celebrations are led by John Deere tractors and can not only help pull heavy floats down the main streets of any American town, but the brand itself is about as patriotic as it gets.
John Deere tractors are not just a symbol of American agriculture, they represent the ingenuity, innovation and loyalty of a brand that was created, expanded and cemented in U.S. culture.
Since the company's products are seen across the country in a number of parades during the summer, many areas will hold a separate event that highlights specific types of farm equipment or time periods for agricultural products.
The Warren Area Antique Tractor Show in Huntington County, Indiana, will feature a number of patriotic celebrationsand an assortment of products from John Deere.
According to the Huntington County Tab, this annual event will be part of the Salamonie Summer Festival and is expected to draw a significant number of visitors to the Daugherty grounds. John Deere tractors and farm equipment will be the main draw of the show, as fans of the company and agricultural enthusiasts are expected to turn out by the hundreds.
There will be a number of live demonstrations at the event, along with a question-and-answer section, shelling, threshing and straw baling sessions. These small gatherings will be spread throughout the day, giving ample time for visitors to see all of their favorite types of John Deere equipment.
Other areas of the country simply celebrated the company itself, as Greeneville, Tennessee, and the local JohnDeere factory, held an event to commemorate the 175th anniversary for the agricultural firm, according to the Greeneville Sun.
"Think about how many companies that are a 175 years old," said Jeff Holland, local plant manager. "There are very, very few. It is a momentous occasion for us."
Image Courtesy Of: http://galenf.com/wi/parade30.jpg
You might also like: