On October 9, 2012, a harvesting Guinness World Record was broken in Saskatchewan when 249 Canadian combine tractor drivers reaped 200 acres of oats in 12 minutes. This is certainly another one of the John Deere awards that won't be forgotten. The event brought together a large community of tractor lovers, who cheered on the combines, viewed antique tractors, filled up on carnival food, and enjoyed wagon rides. Spectators and participants had hoped to beat the record for the most combines reaping a field at once, a title formerly held by Ireland with 208 tractors, and lined the fields in anticipation as tractors took off at a speedy 1.5 mph.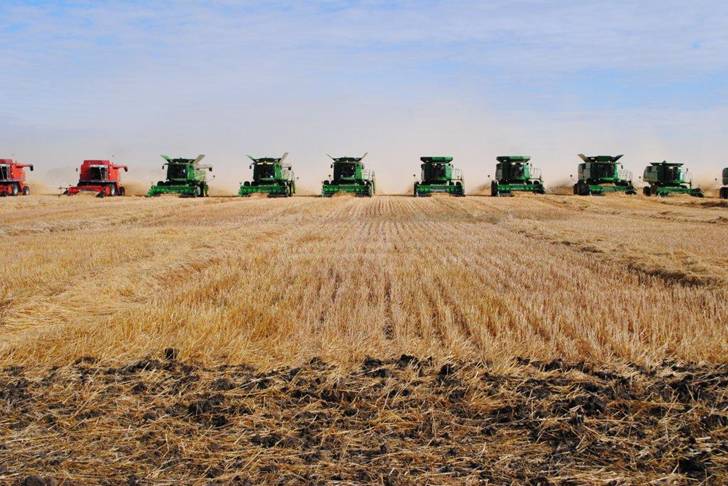 A few lucky attendees got to ride alongside the tractor drivers during the plowing spectacle and take part in this historic Canadian event and witness another one of the John Deere Awards & Accolades. Those on the sidelines waited anxiously as the 249 combines lined up for the siren to sound the go-ahead. In a matter of minutes, the Canadians had regained the title for the most combine tractors plowing a field at once, an honor they had received in 2010 with 200 tractors.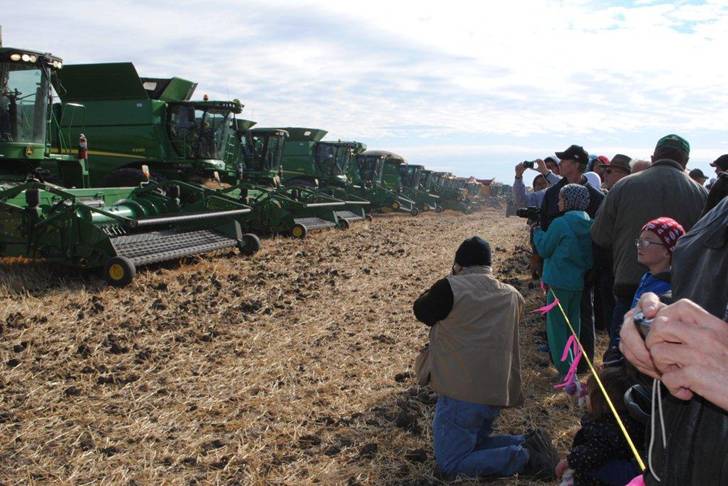 The event drew a crowd of a few hundred, including volunteers, spectators, and tractor drivers, all of whom spent the day enjoying the autumn weather, warm pie, hamburgers, a historical reenactment play, free horse rides for kids, and old-fashioned threshing demonstrations. It was a day for friends and members of the farming community to come together and celebrate the advancements that have been made in the efficiency of plowing and harvesting. Years ago, when the process involved horse drawn plows, hand held threshers, and muscle, plowing and harvesting took much longer. Today, combine tractors can plow a field in mere minutes and are built with recycled materials and fuel efficiency to make plowing easier on both the farmer and the resources of the fields.
"This is a good thing for raising money for kids and it gets the whole community together," said Joe Kasahoff, who contributed a few of his own combines for the harvest.
All the money collected from the harvest event goes to Children's Camp International, an evangelical Christian organization for children's bible camps in developing countries. With the successful turnout, beautiful weather, and the honor of holding a world record, it's safe to say the day was a victory for all.
Images Courtesy Of: www.calgaryherald.com & Richard Marjan of The StarPhoenix
You might also like: