"I run, I spray, I conquer."  These are the words that every farmer should live by during the spraying season, in order to take command of their application. This bold mission, combined with the new features of the R4045 sprayer, will help make time on the field better spent and more enjoyable. The R4045 sprayer includes a 1,200-gallon tank, 120-foot boom, and has 346 horsepower that will help operators conquer more acres in less time. With this state of the art machine, farmers can dominate the seemingly endless stretch of land before them.
CommandView™ II Plus Cab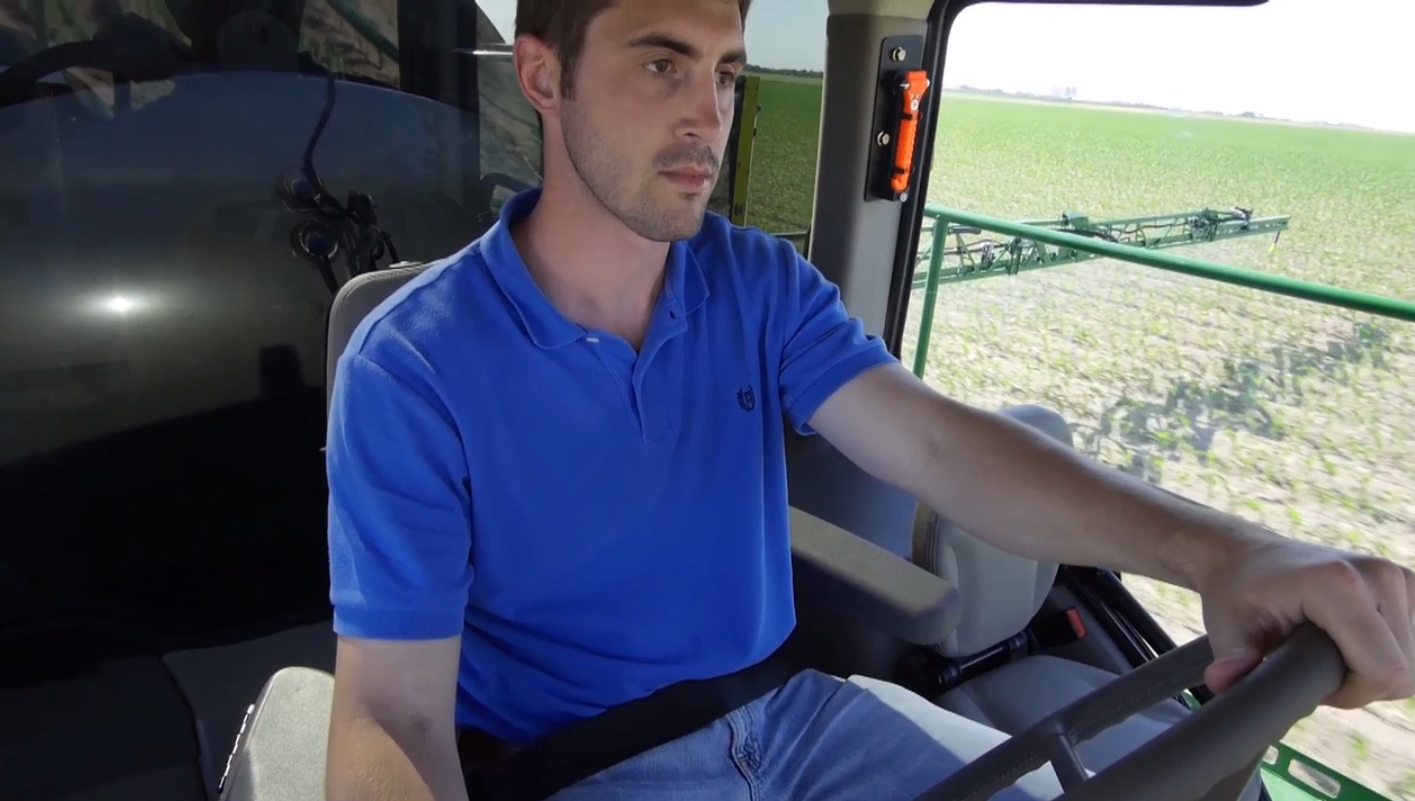 The John Deere CommandView™II plus is the smartest cab in its class, providing more space, comfort, and better visibility in the R4045 sprayer. When entering the cab, operators will experience much easier access due to the noticeably wider doors. Operators will also be exposed to a spacious atmosphere with more glass and enhanced sun blockage. Controls have been redesigned throughout the machine to allow for an overall easier understanding of such industry-leading technology. With this remarkable combination, the R4045 sprayer will allow operators to get more acres sprayed each day.
Solution Command System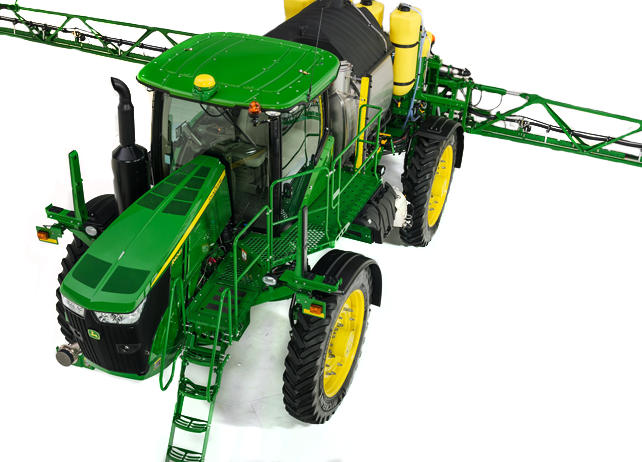 The new John Deere R4045 sprayer is equipped with one of the most productive and precise solution systems anywhere. No matter what skill level the operator is at, this innovative redesign will allow for quicker and easier operation at the load station. With automation, a 12-button keypad, and a micro-display, the operator will have complete control at their fingertips and be provided with constant feedback.
Load Command™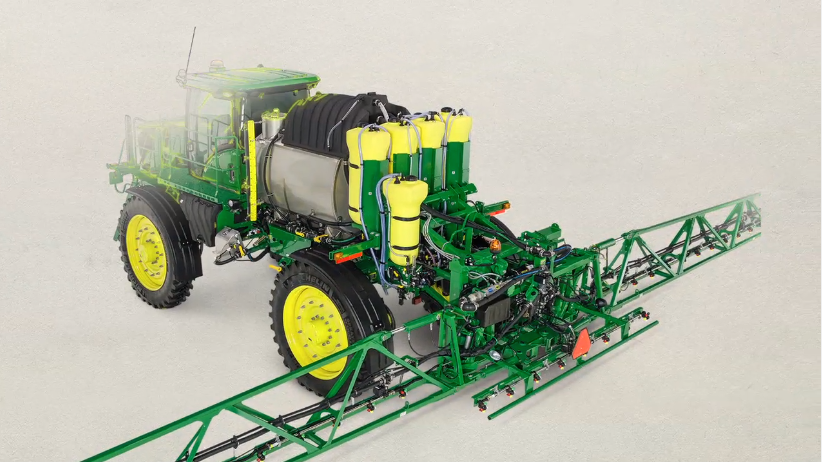 Farmers are constantly looking for ways to improve their spraying productivity on the field. For that exact reason, a technological focus has been brought to John Deere sprayers. The Load Command system available in the new R4045 sprayer is specifically designed to assist farmers in increasing their daily output. Imagine being able to load 1,200 gallons of liquid in as quick as 3 minutes. Talk about shortening loading time and increasing production on the field. You could say this puts an operators productivity into hyper-drive.
Direct Injection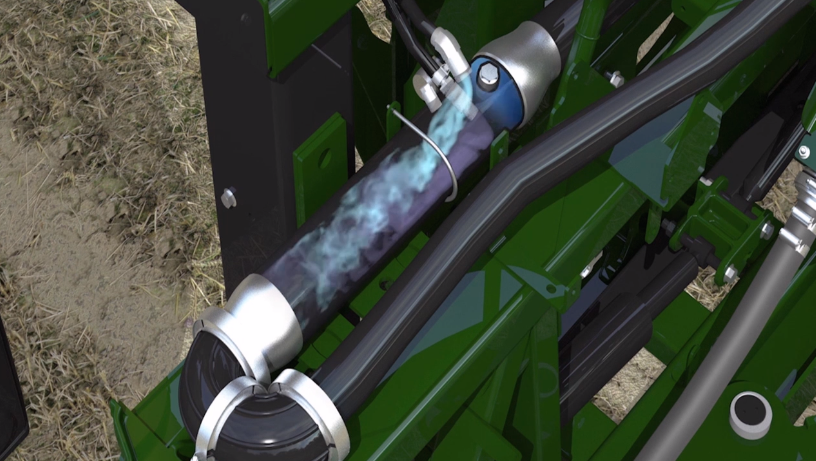 As solution tank mixes are becoming more complicated, operators seek to improve their product manage methods. John Deere's direct injection that is now available in the  R4045 sprayer lets operators manage their chemical risk in a much easier and faster manner. The direct injection system has greater carrying capacity and allows up to three different products in the boom.
Dry Spinner Spreader Compatibility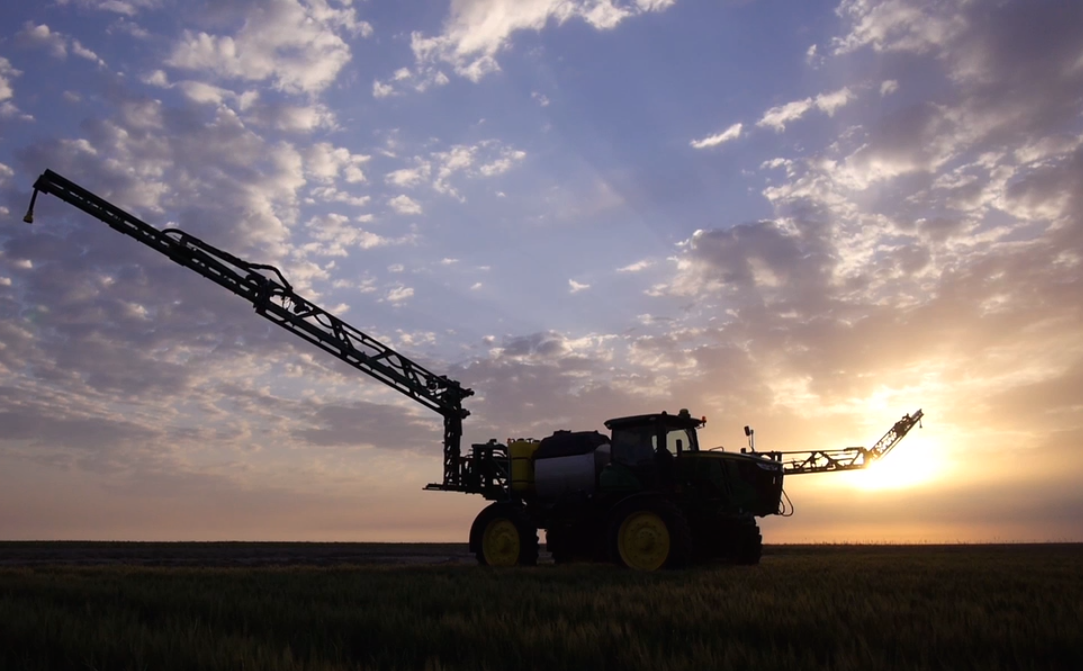 Operators will become more resourceful with R4045 sprayer due to the dry spinner spreader compatibility feature. What more versatility could farmers ask for than being able to convert a machine from a wet solution system into a dry nutrient applicator? When the spraying season is all over, farmers will continue to get use out of their John Deere R4045 sprayer.
Hopefully this has provided you with a better understanding of the many added benefits included in the John Deere R4045 sprayer. And, remember, the land is yours for the taking! If you enjoyed this post and would like to see more like it, feel free to connect with us on Facebook or Google+! 
You might also like: