Last week, we featured part one of a two part series to address all of your hay and forage questions. In part one, we learned some fundamental concepts to help you this harvesting season. Today, we will continue tackling other hay and forage concerns by taking a deeper look into the 9 series round baler. This will surely send you on your way to producing the best possible quality crop this season. Let's get right into solving your haying dilemmas.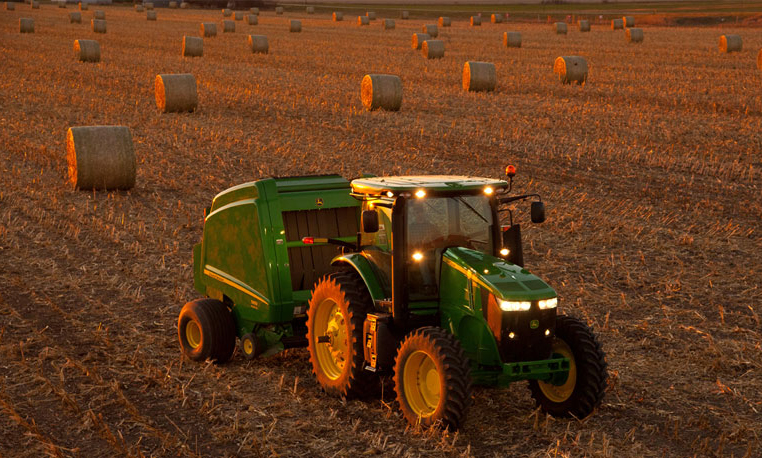 Will the B-Wrap preserve wet corn silage better than NetWrap?
No, B-Wrap is a breathable wrap. The purpose of this is to allow moisture in and out of the bale, but this does not mean that it traps moisture inside. In this case, you would need to be careful about how much moisture is in the bale because it could lead to crop spoilage. It all depends on what you are looking for, as it has potential to work for you. If NetWrap is working for your silage, it is better to stick with it than risk spoilage. B-Wrap really works best when you are trying to store dry hay to have barn quality hay when you are done storing it. This hay will be perfect for your livestock to go after.
Is the square tooth design on the pickup of the 9 series baler as flexible as the round tooth design on the 8 series baler?
Yes, the square tooth design on the 9 series baler is more flexible and operates in a different way than the round teeth on the 8 series baler. It allows for more flexibility, but also for the teeth to return back to their original position after being bumped by something on the field. Where as, with the round design, the teeth can separate and decrease efficiency of crop pickup. The square tooth design incorporates modulation, so if your baler hits a rock in the field it can return back to its original form without any interruptions.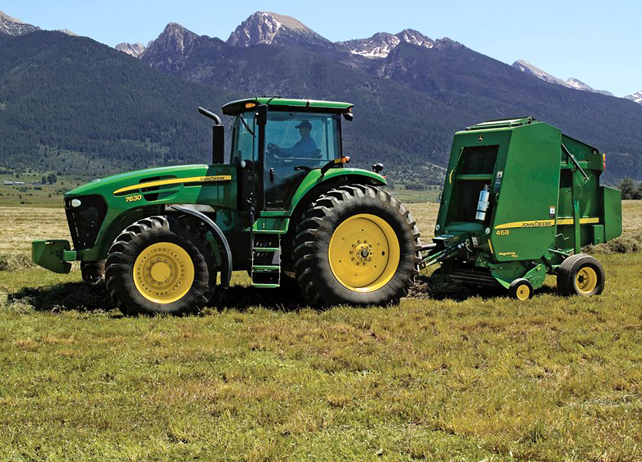 What does the term "automatic baling" mean?
The premium balers include tractor automation that works with newer John Deere tractor models like the R series or 30 series premium. This provides the operator with the ability to have the tractor automatically stop when a full-size bale is reached. It will open and close the gate once the baler has been wrapped, so that the only thing the operator has to do is shift the reverser back and forth. This feature makes this task even easier than before to relieve operator stress.
Will the 9 series baler prevent from overly dried hay from drought conditions? 
As growers realize, the optimal moisture for hay and forage varies from farm to farm, state to state, and field to field. However, John Deere field tests and trials have shown that the 9 series baler picked up hay of all variations and started bales in just about every condition (dry, wet, heavy, and light). Dry and light hay is no problem for the 9 series baler, as it works to produce the finest moisture level in almost any climate.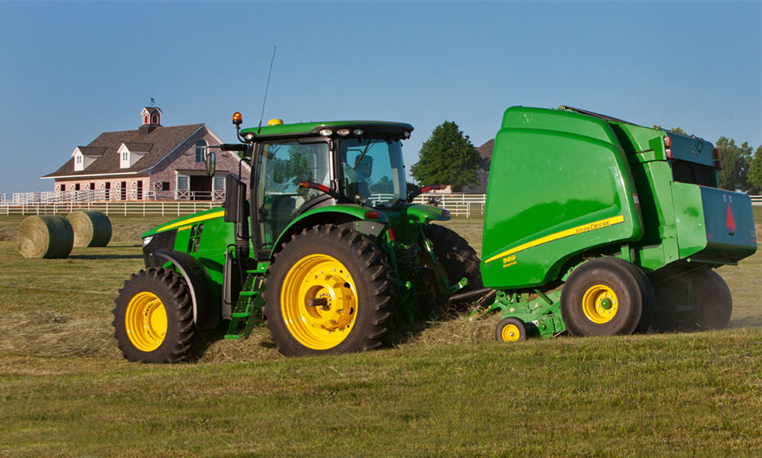 What are my options for forage products? 
Over the years, John Deere has created a solid portfolio of hay and forage equipment, including baling and mowing products. Along with the round balers we have focusing on, there are small square balers, MoCos, disk mowers, triple mower conditioners, windrowers with a variety of heads, forage harvesters, and more. When deciding on mowing equipment like the mower, MoCo's, and windrowers, it's important to understand that what will work best on your field all depends on where you are and what conditions you are working in. In some cases, when you need to get around quickly and maneuver easily, a windrower may be your best choice. During other times, a mower may be more suiting for the moisture level. Unfortunately, there is no one-size-fits-all solution, but John Deere works to provide options for all farming needs.
Does the 459 mega wide baler come with fire extinguisher?
This baler does have the ability to hook up a fire extinguisher. The part comes as an additional attachment to provide safer hay and forage experiences to customers. You can get a fire extinguisher added to your baler by visiting your local dealer, who can easily connect it to a bracket incorporated into the design.
What's the difference between the push bar and the ramp?
The push bar is intended to help get the bale out from underneath the baler, so the gate can be closed and you can continue baling. In some circumstances, with hills or when the customer needs more control of placing the bale, you can disengage or use the ramp. The ramp is essentially two pieces of iron located in the same spot underneath the baler that will push the hay bale. These two options complete the same task of getting the bale away from the baler so the gate can be shut, but accomplish it in different ways.
Hopefully you equally enjoyed reading both parts of this two part hay and forage series. We would love to answer any other questions that you have, so feel free to comment with your thoughts! If you enjoyed this post or want to read others, feel free to connect with us on Facebook or Google+!
You might also like: