Just as crop producers hop aboard row crop tractors to maximize efficiency, lawn care professionals turn to their riding mowers to make their yard look just right. This is where the John Deere 4044M comes into play. Larger property and small livestock operation owners have preferred pieces of equipment to get the job done as well. John Deere created the 4044M tractor with these owners in mind, offering a piece of equipment with power and utility built into a basic, economical package.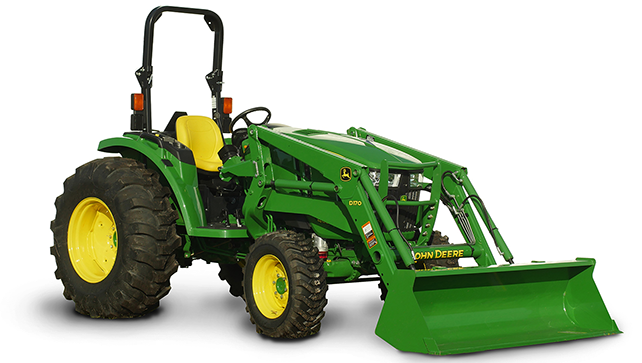 To provide a better understanding of what the John Deere 4044M has to offer, we've put together a detailed list of some of its notable features.
The Power of the John Deere 4044M Engine
The John Deere 4044M is powered by a 4-cylinder Yanmar diesel engine that offers 32.5 PTO hp. The engine has a high-torque reserve that lends ample power for heavy loads. It also features lower levels of exhaust emissions (FT4 compliant) and reduced noise levels to make long days of work a bit less stressful.
The 12/12 PowrReverser Transmission
Deere offers a 12/12 PowrReverser transmission on all its 4M and 4R Tractors, eliminating the need for operators to use the clutch to shift. This technology provides hydraulically shifted forward-to-reverse capabilities with one lever, located on the left side of the instrument console, making loader work a breeze.
Ease of Use for the 4044M's Operator Station
First-time operators will realize how easy it is to enter and exit the John Deere 4044M's operator station. Brake pedals and operator controls are carefully placed to provide a clean and flat platform, allowing for plenty of legroom. The hood and fenders are comprised of impact-resistant polymer material, eliminating chances of rust and damage that would typically impact metal hoods or fenders. Since these tractors are oftentimes working on bright sunny days, they are painted with an automotive-like finish that has excellent sun-resistance.
However, comfort doesn't come at the expense of safety. An operator presence system ensures the operator is in the seat of the tractor before it can be run and a rollover protective structure (ROPS) is designed to keep the driver safe in the case of an accident.
iMatch Quick-Hitch
Utility tractors separate themselves from the crowd with their attachment capabilities. However, attaching these implements can be a challenge. John Deere addresses this issue with the iMatch Quick-Hitch, which provides easy hookup and a guaranteed fit for all Category 1 implements.
Easy Access & Serviceability for the 4044M
Performing regular maintenance and service is critical to the overall health of a piece of equipment. The John Deere 4044M offers easy access to important service points, with removable cowl and side panels and an improved hood design. All 4044M tractors are equipped with self-diagnostic capabilities and are compatible with the Service ADVISOR system.
The John Deere 4044M's dependable, economical power, along with a long list of standard features, make it a wonderful choice for large property owners looking to get jobs done comfortably. Hopefully, this post highlighted some of the key features that make utility tractors, such as the John Deere 4044M tractors, a great tractor for your needs.
Learn more about the 4044M by contacting your local John Deere dealer. If you enjoyed this post or want to read others, feel free to connect with us on Facebook, Pinterest, Twitter, or Instagram!
You might also like: