For more than 175 years, John Deere has been producing equipment built on its values of integrity, quality, commitment, and innovation. While the company's roots lie within agriculture, it has solidified its place in a number of other industries as well, including forestry.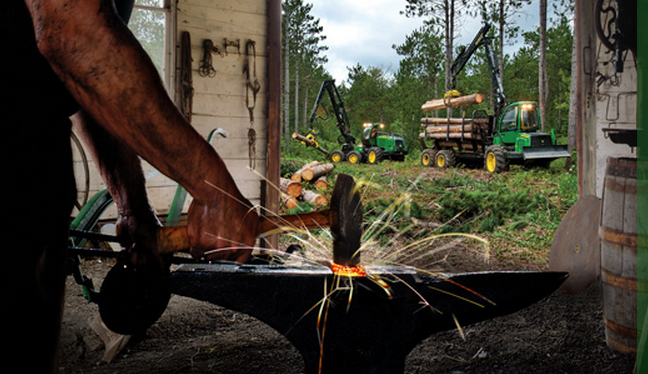 The development of forestry machines only began in the early 1900s, and John Deere was there right from the start, beginning production just before 1950. Let's take a look at some of the critical moments in time that have helped lead John Deere to its current position in the forestry equipment market.
1937
Before Deere began officially producing forestry equipment, many loggers were using John Deere Model D tractors as logging winches. Often times, the wheels and seat were taken off the machine and replaced by wooden skids to the front, allowing the winch to be activated by the stationary tractor.
1949
John Deere unveils the "MC" Crawler. This machine was well-received by loggers as it could easily take on steep slopes, soft soil, and other forms of challenging terrain.
1957
The 440 Crawler is introduced. It was a forerunner to the changeover to all yellow machines (the next year) and it featured an inside-mounted hydraulic blade that was easy to maneuver.
1965
When the John Deere 440 Skidder was released in 1965, it was a groundbreaking machine. Prior to its introduction, wheeled skidders weren't more than an engine in a frame. The 440 took the operator's comfort into consideration, increasing productivity in the process.
1977
Combining the speed of rubber tires with the reach of a boom, John Deere introduced the 743 Tree Harvester. The features of this machine allowed operators to harvest two trees a minute, setting the stage for modern harvesters.
1997
Deere makes a serious effort to incorporate the feedback of customers and dealers into the design process with the formation of the dealer and customer advocacy groups (DAGs and CAGs). Moving forward, Deere's forestry equipment was specifically designed based on user feedback.
1998
Deere and Hitachi Construction Machinery partner to create excavator-based logging machines.
2000          
John Deere purchases Timberjack and Waratah, making them one of the largest forestry equipment manufacturers in the world.
2015
John Deere celebrates 50 years of skidder production when it introduced the L-Series.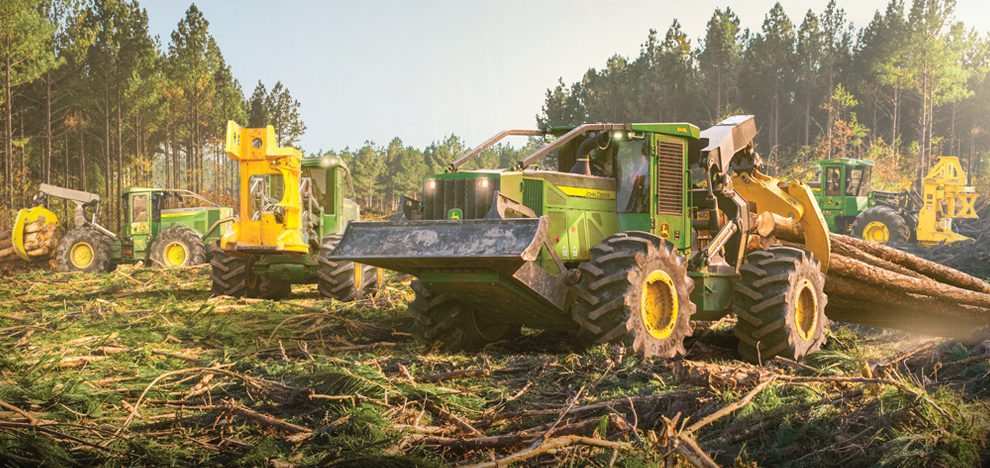 As time goes by, John Deere continues to look forward when manufacturing forestry equipment. Hopefully this timeline offered a valuable glimpse at a few key events that have helped shape John Deere's forestry history.
If you enjoyed this post or want to read others, feel free to connect with us on Facebook, Twitter or Google+!
You might also like: