For many John Deere tractor owners, their equipment is far more than a piece of machinery. Often passed down from generations before, a John Deere tractor can act as a companion, or even further, a part of the family.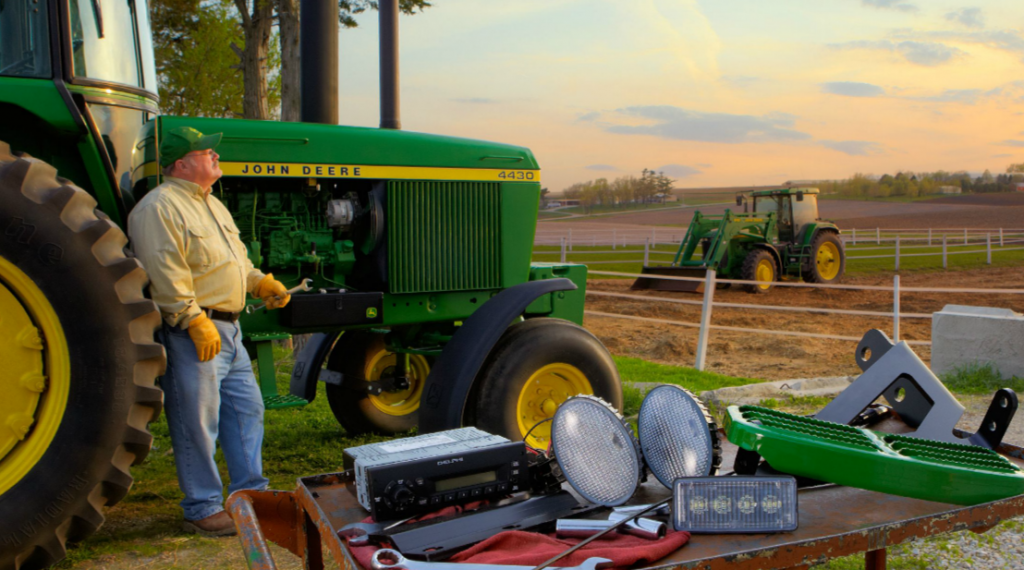 The special bond is hard to break and in order for it to be passed on to future generations, it's important to upgrade parts and attachments to keep it running just like it did for those on higher branches of the family tree. Here are some parts and attachments that old John Deere tractor owners should keep in mind to ensure their equipment gets better with age.
Parts and Attachments for 20-60 Series Tractors
Left-Hand Step Kit: Available for both open and cab models, this attachment makes it much simpler to get in and out of the tractor from the left side. Its wide, slip-resistant steps and handrails will make operators feel more secure when climbing in or out of the cab.
Battery Booster Kit: Old John Deere tractors sometime have older batteries inside. To prevent downtime, tractor owners should consider this kit which provides a way to hook up battery booster cables directly to the tractor. By doing so, operators won't have to take the battery out of the box cover.
John Deere Toolbox: When you're taking on a project, you probably have a lot of tools scattered around the tractor. With this toolbox, you can keep everything organized in one place. The weather-resistant material will stand up to any beatings encountered on the field.
Fender Kit: Mother Nature can make fields sloppy, debris-covered messes sometimes. However, this shouldn't stop you from doing field work. By adding this fender kit to your tractor, you'll not only protect its appearance, you'll be adding to it thanks to a stylish John Deere logo.
Hood Handles: These handles make is easy to perform routine maintenance on your tractor such as refueling or cleaning its windows.
Field Office: Your old John Deere tractor may have been built before the digital age. This mobile office gives you a place to store items such as a laptop, smartphone, calculator, or papers. The field office kit also offers a small desktop area, removable trays, and drink holders.
Power Strip: Staying with the theme of digital accessories, add a six strip power outlet to keep your electronics up and running. The 30-amp strip installs on the console, fender or post of the tractor.
Auxiliary Harness: Today's devices host a number of different plug-in ends. With this in mind, Deere offers a harness so you can use any device you want from within the cab.
Drawbar Clevis Kits: Available in straight drawbar, offset drawbar, and drawbar-hammer strap and chain options, these kits make it easy to hookup implements to your tractor.
PTO Adapter (540 to 1000 RPM): This adapter lets you attach implements that have a 1-3/8-in. diameter, 1000 rpm hookup. It's ideal for those using continuious PTO power up to 150 hp.
Quick Hitches: This system makes it fast and easy to attach implements. Deere hitches are made from hardened steel to increase strength for even the heaviest loads, and hooks are treated to prevent wear.
Air-Ride Suspension: Upgrade your ride with this air-seat suspension. After a long day of work, you'll feel relaxed and stress-free thanks to a smooth ride. The suspension system can be installed in about one hour.
Floor Mats: When working in the field, debris tracking into the cab is hard to avoid. Add some mats to your floor to keep the interior looking clean and stylish.
Parts and Attachments for 6000 and 7000 Series Tractors
Shade Curtain: A long day out in the field often times means a long day in the sun. Install this curtain to reduce heat and solar glare in the cab. When the sun goes down, they're very easy to roll up.
Door Locks: Theft and vandalism can happen anywhere. Add these door locks, which feature a handle and high-security dedicated cab door key that varies from the ignition key.
Deluxe Canopy: This hard, durable canopy keeps unwanted sun and spring rains out of the cab. The kit comes with four safety lights, a headliner and foam pad that absorbs heat and noise.
Rear Wiper Kit: Bad weather and dusty field conditions can present a challenge when doing your job. This wiper and wiper nozzle kit will help keep your tractor's glass clean and maximize visibility.
Parts and Attachments for 8000 and 9000 Series Tractors
Attachment Mounting Brackets: Attach these brackets to mount monitors, controllers, radios and much more. By doing so, operators will have they need within an arm's reach.
Performance Monitor: This device lets you track productivity and performance when doing different types of tasks.
Stereo Kit: Want to hear about the latest crop prices or simply listen to some tunes as you ride across the field? This stereo kit makes it all possible.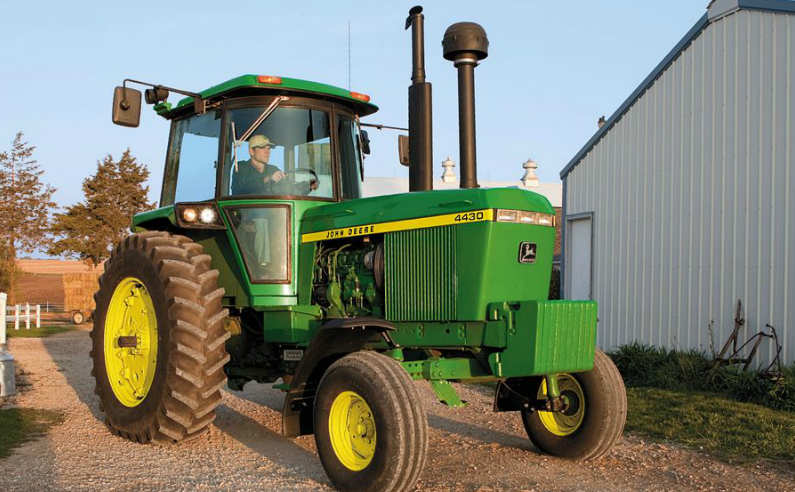 Just because your tractor might be considered "old," doesn't mean it has to perform like an old tractor. By adding any (or all) of the above parts and attachments, John Deere owners can ensure they pass their tractor down to future generations in the same condition they received it. Contact your local John Deere dealer to get more information.
If you enjoyed this post or want to read others, feel free to connect with us on Facebook, Twitter or Google+!
You might also like: