For the lover of agriculture in your life, there are several John Deere Valentine's gifts you may want to consider purchasing before February 14. Whether your significant other loves tractors or just everything about the brand, there are several options to suit his or her tastes.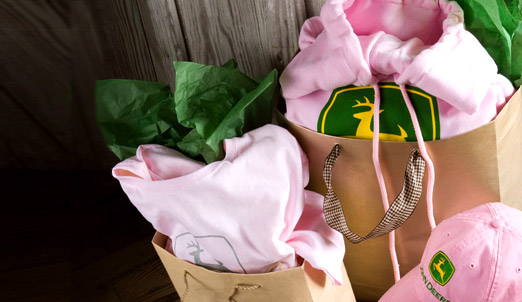 Here are 10 gift ideas to celebrate the love-filled holiday:
This hooded sweatshirt says "My Heart Belongs to a Farmer," and it includes the classic John Deere logo on the front.
This tee comes in a vibrant turquoise hue, and it says "Love Love Love" across the front, making it the perfect Valentine's Day gift.
The "I (heart) John Deere" signature on the back of this hat will let all of the wearer's friends know that they're a dedicated John Deere fan.
For the little valentine in your life, get her a hat in an adorable pink hue to show off her love of agriculture.
Any young valentine can appreciate this tagless tee, which features the word "Love" and a John Deere tractor on the front. It's made of 100 percent cotton for easy machine washing and the ultimate warmth.
Perfect for cool weather, this long sleeve T-shirt includes the word "Love" and a John Deere tractor. It's also made of 10 percent poly-jersey material for a comfortable fit.
The "Live Love Farm" words on the front of the sweatshirt say it all. This item is also composed of 30 percent poly-fleece for the utmost warmth.
For girls who want a bit of an edgier look, this short sleeve tee comes in a camouflage pattern. A heart in the center says, "I Love John Deere," to exhibit agricultural pride.
Who doesn't love comfy pajamas? Now, your little valentine can celebrate the holiday with John Deere-inspired sleepwear.
For the little one in your life who may be celebrating her first Valentine's Day, this John Deere bodyshirt is the perfect outfit.
If you enjoyed this post or want to read others, feel free to connect with us on Facebook, or Twitter!
You might also like: