When harvesting medium or large sized crops, the John Deere S670 could be a perfect match for producers. This combine model is prepared to provide safety, reliability and efficiency on the go.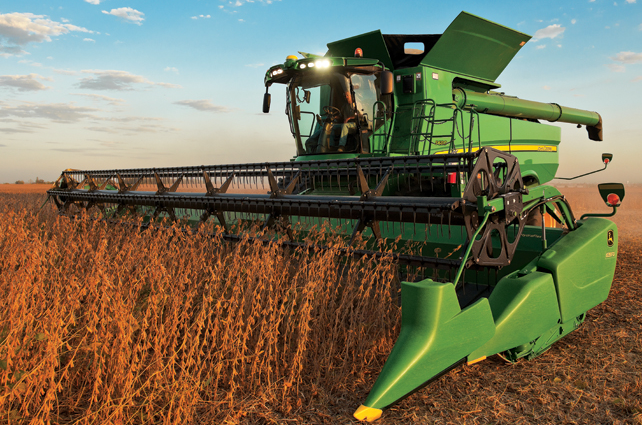 Let's take a look at some of the highlights of the John Deere S670 as you look ahead to the fall harvest.
Harvest Smart™
The John Deere S670 comes with Harvest Smart technology, which is an on-the-go control system that makes it easier to control ground speed. Harvest Smart ensures that the combine maintains a consistent crop load by automatically changing the speed as needed.
ProDrive™ Transmission
With the ProDrive system and PowerShift™ transmission technology, the John Deere S670 automatically shifts between two speeds to accommodate a range of ground conditions. This means that harvesting time won't be lost due to shifting on hills and changing fields.
Platform Tilt Option
The platform tilt option allows operators to hydraulically adjust the fore-aft pitch of front-end equipment. It can be activated with the touch of a button inside of the John Deere S670 cab.
TriStream™ Rotor
The TriStream Rotor on the John Deere S670 is designed to reduce growling that comes with heavy rotor loads. It has a tapered design in the threshing area to maintain grain quality. Spiral vanes surround the rotor, guiding the crop through the threshing and separating area.
Dyna-Flo™ Plus
The Dyna-Flo Plus cleaning shoe of the John Deere S670 is composed of aluminum and high-strength steel. It has a large sieve area for more productivity in a shorter amount of time. Additionally, its enhanced drive system only requires one flywheel.
PowerTech™ PSS Engine
The PowerTech PSS engine of the John Deere S670 is designed to help operators efficiently work through all harvesting conditions. It has an isochronous engine governor and convenient speed management.
Rear Axle Options
The John Deere S670 has a rear axle with an adjustable rear tread. This allows operators to match various wheel spacing requirements as they tackle a wide range of jobs.
Grain Work Options
The grain tank sensor attachment is compatible with the John Deere S670 for insight into the machine's performance during the workday. The extended-wear grain handling system is also available.
Feederhouse Drive Options
The heavy-duty drive system, variable-speed feederhouse drive, fixed-speed feederhouse drive, and CommandTouch™ multi-speed feederhouse are all compatible with the John Deere S670 for optimal performance out in the field.
If you enjoyed this post or want to read others, feel free to connect with us on Facebook, Twitter or Google+!
You might also like: